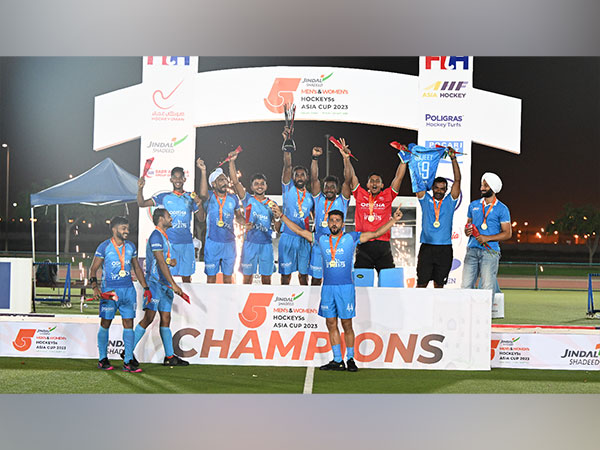 LM NEWS 24
LM NEWS 24
Modi Lauds Indian Men's Hockey Team For Winning Hockey5s Asia Cup
Prime Minister Narendra Modi congratulated the Indian Men's Hockey team for their successful campaign in the Hockey5s Asia Cup.
The Indian men's hockey team was crowned champions at the inaugural Men's Hockey5s Asia Cup on Saturday, defeating Pakistan in a penalty shootout in the final. The teams were locked at 4 goals apiece at the final hooter before India prevailed 2-0 in the penalties.
The event serves as Asia's qualifying tournament for the FIH Men's Hockey 5s World Cup in Oman next year.
PM Modi lauded the "unwavering dedication" of the Indian players and congratulated them on securing a place in the Hockey5s World Cup in Oman next year.
"Champions at the Hockey5s Asia Cup! Congratulations to the Indian Men's Hockey Team on a phenomenal victory. It is a testament to the unwavering dedication of our players and with this win, we have also secured our spot at the Hockey5s World Cup in Oman next year. The grit and determination of our players continue to inspire our nation," PM Modi wrote in his tweet on X, formerly known as Twitter.
India made a spirited start in the final, pushing deep into Pakistan's half straightaway. But Pakistan held off the Indian charge and started threatening from the left flank. Indian goalkeeper Suraj Karkera stepped up to make important saves, but Pakistan broke the resistance with Abdul Rehman (5′) getting the opening goal of the match.
But Pakistan could not keep the Indian attackers quiet for too long, and Jugraj Singh (7′) provided the much-needed equalizer for India. Three minutes later, India took lead in the match as Maninder Singh (10′) scored with a reverse hit from a distance. Pakistan Captain Abdul Rana (13′), and Zikriya Hayat (14′) scored two back-to-back late goals and the match went into halftime with Pakistan leading 3-2.
Trailing by a goal, India needed to deliver an urgent response in the second half, and the Mandeep Mor-led side started maintaining possession and pressing deeper in the opposition's half. But Pakistan made the most of a Challenge as Arshad Liaqat (19′) struck the ball into the back of the net.
Mohammed Raheel (19′) gave a response straightaway to pull a goal back for India. India started attacking from all corners, leading to Pakistan making a couple of crucial defensive errors. After receiving a long pass, Mohammed Raheel (26′) dribbled past Pakistan's defence and struck the ball into the nets to level the scoreline. Both teams started searching for the winner as the clock started racing towards full-time.
The match went to the Shoot-Out after both teams remained locked in a stalemate at 4-4 at the end of the regulation time. Gurjot Singh and Maninder Singh scored for India, while Arshad Liaqat and Muhammad Murtaza missed their shots for Pakistan, and India won the match 4-4 (2-0 SO) to claim the trophy. (ANI)
Read More: http://13.232.95.176/