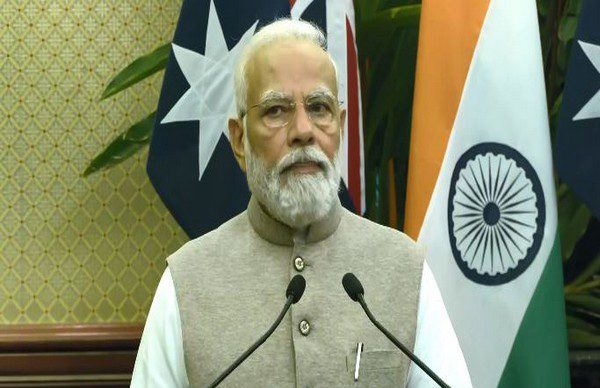 LM NEWS 24
LM NEWS 24
Modi Raises Issue Of Attacks On Temples In Australia
Prime Minister Narendra Modi who is on a three-day visit to Australia, on Wednesday raised the issue of attacks on temples in the country and said that Prime Minister Anthony Albanese had assured to take "strict actions against such elements in the future."
During a joint address with his Australian counterpart Albanese, PM Modi said, "PM Anthony Albanese and I have in the past discussed the issue of attack on temples in Australia and activities of separatist elements. We discussed the matter today also. We will not accept any elements that harm the friendly and warm ties between the India-Australia relationship by their action or thoughts. PM Albanese assured me once again today that he will take strict actions against such elements in the future also.
Notably, several cases of Khalistani extremism and brawls between Khalistani activists and pro-India demonstrators have recently come to the fore in several parts of Australia. Indian flags were burnt and even a Hindu temple was vandalised recently in Australia.
Earlier, Albanese during his India visit in March had said that Australia won't tolerate any extreme actions and attacks that took place in religious buildings, and there is no place for such action against Hindu temples.
Responding to a media query about the assurances that the Australian PM gave to his Indian counterpart, Albanese said, "I gave him the assurance that Australia is a country that respects people's faith. That we don't tolerate the sort of extreme actions and attacks that we have seen on religious buildings, be they Hindu temples, mosques, synagogues, or churches. This has no place in Australia."
"And we will take every action through our police and also our security agencies to make sure that anyone responsible for this faces the full force of the law. We're a tolerant multicultural nation, and there is no place in Australia for this activity," the statement quoted him saying.
Earlier in March, addressing India-Australia: Exchange of Agreements and Press Statements, Prime Minister Narendra Modi said that the Australian PM, in light of the recent attacks on temples in Australia had assured that the safety and well-being of the Indian community in Australia is a priority for him.
"Since the last few weeks, news of attacks on temples in Australia are coming regularly. It is natural that such news worries people in India. I have raised these concerns with Prime Minister Albanese who has assured me that the safety of the Indian community is a special priority for him," PM Modi said.
In March this year, Shree Laxmi Narayan Temple in Australia's Brisbane was vandalised by pro-Khalistan supporters.
Sarah Gates, who is the Director of Hindu Human Rights said, "This latest hate crime is a pattern of Sikhs For Justice (SFJ) globally, clearly attempting to terrorise Australian Hindus. Coupled with a barrage of propaganda, illegal signs, and cyberbullying, the organisation intends to present all-pervasive threats, fear, and intimidation," reported The Australia Today.
On January 16, Shri Shiva Vishnu Temple in Australia's Carrum Downs was vandalised with anti-Hindu graffiti.
On January 12, the BAPS Swaminarayan Mandir in Australia's Mill Park was smeared with anti-India and anti-Hindu graffiti.
The temple was vandalised by anti-India elements with anti-India slogans written on the temple's walls, located in the suburb of Mill Park, The Australia Today reported. (ANI)
Read More: lokmarg.com