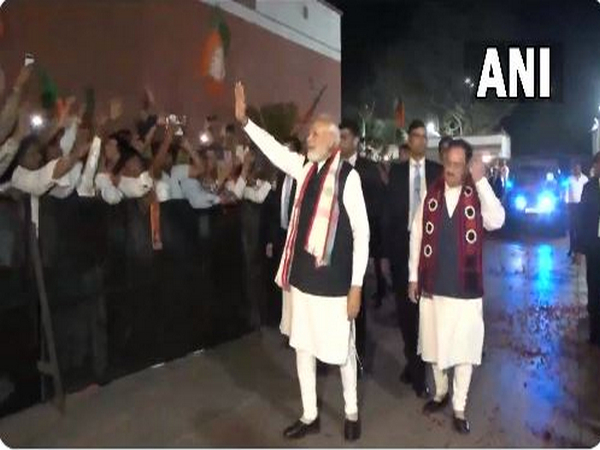 LM NEWS 24
LM NEWS 24
Modi Receives Warm Welcome At BJP HQ After Polls Results
Prime Minister Narendra Modi received a warm welcome at the Bharatiya Janata Party (BJP) headquarters in Delhi after the Assembly polls results of three northeastern states of Tripura, Nagaland and Meghalaya were declared on Thursday.
With the declaration of results for the Tripura Assembly polls on Thursday, Bharatiya Janata Party (BJP) returned to power in the state by winning an absolute majority.
According to the Election Commission of India, Bharatiya Janata Party (BJP) won 32 seats with a vote share of around 39 per cent. Tipra Motha Party came second by winning 13 seats. Communist Party of India (Marxist) got 11 seats while Congress bagged three seats. The Indigenous People's Front of Tripura (IPFT) managed to open its account by winning one seat.
The CPI(M) and the Congress, arch rivals in Kerala, came together in the Northeast this time in a bid to oust the BJP from power. The combined vote share of CPI(M) and Congress remained around 33 per cent.
Chief Minister Manik Saha defeated Congress' Asish Kumar Saha from the Town Bordowali seat by a margin of 1,257 votes. In the 60-member Tripura assembly, the majority mark is 31.
The BJP, which had never won a single seat in Tripura before 2018, stormed to power in the last election in alliance with IPFT and had ousted the Left Front which had been in power in the border state for 35 years since 1978.
The BJP contested on 55 seats and its ally, IPFT, on six seats. But both allies had fielded candidates in the Ampinagar constituency in the Gomati district.
The Left contested on 47 and Congress on 13 seats, respectively. Of the total 47 seats, the CPM contested 43 seats while the Forward Bloc, Communist Party of India (CPI) and Revolutionary Socialist Party (RSP) contested one seat each.
The CPI(M)-led Left Front ruled the state for nearly four decades, with a gap between 1988 and 1993, when the Congress was in power but now both parties joined hands with the intention to oust BJP from power.
In Nagaland, BJP secured 12 seats, Nationalist Democratic Progressive Party (NDPP) won 25 seats and Nationalist Congress Party (NCP) bagged seven seats. National People's Party (NPP) won five seats. Naga Peoples Front, Lok Janshakti Party (Ram Vilas) and Republican Party of India (Athawale) won two seats each. Nitish Kumar's Janata Dal (United) got one seat.
The majority mark in 60 seat Nagaland Assembly is 31.
In Meghalaya, the National People's Party (NPP) won 26 seats, United Democratic Party (UDP) bagged 11 seats and Trinamool Congress got five seats. BJP, People's Democratic Front and Hill State People's Democratic Party bagged two seats each. Congress managed to get five seats while the Voice of the People Party got four seats. Two seats were won by independent candidates. (ANI)
Read More:http://13.232.95.176/