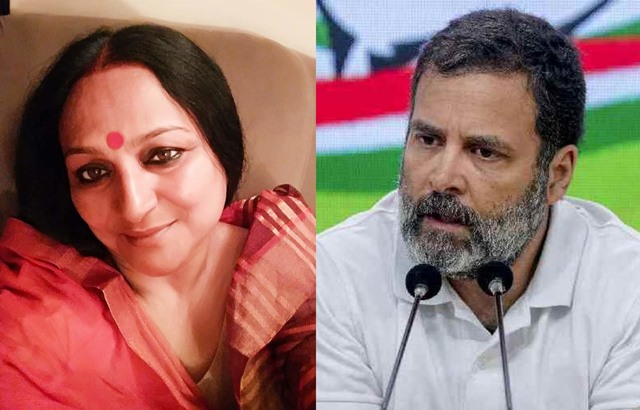 LOK ISSUES
LOK ISSUES
Modi Regime Will Pay Dearly For Its Brazen Act To Silence Rahul
Nivedita Jha, a Patna-based writer and social activist, says a similar attempt to debar Indira Gandhi from Parliament had boomeranged on the then Janata Dal government. Her views:
The Surat court verdict against Rahul Gandhi and the latest decision to debar him from Parliament is a well thought-out attempt to silence him and the Opposition. This is extremely dangerous for democracy and will damage it with terrible consequences. We are living in very difficult times. Anyone who writes or speaks against this regime is hounded and punished, or silenced.
However, I am certain that this attack on Rahul Gandhi would very seriously damage Narendra Modi and the BJP in the short and long run. Undoubtedly, this is bound to boomerang.
I am reminded of the arrest of Indira Gandhi by then Union Home Minister, Charan Singh, and the move to debar her from Parliament. The people of India did not like this at all. Consequently, she returned to power with a popular mandate and a majority in 1980.
Rahul Gandhi has made no hate speech. The BJP and its leaders are routinely making violent and hate speeches, and nothing happens to them ever. Take, for instance, Giriraj Singh in Bihar. The kind of communal statements he has uttered publicly in the past is outside all norms of legality or civilized society. Nothing has ever happened to him.
It is also becoming crystal clear that they are threatened by Rahul Gandhi, especially after the Bharat Jodo Yatra. Earlier they pumped in huge amount of money and used their power in the social media and among certain journalists to destroy his image, while derogatorily branding him Pappu. They have used fake news and crass propaganda to sully his image, and to sully the image of Jawaharlal Nehru, among other things. If you do a Google search, they see to it that their fake news pops up as lead stories. If you do a Google search on Nehru, you would be surprised by the obscene trolling done against him!
They tried their best to destroy the image of Rahul Gandhi, but they have failed. After the success of the Bharat Jodo Yatra, his image has effectively changed and he has become a more popular leader across the country. Modi and the BJP are clearly threatened by Rahul Gandhi's growing popularity. This move to debar him would certainly boost his image.
ALSO READ: Democracy Is Under Strain In BJP Regime
Many governments have been repressive in the past, including the Congress dispensation. However, we are living in perhaps the most difficult and dangerous time in our post-independence history. Our democracy is severely threatened and seriously damaged in the current circumstances. Most institutions, the CBI, Enforcement Directorate, large sections of the media, seem to have been totally taken over. Young scholars from the universities are rotting in prison for so long for no fault of theirs.
Opposition leaders are being hounded, arrested and raided. The BJP-RSS and this regime seems to be hell-bent on ravaging our secular democracy whereby all forms of dissent are eliminated, all Opposition parties are blocked, and only they can rule supreme. Then, certainly, India will no longer remain a democracy. It will be suffocated under a dictatorship.
This is a situation which reminds me of the ideology of Adolf Hitler and the Nazis, which the BJP shares. They don't want to hear even a squeak of dissent. Certainly, this is a black era in our history. What is happening is indeed shameful!
However, I am certain that this move to hound and debar Rahul Gandhi from Parliament will have serious consequences and will badly damage the BJP. If they try to ban him from contesting elections, it will further damage them politically. The politics of revenge almost always leads to a counter-narrative.
Recently, they arrested some printers and workers carrying posters for AAP which said: Modi hatao, desh bachao! This is like banning all opposition to him effectively. However, it is not working. The CPI has given a call: Modi hatao, desh bachao! AAP did a rally in Jantar Mantar, Delhi, with a huge banner on the stage which said: Modi hatao, desh bachao! All opposition parties have come out to protest on the streets with placards which carried the same slogan.
That is why I say, this move against Rahul Gandhi is bound to boomerang badly on the BJP and Modi. This will damage them, that is for certain.
The narrator has been associated with Bihar Mahila Samaj and the National Federation of Indian Women
As told to Amit Sengupta
Read More Article: https://lokmarg.com/