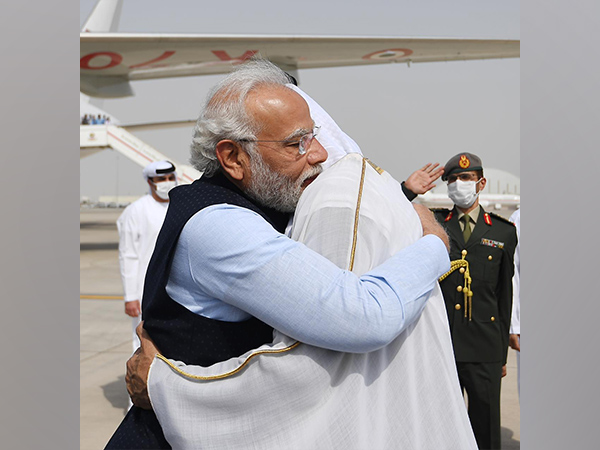 LM NEWS 24
LM NEWS 24
Modi To Visit UAE On July 15
Prime Minister Narendra Modi will reach United Arab Emirates (UAE) on July 15 and meet UAE President Sheikh Mohamed bin Zayed Al Nahyan. The PM would be given a ceremonial welcome, after which several bilateral talks and other events will be organized in honour of the Prime Minister's visit, the Ministry of External Affairs said on Wednesday.
"After concluding his visit to France, the Prime Minister would depart for UAE and reach there on the fifteenth of July where he will meet His Highness Sheikh Mohamed bin Zayed Al Nahyan, president of the UAE and ruler of Abu Dhabi. To be followed by a ceremonial welcome, bilateral talks and other events organized in honour of prime minister's visit to UAE," Foreign Secretary Vinay Kwatra said while addressing a press conference on Wednesday.
Kwatra said that Prime Minister Narendra Modi and President of the UAE Sheikh Mohammed bin Zayadal Nayan last met in June in Abu Dhabi when the PM visited UAE while on his return from the G7 summit in Munich.
"They have since also met on many virtual platforms, including in July last year, during the I2U2 (India, Israel, the United Arab Emirates, and the United States) summit," the Foreign Secretary said.
Kwatra further mentioned that in February 2022, during the virtual summit, the comprehensive economic partnership agreement between India and UAE was signed. A joint vision statement was also issued at that time.
"We have seen a significant jump, qualitative enhancement, in the substance of our engagement across the whole range of areas since the signing of the CEPA (Comprehensive Economic Partnership Agreement). And the partnership has continued to grow from strength to strength. This is particularly reflected in the strong economic exchanges, both on the trade side, but also on the investment side, people-to-people ties and also convergence on a range of regional and international issues," Kwatra added.
"UAE is also a special invitee during India's G20 presidency summit to be held in September this year. Indian and UAE are also cooperating very closely on COP28, which will be held in UAE towards the end of this year," Foriegn Secretary Vinay Kwatra said.
"Prime Minister's visit to UAE provides a useful opportunity for us to review this important partnership and inject further momentum across the whole range of areas that we cooperated," he added.
Further speaking on the economic ties between India and UAE, Kwatra informed that the bilateral trade is at 85 billion dollars between India and UAE. Which made UAE India's third-largest trading partner last year. India's second-largest export destination is UAE.
"Bilateral trade is currently at a very strong 85 billion dollars between India and UAE, making UAE India's third largest trading partner last year and India's second-largest export destination is UAE. Also, very substantial large sums of FTI (Foreign Trade Investments) flows from UAE have taken place to India, making UAE the fourth largest overall investor in India," Kwatra informed during the press briefing.
Kwatra further informed that the UAE and India are also very strong partners in the field of energy security. Several new areas of partnership and engagement have also registered strong progress including in the field of renewables, health, food security, SNT, education, fintech, and defence and security.
"The Indian diaspora presents very strong and robust numbers in UAE, about 3.5 billion," he said.
Kwatra credited the historical people-to-people ties between India and UAE to remain a key pillar of the strategic partnership between India and UAE.
Kwatra said that in the last few years, a significant transformation has taken place in India-UAE relations and central driver of this has been the vision of the two leaders, the President of the UAE and the Prime Minister of India.
"Both of them, of course, also enjoy an excellent personal rapport, which is reflected in their very frequent engagements," Kwatra added.
Prime Minister will depart for the UAE after concluding his visit to France.
Prime Minister Narendra Modi is set to visit France later this week to attend this year's Bastille Day parade as the guest of honour, at the invitation of President Emmanuel Macron.
The Bastille Day Parade will witness a 269-member tri-services contingent of the Indian Armed Forces marching alongside their French partners.
The Fete Nationale Francaise is celebrated on July 14 or the National Day in France. It is also known as Bastille Day as this day is the anniversary of the storming of the Bastille in 1789 during the French Revolution.
The Indian military contingent would also be part of the marching contingent on Bastille Day, alongside their French counterparts to mark this important milestone.
Notably, PM Modi's visit will coincide with the 25th anniversary of the "strategic partnership" between France and India.
PM Modi's visit is expected to herald the next phase in the India-France Strategic Partnership by setting new and ambitious goals for our strategic, cultural, scientific, academic, and economic cooperation, including in a wide range of industries, an official statement released by the Indian Embassy in France said earlier. (ANI)
Read More: http://13.232.95.176/