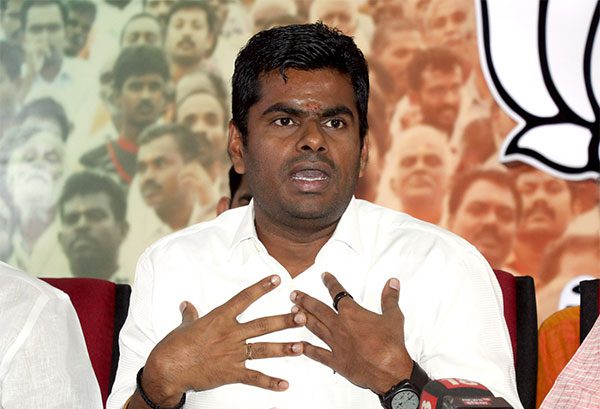 LM NEWS 24
LM NEWS 24
Modi Will Return To Power in 2024 With Bigger Mandate: Annamalai
Tamil Nadu BJP chief K Annamalai on Sunday exuded confidence on his party's prospects in next year's Lok Sabha elections, saying that Prime Minister Narendra Modi will form a government with a bigger mandate in 2024.
Speaking to ANI, he said Union Home Minister Amit Shah had a fruitful visit to Tamil Nadu, as he took a lot of time out of his busy schedule to boost the party's organisations in the state and addressed a public meeting in Vellore to encourage the cadre.
"…for 2024, we are very clear that PM Modi is going to come to power for a third time with a bigger mandate…We are very clear that Tamil Nadu will contribute in a big way to our victory as the state has reaped the benefits of development in the last 9 years under PM Modi and no other leader has truly represented our culture like he has. I keep saying that PM Modi is a Tamilian…nobody has taken an interest in the Tamil language and culture like he has He has revived the beauty of Tamil culture…," said Annamalai.
Earlier, on Sunday, Union Home Minister Amit Shah arrived in Tamil Nadu on a two-visit to four states and also addressed a public rally in Vellore.
Reacting to reports of Amit Shah "pitching for a Tamil PM in future", he said, "…That was purely addressed to the workers of our party. The HM was very clear, he traced his own journey from 1982 as a booth president to our national president to a Home Minister now. He also traced the life of our PM…He said, from booth president to Prime Minister, all of you will keep climbing up the ranks. That is the beauty of this party."
Hitting out at the previous Congress-led UPA regime at Vishakhapatnam in Andhra Pradesh later on Sunday, Union Home Minister said the "Manmohan government" did not have the courage to address the country's internal security concerns, adding that the present dispensation, under the leadership of Prime Minister Narendra Modi, has worked to make the country more secure.
Addressing a public meeting in Vishakhapatnam, organised to mark the completion of 9 years of the BJP-led central government under PM Modi, the Union Home Minister said, "During the UPA government, 'Alia, Malia, Jamalia' (any Tom, Dick and Harry) would cross over into India and unleash terror on our people. The Manmohan government did not have the courage to do anything against them. In its 9 years in power, the government under the leadership of PM Modi worked to ensure the internal security of the country."
He said that within ten days of the Uri and Pulwama terror attacks, India, under the leadership of PM Modi, conducted a surgical strike and a precision air strike to give a befitting reply to the attackers across the border.
Shah was on a two-day visit to Gujarat, Maharashtra, Tamil Nadu and Andhra Pradesh that started on Saturday.
Shah's event is part of the party's month-long campaign covering all Lok Sabha constituencies to mark the completion of nine years of the central government under Prime Minister Narendra Modi. (ANI)
Read more: http://13.232.95.176/