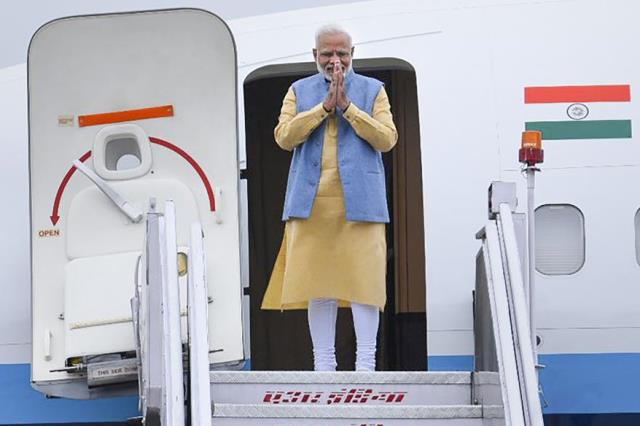 LM NEWS 24
LM NEWS 24
Modi Wraps Up Japan Tour, Leaves For Papua New Guinea
Prime Minister Narendra Modi on Sunday wrapped up his "fruitful visit to Japan," and departed for Papua New Guinea.
"It has been a fruitful visit to Japan. Met several world leaders during the G-7 Summit and discussed a variety of issues with them. Gratitude to PM @kishida230, the Government and the people of Japan for their warmth. Leaving for Papua New Guinea in a short while," tweeted PM Modi.
The PM of Papua New Guinea will receive PM Modi, James Marape upon his arrival at Port Moresby, where he will be accorded a full ceremonial reception.
The Prime Minister is on a six-day visit to three countries — Japan, Papua New Guinea and Australia from May 19 to 24.
This tour comprises the G7 and Quad summits in Hiroshima, bilateral meeting with Australian Prime Minister Anthony Albanese, and hosting the third summit for the Forum for India- Pacific Islands Cooperation (FIPIC) in Papua New Guinea.
"Wrapping up an action-packed visit! PM @narendramodi concludes his visit to Japan following two days of intense bilateral & multilateral engagements with key partners. PM now departs for Port Moresby for the next leg of his visit," tweeted the Ministry of External Affairs spokesperson Arindam Bagchi.
PM Modi also met Ukrainian President Volodymyr Zelenskyy on Saturday and held bilateral talks with other member states.
Earlier on Saturday, Zelenskyy invited Prime Minister Narendra Modi to join the Ukrainian Peace Formula initiative and also thanked him for supporting the country's territorial integrity and sovereignty.
Taking to Twitter, Zelenskyy said, "Had a meeting with Prime Minister of India @narendramodi in Japan. I briefed the interlocutor in detail on the Ukrainian Peace Formula initiative and invited India to join its implementation. I spoke about Ukraine's needs in humanitarian demining and mobile hospitals. I thank India for supporting our country's territorial integrity and sovereignty, in particular, at the platforms of international organizations, and for providing humanitarian aid to Ukraine."
In the meeting, PM Modi assured that he will do whatever is possible to help in resolving the Ukraine conflict.
"India and I will do whatever we can for resolving the conflict," PM Modi said.
Zelenskyy said that he believed that India will participate in the restoration of the rules-based international order that all free nations clearly need.
Taking to Twitter, Zelenskyy shared a video where he said, "I spoke with Prime Minister Narendra Modi. I gave an update on the progress of our peace formula. We have already passed many stages of presenting the formula to leaders and countries from different parts of the world. The day before the formula was successfully presented to the participants of the Arab League Summit."
"I believe India will participate in restoring the rules-based international order that all free nations clearly need," he added.
Earlier today, he discussed the India-UK free trade agreement, innovation and science with UK PM Rishi Sunak.
The two leaders reviewed their Comprehensive Strategic Partnership, including taking stock of progress in India-UK FTA negotiations. Leaders agreed to deepen cooperation across a wide range of areas, such as trade & investment, science & technology, higher education, and people-to-people relationship, read the MEA press release.
They also discussed India's ongoing G-20 Presidency and PM Modi welcomed Sunak in New Delhi for the G-20 Summit.
PM Modi wore a jacket made of recycled material at the G7 summit in Japan on Sunday.
The leaders of the world's most powerful democracies have come together in deliberations on the ongoing Russia-Ukraine conflict and vouched for peace via diplomacy too.
The G7 includes Japan, the United States, the United Kingdom, France, Germany, Canada and Italy, as well as the European Union. (ANI)
Read More: lokmarg.com