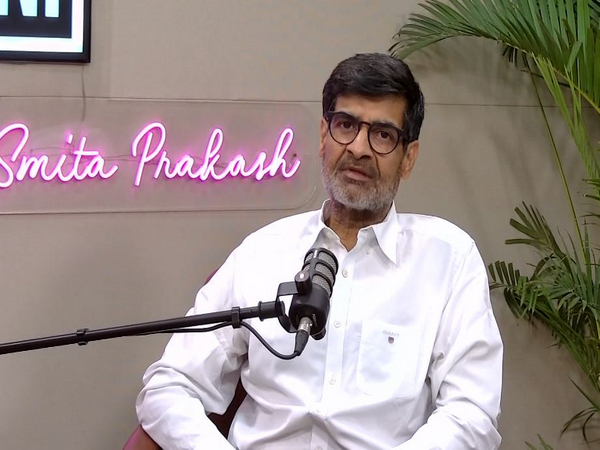 LM NEWS 24
LM NEWS 24
Modi's Visit To US Has Potential To Change Political, Tech Landscape For Future: Samir
Prime Minister Narendra Modi's upcoming visit to US has the potential to change the political and technological landscape for the future, according to geopolitical expert Samir Saran.
In an exclusive interview with ANI Editor Smita Prakash, Observer Research Foundation (ORF) President Samir Saran said "As far as I am concerned and as I have written in my piece that appeared yesterday that you know this is a visit that has the potential to change the political landscape as well as the technology landscape for the future."
Samir Saran who curates the Raisina Dialogue, India's annual conference on cybersecurity and internet governance. His research focuses on issues of global governance, climate change and energy policy, technology and media, and India's foreign policy.
Saran acknowledged that the US-India partnership is important. He noted that a lot has changed since PM Modi's last visit to the US in 2016, the third bilateral meeting between Modi and US President Barack Obama. He said that PM Modi's visit is aimed to transform India-US ties.
He further said, "So, this partnership is clearly important for all of this and what is it that is different this time, I think the last visit was in 2016, a good eight years ago or seven years and wasn't a state visit and it was at a very different time. In seven years, a lot has changed, Europe is very different, it looks very different, what's happening there."
Prime Minister Narendra Modi is the first-ever Indian PM to address the US Congress twice. He will be travelling to the US on a state visit which is seen as huge both in content and symbolism. He will get a 21-gun salute, will be hosted by US President Joe Biden at the White House and there will be extensive dialogue on the economy, strategy and climate change.
Moreover, Samir Saran stressed that India will have to focus on how to manage China and how to partner with the US.
Samir Saran said, "As far as Indians are concerned, two relationships – how we manage China and how we partner with the US, are the two equations we need to manage well if we need to ensure that we are in the position where we can shape outcomes, where we can contribute to global requirements, where we can serve the larger human needs and where of course we can meet the aspirations of a very young India, that is more demanding and louder and impatient in some ways."
Saran further highlighted the continuity in the relationship between the two countries and called PM Modi's visit to the US the future of the book that was written in the early 2000s.
"Look, we were just talking about the Manmohan Singh, Vajpayee years of the relationship and I was suggesting that, that was the period when we laid to the rest of the demons of the 20th century. We, perhaps, decided to script a new future. This is that future. This visit is that future," Samir Saran said.
"So, if that was the preface of the book in the early 2000s, this is now the main book being written. This visit is where we are actually, after having heard everyone, you are good, he is bad, that is the issue, they are capable of doing this, they are capable of doing that we have heard everyone, we have assessed each other. We have played aloof, played warm, played friendly. We have played all the games with each other. This is it," he added.
Samir Saran said that the visit of PM Modi is extremely different not only due to the different personalities of the leadership but due to the common convergence and determination to carve a relationship that will serve the future.
"There couldn't be two dissimilar leaders driving this relationship and there couldn't be greater convergence between these two leaders as it is happening. This visit, Biden and PM Modi is extremely different because of not only the personalities of the leadership. But, because, despite the different personalities, the common convergence and determination to carve a relationship that will serve the future and this is that relationship," Samir Saran said.
ORF President further explained the importance of the India-US partnership in the backdrop Covid pandemic, disarray in Europe, climate change and China's assertiveness. Samir Saran stressed that this is an era where India and US are deciding to do something "dramatic."
"This is not a period when we are promising that we will work together. This is a period of great transition happening in the world. We have Europe in disarray, we have a China that is promising to upset everything, and we have just come out of a pandemic that has derailed economic futures. We have of course and most importantly a crisis such as climate change confronting all of us and we have a restless population within our country and outside. So, this is a very very different era, a different time frame, the time period where our two countries are deciding to do something dramatic," he added.
PM Modi is set to visit the US at the invitation of US President Joe Biden and First Lady Jill Biden. The visit will commence in New York where the Prime Minister will lead the celebrations of the International Day of Yoga at the United Nations Headquarters on June 21.
PM Modi will then travel to Washington DC, where he will receive a ceremonial welcome at the White House on June 22, and meet US President Biden to continue their high-level dialogue, according to a release issued by the Ministry of External Affairs (MEA).
PM Modi will also address a Joint Sitting of the US Congress on June 22. On June 23, PM Modi will be jointly hosted at a luncheon by US Vice President Kamala Harris and Secretary of the State Antony Bilnken. In addition to official engagements, the Prime Minister is scheduled to have several curated interactions with leading CEOs, professionals, and other stakeholders. He will also meet members of the Indian Diaspora.
PM Modi will then travel to Cairo to pay a state visit to Egypt from June 24-25. (ANI)
Read More: lokmarg.com