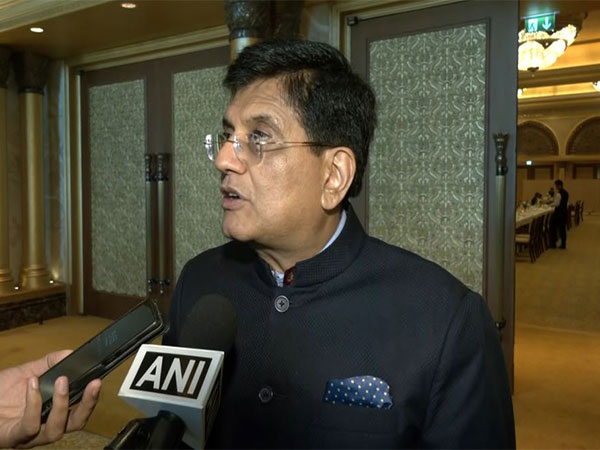 LM NEWS 24
LM NEWS 24
Moon Is Not The Limit: Goyal On India-UAE Investments
Elaborating on UAE's interest in investment in India, Union Commerce and Industry Minister Piyush Goyal said in the days ahead a significant flow of investments both in public markets and in the manufacturing and services sector will be witnessed adding, "even moon is not the limit."
In an exclusive interview with ANI in Abu Dhabi, Piyush Goyal said, "While at one point in time, we would say the sky is the limit, I can say now even the moon is not the limit."
Union Minister Piyush Goyal was in UAE to co-chair the 11th Meeting of the India-UAE High-Level Joint Task Force to boost investments between the two countries.
He said, "They are very keen to invest in infrastructure projects, projects related to education and healthcare. They are looking at food and food processing in a very big way…The airline sector and the entire aviation ecosystem also hold a lot of promise. In the days ahead, we will see a significant flow of investments both in public markets and in the manufacturing and services sector, in pharmaceuticals, roads and highways, ports, other infrastructure activities."
Goyal was present during India and UAE signing of Memorandum of Understanding (MoU) on the cooperation in the field of Industries & Advanced Technologies and both countries also signed agreement for National Payments Corporation of India's international arm to partner with UAE for developing a Domestic Card Stack similar to RuPay.
This MoU will facilitate the users of both the countries which would be as seamless as a domestic transaction using a beneficiary identifier (mobile number/VPA).
Speaking on the development Union minister said "We have also signed a MoU with the UAE on advanced technologies, on collaborative research, on working towards strengthening the intellectual property systems, on sharing of science and technology policies, and working towards harmonisation of standards, legal metrology, conformity assessment, accreditation. Both these milestone decisions today will help the Indian businesses, will help our trade expand in UAE, which will help attract more investments from UAE to India. We have also had extensive discussions around creating food parks in India, creating industrial parks both in India and in the UAE.I have just completed discussions with the Reserve Bank and the Central Bank."
The agreement also aims to enhance the transparency for the users through upfront display of remittance amount in both the currencies with applicable charges. Among the salient feature of the agreement is integrating Unified Payments Interface (UPI) of India and Instant Payments Platform (IPP) of the UAE, to process cross-border transactions between the two countries more efficiently.
Goyal co-chaired the 11th India-UAE High Level Joint Task Force on Investments with Sheikh Hamed bin Zayed Al Nahyan, MD of the Abu Dhabi Investment Authority and he said, "In all, this 11th high-level task force on investments has been full of outcomes. I am very confident that this will set in force a new era of partnership between the two countries, of expanding the scope and the width of investments from the UAE to India and certainly create millions of new jobs in India."
Terming the India-UAE partnership as, unprecedented, Goyal added, "The United Arab Emirates and India share a strategic partnership which is unprecedented. Never before in the history of our relations have we had as many exchanges as we have had in the last few years."
This MoU will enter into force from the date of its signature. It will remain in force for three years, and thereafter automatically renews for an equivalent period, unless either party expresses its intention to terminate it, through sending a prior written notification to the corresponding Party through diplomatic channels, at least six months before the termination date, a joint statement said. (ANI)
Read More: https://lokmarg.com/