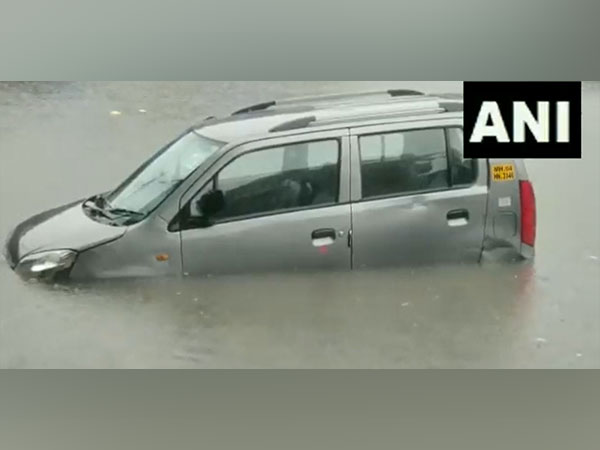 LM NEWS 24
LM NEWS 24
M'rashtra: Heavy Rains Leads To Waterlogging In Multiple Areas
Heavy rains lashed parts of Maharashtra leading to severe waterlogging in multiple areas on Saturday.
Severe water-logging also occurred in Bhiwandi following heavy rainfall which led to cars being half submerged in water.
The India Meteorological Department (IMD) has issued an orange alert for heavy to very heavy rainfall in isolated areas in Palghar, Thane, Raigad, Ratnagiri, and Sindhudurg districts for Sunday.
The weather department has also issued a yellow alert for heavy rainfall in isolated places in Mumbai for tomorrow.
The Indian Air Force conducted a rescue operation in Yavatmal on Saturday as several people were stranded in Anand Nagar village due to a flood.
In this regard, Yavatmal collector Amol Yedge said that flood-like situation was witnessed in several areas of the district.
"Yavatmal has received 240 mm of rain today leading to a flood-like situation in several areas. 219 people who were stranded in various areas have been shifted with the help of State Disaster response Force and Indian Air Force," he said.
Earlier today Maharashtra Chief Minister Eknath Shinde and his family members met Prime Minister Narendra Modi in the national capital.
The Maharashtra CM apprised PM Modi about the prevailing situation due to floods and landslides caused by incessant rainfall.
Shinde was accompanied by his father Sambhaji, wife Lata, son Shrikant, daughter-in-law Vrushali, and grandson Rudransh.
"I apprised the Prime Minister of the prevailing situation following a landslide at Irshalwadi, a tribal village surrounded by the Sahyadri mountains in Raigad district," CM Shinde said after calling on PM Modi.
"I thank Modiji for affectionately enquiring and sharing quality time with my family. Briefed Hon. Modiji regarding the excessive rainfall situation in Maharashtra," he tweeted.
Shinde added that the PM Modi enquired about the Irshalgad landslide in Raigad while expressing regret over the loss of lives in the incident.
The landslide has, so far, claimed at least 26 lives and 80 more are reported missing.
Shiv Sena on Saturday announced that Maharashtra Chief Minister Eknath Shinde will adopt children who lost both parents in the recent landslide at Irshalwadi village in Raigad district of the state.
"In Irshalwadi landslide several kids have lost both their parents. CM Eknath Shinde has announced to adopt these kids and become their guardian. The CM has declared that these orphaned kids 2 years to 14 years of age will be taken care of by Shrikant Shinde Foundation," said Shiv Sena.
The National Disaster Response Force (NDRF) continued its search and rescue operations at the landslide-hit Irshalwadi in Raigad on Saturday.
One team of NDRF reached the site early this morning and more teams are expected to join the search operation later today.
A landslide struck the tribal village situated on a hill slope in Khalapur tehsil, Raigad district, about 80 km from Mumbai around 11 pm on Wednesday.
Earlier in the day, with heavy rains lashing Maharashtra's Yavatmal, a Mi-17 V5 helicopter was inducted from Nagpur to evacuate 40 people who have been stranded due to floods.
"Based on the requisition of the District administration, one Mi-17 V5 helicopter is being inducted from Nagpur to evacuate 40 people stranded due to floods in Yuvatmal district," said Wing Commander Ratnakar Singh, Defence PRO Nagpur.
With heavy rains lashing Maharashtra's Yavatmal on Friday night, many residential areas in the district were inundated, and water also entered several houses on Saturday.
As per locals, it rained for around four hours at night, and they woke up to flooded streets and rainwater entering their houses.
"It started raining heavily around midnight, and when we woke up in the morning, we saw our house submerged in water. Currently, the water has entered our house and our furniture including sofa, fridge, ration got submerged in the water," said a local. (ANI)
Read More: http://13.232.95.176/