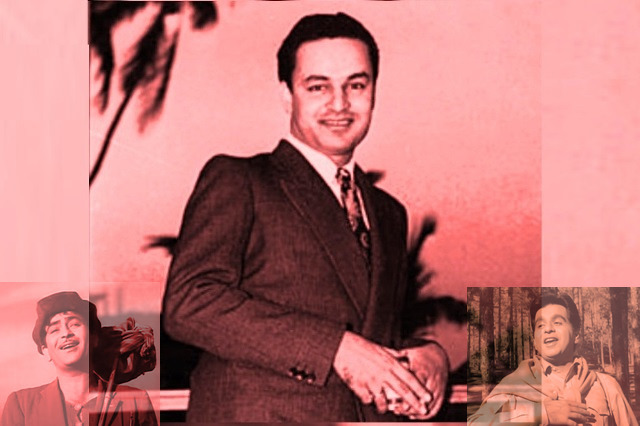 OPINION
OPINION
Mukesh – A Tragic Voice That Tickles The Heart
As we progress into this century, the Hindi cinema of what is called its "golden age" (late 1940-mid 1960s) and thereabouts, is being celebrated, more than its many iconic films, through its music. Arguably though, songs have lingered on while the films of that era are considered slow today. Many viewers skip the scenes and fast-forward to the songs that have survived the onslaught of time and changing tastes better.
Mukesh (Mukesh Chand Mathur) whose centenary is being celebrated, excelled in that era. Along with his contemporaries whose birth centenaries will soon come – Talat Mahmood next February, Mohammed Rafi in December 2024, Lata Mangeshkar and Kishore Kumar in 2029 – while Manna Dey's in 2019 went unremembered – he is part of the multi-million nostalgia factory that thrives wherever Hindi/Hindustani/Urdu is understood.
Why Mukesh matters today and may do so in future? One word is empathy in our increasingly impersonal times. Devdas clones do abound but are seemingly frowned upon in a fast-moving world. Mukesh's songs exuded plenty of empathy to record the heartache of a jilted lover or one who had given up on life. It was considered perfectly okay to be rueing one's fate.
We are talking of the age when pathos came silhouetted in black-and-white and came through good verse by the best poets of that era, composed in good classical-based music. That music was and remains universal. But the old ethos is gone. Arguably, in the race for westernization and globalization, Indian music, like cinema, has lost its niche.
Another sentiment that went with those times was romance. It was expressed in abundance, but less explicitly, when a mere gesture of a hand or bashful lowering of the lady's eyes sufficed. On the other extreme, it meant running around the tree, if far removed from day-to-day life. Mukesh crooned for almost all the leading men from Dilip Kumar to Amitabh Bachchan – just as Lata Mangeshkar did for the heroines. He could express their many moods in many situations.
On patriotic songs, Mukesh had healthy competition but he didn't have to raise his pitch to be heard. Recall Hum Hindustani composed by Usha Khanna, Aa ab laut chalein or those he sang for Manoj Kumar, making a significant contribution to the image change from the romantic to 'Bharat'.
He was the feel-good guy (Dum Dum Diga diga, Man daudne lagta hai). He could be philosophical (aasmaan pe hai khuda au zameen pe hum) or naughty (Main Nashe mein hun). But he remains better known for his many tragic numbers (Mujhe tumse kuchh bhi na chahiye, Aansu bhari hai).
It was not easy. The man from old Delhi did well amidst arrival post-Partition, of the Punjabi exuberance and the soulful Rabindra Sangeet. He did well without undergoing the vocal grind under known Ustads. He recorded fewer songs than his contemporaries but proportionately, is estimated to have given more hits than others.
Goodness is not confined to any cinema, society or era. It came naturally to Mukesh for he was reputedly, a good man as much as a good singer. If nothing else, he didn't court controversies. He helped out needy families and sang at family gatherings of dear ones.
ALSO READ: Dadamony, The Actor Who Could Do No Wrong
Mukesh happened to Raj Kapoor at the outset of his career and remained unchallenged all through Kapoor's acting years. Of the 1,300-odd songs that he sang over three decades, 110 were crooned for Kapoor. Mukesh lent voice to Shailendra or Hasrat Jaipuri lyrics, 133 of which were composed by Shankar-Jaikishan. It was the most formidable team in highly competitive times, winning Mukesh three of the four Filmfare Awards.
This combination went well with Kapoor's smiling face hiding suffering in a Chaplinsque persona. It was a heady mix as much for an aspirational India as for many an enslaved nation that gained independence and those in Europe that had just left behind the Stalinist era.
A deeper analysis of Mukesh's contribution to Kapoor and his Awaara image which has survived generations, would need separate space. When Mukesh died in 1976, prematurely at 53, the man who in turn made Mukesh's voice globally heard, aptly said that his 'voice' had vanished.
All this can be argued, but not the fact that Mukesh was eminently hummable. Everyone thought he could sing a la Mukesh. Requiring little of the high pitch, his songs created amateurs – and bathroom singer types – with varying knowledge of melody and rhythm. In that sense, he was the "people's singer" in an era when belonging to the 'people' carried a political label.
Mukesh was probably not an activist/sympathiser of the Left-leaning Indian Peoples' Theatre Association (IPTA) which had members among writers and filmmakers of that era. But he responded to a call from composer-writer and IPTA activist Salil Chowdhury for whom he had sung some of his best songs. He performed, gratis, for an event this writer was associated with in the late 1960s.
Mukesh had an audience gathered essentially to hear him. He didn't speak a word, sang three soulful numbers that were the rage of those times, and a peppy one to lift the audience's mood. No orchestra – he played the harmonium as singers do, and his own man accompanied him on the tabla. He didn't even wait to receive a bouquet.
Legend has it that when he sang Dil Jalta Hai, K L Saigal whom he worshipfully emulated, wondered when he (Saigal) had recorded that song, till he was put wise. Mukesh's fledgling career took off. Two decades later, Mukesh green-signalled Manhar Udhas' career with Aap se hum ko bichchade huye ek zamana beet gaya that the latter had actually sung as a standby.
Clones do not survive for long and Mukesh had to shed the Saigal influence. Naushad helped him evolve an individual style. But Naushad did not continue with him since Dilip Kumar, for whom Mukesh had sung 20 songs (Andaaz, Madhumati) opted for Rafi.
Out of the studio system, the acting 'stars' in the 1950s chose their favourite singers who in turn became stars. Along with Mukesh, Rafi and Lata Mangeshkar also broke free from the old and evolved their own styles to make the era truly 'golden'.
They and their music dominated society enough to alarm the social and political conservatives of that era. They feared that the age-old classical music was being threatened by film music. But ousted from the state-controlled All India Radio, Hindi film music moved to Radio Ceylon and gained further reach and popularity.
Mukesh has defied generational change. Although he died 47 years back, there are still many who rock to Rook ja oh jane wali, rue over their fate (Mujhe tum se kuchh bhi na chahiye) or live in the hope for Woh subaha kabhi toh ayegi.
The writer can be contacted at mahendraved07@gmal.com