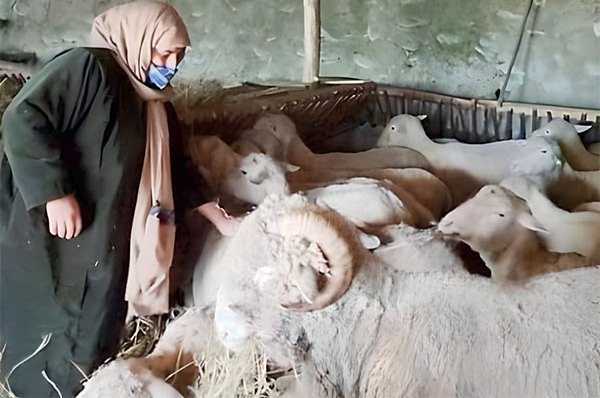 LM NEWS 24
LM NEWS 24
Mumtaza: Kashmir's Entrepreneur Sets Example In Sheep Farming
A 33-year-old woman farmer from the Watrina village of North Kashmir's Bandipora district has become a living example of self-empowerment and a fulfilled life through her successful sheep farming business.
Despite facing obstacles and dropping out of college at a young age, Mumtaza has pursued her passion for a successful career and achieved remarkable success in the field of sheep farming.
"I always wanted to live my dream of an empowered and fulfilled life, but fate had me drop out of college at a tender age. However, it didn't put a stop to my passion for exploring a successful career for myself," said Mumtaza.
Considering the limited options available to her due to financial and social constraints, Mumtaza found herself inclined towards sheep farming. Her family had a modest involvement in sheep farming, owning around 10-15 sheep.
But for a dreamer like Mumtaza, such a small-scale operation was not enough to fulfil her aspirations. She desired to expand her flock size and establish a commercial and profitable livestock enterprise.
"The Department of Sheep Husbandry Bandipora guided me to apply for the then active Subsidy-based state-sponsored scheme in 'Mini Sheep Farms.' I got selected for the sheep unit under the said scheme in Feb 2019 and was allotted a unit of 50 sheep in the same month," she said.
Embarking on her journey, Mumtaza said she faced initial challenges due to the labour-intensive nature of sheep farming and her lack of experience. However, her dedication, perseverance, and hard work propelled her forward, and she made significant strides over the years.
Mumtaza attributes a significant portion of her success to the unwavering support of her husband, who has been her constant source of motivation and emotional backing throughout her entrepreneurial journey.
"Behind every successful woman is a supportive husband. A lot of success in my endeavor would never have been possible without the consistent support of my husband. He has always been my motivation and emotional support and has stood by me through thick and thin," Mumtaza expressed.
She said that the supportive role of a spouse becomes even more vital for female entrepreneurs who also have the responsibility of raising children.
Mumtaza acknowledges the invaluable support the Department of Sheep Husbandry provided in overcoming the hurdles she encountered on her path to success.
She also said that her decision to venture into sheep farming has brought about a significant improvement in her life and she feels more fulfilled and satisfied with her accomplishments and works tirelessly, with the full support of her family.
Encouraging other women, Mumtaza urged them to seize every opportunity available to them and strive to improve their socioeconomic conditions.
"I feel more fulfilled and satisfied. I work as much as I can and when I can. I have the full support of my family. I want to tell all the women that they should use all the opportunities that are given to them to improve their socioeconomic conditions. It is a special satisfaction when you can prove to yourself and also to others that you can make life better," she said.
At present, Mumtaza manages a thriving and commercially viable sheep farm, housing more than 210 sheep and earns a net income of over five lakh rupees by selling approximately eighty sheep annually, most of which are purchased as sacrificial animals during the occasion of Eid ul Azha.
Mumtaza further said that her sheep farming enterprise has also provided employment opportunities for three young individuals, contributing to the local economy and fostering growth in her community.
District Sheep Husbandry Officer Bandipora said that the story of Mumtaza has become an inspiration for farmers, particularly women, in her district and beyond.
"Her journey from adversity to success showcases the rewards that come with perseverance, determination, and support. She stands as a living example of how passion, hard work, and the right resources can empower individuals to overcome challenges and achieve their dreams," he said.
He further said that her story serves as a reminder that with determination and the right support, anyone can carve their own path to success, breaking societal barriers and achieving personal fulfilment. (ANI)
Read More: lokmarg.com