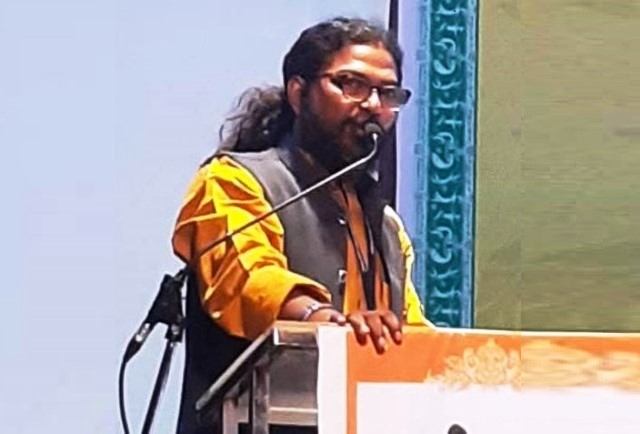 LOK ISSUES
LOK ISSUES
'Murmu's Presidency Is A Ploy To Hinduise Adivasi Identity'
Dr Goldy M George, a Chhattisgarh based writer-activist who specializes in ethnography, unravels RSS agenda behind BJP's presidential nominee
The nomination of Draupadi Murmu for the ceremonial post of President is not merely representative symbolism, but a clear manifestation of the RSS-BJP's core political project — to declare India as a Hindu nation. Apart from her Adivasi identity, behind Draupadi Murmu's nomination, there is a far-reaching vision of how she would be used to dismantle the Adivasi-indigenous movement against the usurpation of land, forest, water, minerals, resources etc.
Today, Adivasis stand like a wall — an indispensable impediment — against any usurpation of rural resources by corporate houses. There has been a tremendous resistance movement on these issues for decades in Jharkhand, Odisha and Chhattisgarh.
The other agenda is the current delisting movement being spearheaded by the RSS-run Janjati Suraksha Manch. For this to succeed, the BJP needs a person from such a community to head the highest constitutional position. That is, transferring land, water, forest, minerals, resources, etc. to corporate houses; reducing the population of tribals by delisting; declaring scheduled areas as general (open); replacing non-Adivasis during elections in these areas, by bringing an upper caste candidates, to tame and subjugate the Adivasi population and; to declare India as a Hindu Rashtra.
Draupadi Murmu is part of this massive Hindu Rashtra project. In the past, there are two instances of Dalit presidents in India. Did it make a difference to the social, political and economic status of Dalits? Certainly, whenever a person from an oppressed section enters the highest constitutional office, it installs a new sense of empowerment among the citizens hailing from similar backgrounds. However, it did not happen much in the case of the current President Ram Nath Kovind, though, it certainly had some socio-political impact, although not economical, in the case of KR Narayanan, the first Dalit president. Both come from modest backgrounds, who went on to become the first citizens of this country. A cursory observation into their tenure puts light on a few facts.
Kovind is born into a Scheduled Caste (Koli community) in Parakh, Kanpur Dehat, while Narayanan belonged to the Paravan caste (whose members are involved in fishery, boat-building, sea trade). While Kovind remained a rubber stamp of the BJP-RSS government, Narayanan was way different. He never succumbed to pressure tactics. He ensured that the office of the president is still the supreme.
Narayanan took stand against the police firing and killing of Adivasis in Kalinganagar, Odisha. This leader from Kerala distinguished himself by twice returning the Union Cabinet's recommendations to dismiss elected state governments, sending a firm message that he was no 'rubber stamp'.'
In 1997, when I K Gujral was the Prime Minister, the Union Cabinet sent him a proposal to dismiss the BJP government in Uttar Pradesh, but he refused. A year later in 1998, he sent back the Vajpayee cabinet's recommendation to dismiss the Rabri Devi government. Both times he went by the book and won praise. Narayanan set several precedents and enlarged the scope of India's highest constitutional office. He became the first President of India to have cast his vote while remaining in office.
Sworn in as president, in his inaugural address, Narayanan said, "That the nation has found a consensus for its highest office in someone who has sprung from the grass-roots of our society and grown up in the dust and heat of this sacred land is symbolic of the fact that the concerns of the common man have now moved to the centre-stage of our social and political life. It is this larger significance of my election rather than any personal sense of honour that makes me rejoice on this occasion." Such bold steps and statements were the hallmark of Narayanan in office. He sent a clear message on the questions of izzat of Dalits as a Dalit in power giving the scope and vision of a new enlightened India.
What is the track record of Murmu in terms of tribal and Dalit upliftment? Born on June 20, 1958, in Baidaposi village of Mayurbhanj district in Odisha, she hails from a poor Santhal Adivasi background. She has come through hardships and after completing her BA joined as a school teacher. In 1997 she became a politician under the banner of BJP. Not much detailed narratives could be built upon from her past. It's difficult to tell a clear story of her stint as the Minister of State with Independent Charge for Commerce and Transportation (March 6, 2000 – August 6, 2002) and Fisheries and Animal Resources Development (August 6, 2002-May 16, 2004). However, as Governor in 2017, Murmu refused to give assent to a bill approved by the Jharkhand Legislative Assembly seeking amendments to the Chhotanagpur Tenancy Act, 1908, and the Santhal Pargana Tenancy Act, 1949. Murmu, as governor, sought an explanation from the Raghubar Das-led BJP government about how the changes would bring in better living standards among the Adivasis.
The Adivasi situation in most parts of the country is more or less the same. Almost all Adivasis zones are full of mineral and natural resources. Almost 50 per cent of India's mineral resources are found in Scheduled Area or extended scheduled area. Since the idea of planned development began, Adivasis in India began to face the worst history of indigenous dispossession.
They were and are being not only robbed off their resource base, but are also colonised into a new cultural pattern. Hinduisation of Adivasis is at a helm and this is yet another major challenge to their culture as a whole. These altogether would lead to the physical alienation and cultural genocide of Adivasis in India. One can only wait and watch how far would Draupadi Murmu be able to address these questions as the first citizen of India.