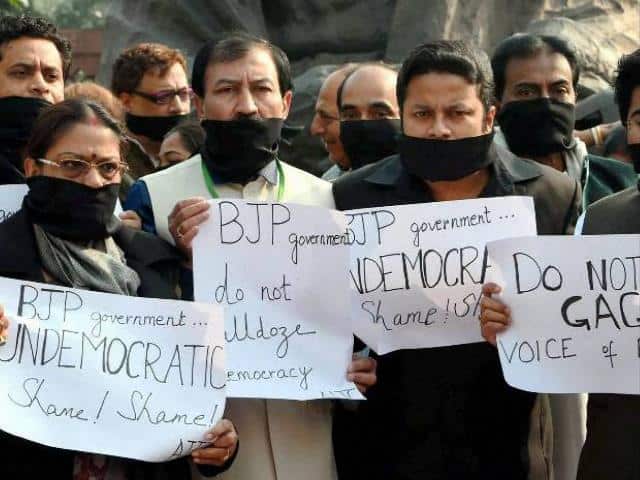 OPINION
OPINION
Muzzling Political Dissent Is The New Normal Now
<![CDATA[
Not just the Narendra Modi-led Centre, even state regimes are targeting their opponents through various means of intimidation, and this phenomenon is not limited to the BJP-ruled governments
Each time Bharatiya Janata Party leaders get on to a podium they never fail to mention the suffering endured by their senior colleagues who were thrown into jail by Indira Gandhi in 1975 when she declared a national Emergency.
These references are invariably peppered with strong critical comments about how dissenting voices were suppressed during those dark days, the media muzzled and democratic norms crushed by wielding the proverbial stick.
While recalling the BJP's struggles, its leaders cite their experience during the Emergency to pledge their party's commitment to the freedom of the press and citizen's rights. They vow to uphold democratic values and Parliamentary norms and promise never to silence their critics by going down the road traversed by Indira Gandhi.
However, all these promises and declarations have a false ring to them today. Ever since the Modi government came to power five years ago, it has systematically targeted its opponents, whether they are political leaders, human rights activists or journalists, by arresting them, filing police cases against them and embroiling them in prolonged legal battles. With the Centre taking the lead, it is not surprising that the states have been quick to follow suit and this phenomenon is not confined to BJP-led governments alone.
And all this is happening without declaring a national emergency. Little wonder then that this government's detractors these days often remark that the country is witnessing an undeclared emergency. There is, however, a difference between 1975 when Indira Gandhi declared an emergency and the present situation. Indira Gandhi's move met with strong public disapproval and this anger was reflected in the 1977 Lok Sabha election when the Congress was routed. But today, the Modi government's decisions enjoy wide popular support and are actually cheered on by the people.
Or alternatively, the people are plain indifferent to these daily occurrences. All those who would normally be expected to raise their voices against these developments are silent. The opposition parties are battling for survival, civil society has been crushed and the media has been successfully co-opted.
Take the case of the detention of mainstream political leaders, activists, lawyers, other professionals and students in Kashmir since August 5 when the Modi government moved quickly to abrogate Article 370 in Jammu and Kashmir and bifurcate the state into two Union Territories. Three former chief ministers – Farooq Abdullah, Omar Abdullah and Mehbooba Mufti – are under house arrest while their party colleagues have also been detained. On September 16, Farooq Abdullah, a sitting Lok Sabha member, was booked under the draconian Public Safety Act which allows the state to detain a person for up to two years without a trial.  
There have been some murmurs of protest against the government's latest move to slap the stringent Public Safety Act against the three-time former chief minister by opposition parties but it is too early to say if it will be followed up with any concrete action. So far, there has been virtually no protest or any sign of a public outcry over the large-scale "arrests" undertaken in Jammu and Kashmir even as BJP national general secretary Ram Madhav shrugged these off, saying that "preventive arrests are a part of political activity."
The August 5 developments have since been emulated by state leaders. Andhra Pradesh chief minister Jaganmohan Reddy of the YSR Congress, lost no time in placing his predecessor and political rival Telugu Desam Party chief N.Chandrababu Naidu and his son under house arrest. The chief minister resorted to this extreme measure when Naidu staged a protest against the YSR Congress for its mishandling of TDP workers.
At the same time, the Congress-led Chhattisgarh government arrested Amit Jogi, the son of former chief minister Ajit Jogi, on charges of cheating and forgery for giving false information in his election affidavit. He has been denied bail. Ajit Jogi himself is in the dock after a case was registered against him for falsely claiming in his election affidavit that he is a tribal.
In both these instances, the actions of the incumbent chief ministers are driven by a personal agenda to settle scores with a rival. While Reddy and Naidu have been locked in a prolonged political slugfest for the past several years, Chhattisgarh chief minister Bhupesh Baghel's rivalry with his former Congress colleague Ajit Jogi is also well known.
It is the same story in the case of former finance minister P.Chidambaram who has been arrested in the INX Media case. Home minister Amit Shah was similarly arrested in an alleged false encounter case when Chidambaram was heading the same ministry. A host of other opposition leaders have also been slapped with various charges of financial impropriety, cheating and money laundering. The list is long – it includes former Haryana chief minister Bhupinder Singh Hooda, Karnataka Congress leader D.K.Shivkumar, Nationalist Congress Party leader Praful Patel, former Congress treasurer Motilal Vora, even Sonia and Rahul Gandhi. West Bengal chief minister Mamata Banerjee's party colleagues are also facing the heat from the Central Bureau of Investigation.
The Modi government's ire is not confined to political leaders alone. Social activists, lawyers and renowned academics like Sudha Bharadwaj, Varavara Rao, Gautam Navlakha, who work for the rights of the rural poor and tribals, have been booked for inciting caste-violence and for being sympathetic to Maoists. None of them have got any respite from the judiciary though it is over a year since they were detained.
Among others, journalists have also been at the receiving end. Only recently, a spate of cases have been reported from Uttar Pradesh where local media persons were picked up by the police for showing the administration in poor light. Journalist Pawan Jaiswal was booked for circulating a video showing children being served roti and salt in their midday meals in a school in Uttar Pradesh's Mirzapur.  Five reporters were arrested in Bijnore when they ran a story that a Dalit family had put their house on sale after they were denied access to the village water pump. Then there is the case of another journalist in Azamgarh who was booked by the Uttar Pradesh police for reporting how children were mopping floors in their school.
But all these incidents have left people unmoved. Because it is the new normal in India.