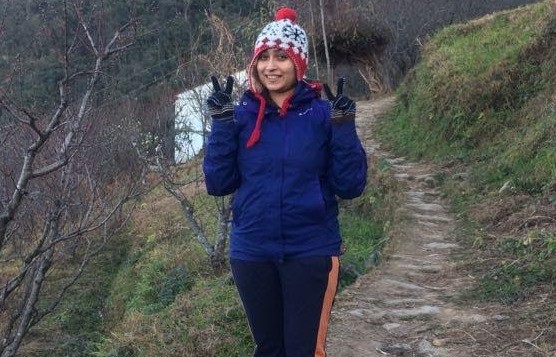 LOK ISSUES
LOK ISSUES
'A Homestay Built With Plastic Bottles'
Deepti Sharma, 32, recycled over 26,500 single use plastic bottles by constructing a room and two washrooms at a village in Uttarakhand. She had to transport bottles from Haldwani, then use horses to carry it to the construction site
While Prime Minister Narendra Modi is set to launch plastic free drive on October 2 this year, I am happy that I have recycled over 26,500 plastic bottles, more than I can use in my lifetime. I made walls for my house at Satpuri village of Hartola, which I am going to use as a homestay. The construction was very painstaking as it was hard to find good masons who can execute the work. Such constructions have taken place in other parts of the world and in some parts of India also, but executing such a work at a height of 7,000 feet, was a real uphill task.
First I had to transport plastic bottles from all the way to Haldwani, then horses were used to dump it at the construction site as the nearest motorable road is about 250 meters from the site. In the beginning, everything went well, but as the wall started taking shape, the challenges appeared. The concrete was not staying at one place at the wall. I had to research again and again and made call to various people including my sister in the United States of America to help with some plans. I copied a South American way and used chicken wire to hold the concrete and it worked. It took nearly six months to complete the one room and two washrooms and by then my gynecologist advised me not to travel anymore, I was six month pregnant. So after completing first room and two washrooms with recycled plastic bottles, I asked my contractor to make rest of three rooms and two washrooms with fly-ash blocks, as I was unable to look after the work. In the meantime, I purchased worn-out tyres from Haldwani and made stairs out of them. I have recycled about 150 tyres.
My dream homestay, where I am going to shift in a year or so, is almost ready. I am going to get it registered this year. So far, only friends and extended family members have visited the homestay. Now I will focus on generating business as I will need money for my baby's future and also will be helping my husband in relocating to our dream place. One can see Himalayas at a span of 180 degrees from the rooms. The bottle room had gathered fans even before it was constructed. People from neighbouring villages and cities came to see the construction. Now, I want people to come and see how it was done and repeat the same wherever they want.
The process of making walls from single us plastic bottles is very easy and cheap. It requires good masons though. One has to one by two inches metal net and make a rectangle wall-shaped box out of it in which plastic bottles can be stuffed. Once completed, the wall-shaped boxes have to be welded or tied to the frame or pillars of the house. After that, chicken wire has to be tied on it before filling it with concrete.
During winters, the recycled-bottle room remains warmer than rest of the rooms. It is also a very light construction to do. I am planning to construct a couple of more such rooms once I shift there.