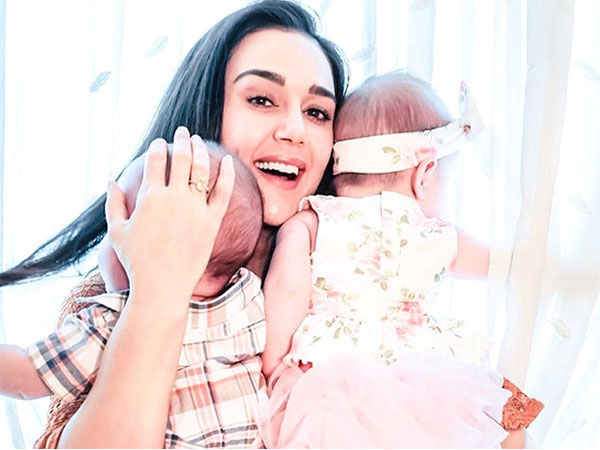 LM NEWS 24
LM NEWS 24
My Kids Are Jadoo In My Life, Says Preity
Actor Preity G Zinta has been enjoying her motherhood phase to the fullest. She and her husband Gene Goodenough were blessed with twins Gia and Jai in 2021.
In a recent conversation with ANI, Preity gave a sneak peek into her journey as a parent. She revealed that she plays 'Koi…Mil Gaya' title track to make her little ones sleep.
"The title track, 'Koi…Mil Gaya' is something I play when my kids don't go to sleep, it helps calm them down," Preity shared, describing her children as "jadoo" (magic).
Interestingly, Preity shared this cute little detail about her kids' bedtime on the sidelines of the 20th anniversary of 'Koi Mil Gaya'. The film, in which Preity played the role of Hrithik Roshan's love interest, completed 20 years on Tuesday.
Revisiting memories from the sets of 'Koi Mil Gaya', Preity shared a funny anecdote of her getting irritated by Hrithik.
"I remember the first day of shoot, I was irritated that Hrithik was late and suddenly someone tapped on my shoulder, I turned to see and it was Hrithik in Rohit's look. He was completely unrecognisable and I was surprised to see him. It only then struck me that Hrithik was on set all along, it was just that I did not recognise him," she recalled.
"'Koi…Mil Gaya' is a film I will always treasure as it celebrates friendship and I worked on it with my friend Hrithik, and all the wonderful people like Rakesh ji, Rekha Ma'am, and all the lovely kids. I had a lot of fun during the shoot and this is a film I will always hold close to my heart," she added.
Preity and Hrithik have worked together in 'Mission Kashmir' and 'Lakshya' as well. It's been years since the two have shared screen space together but till date, they share a great friendship.
Speaking about her bond with Hrithik, Preity said, "It's always fun dancing and filming a song alongside Hrithik, be it 'Bhumbro' or 'Idhar Chala, Main Udhar Chala'. Both the songs are very different, while 'Bhumbro' has us performing the Kashmiri folk dance in a specific style, 'Idhar Chala, Main Udhar Chala' has us dancing carefree and just having fun in the rain. The chemistry of course was very different in both these songs, 'Bhumbro' was two estranged lovers performing together, while 'Idhar Chala Main, Udhar Chala' was about two friends in a conversational dance and forming a connection," she said.
"Hrithik is a very close friend of mine and I love him. But I respected him more after working with him and seeing his dedication and hard work. Everyone I've worked with are all my friends now. Whenever we meet, it's always great to see each other, of course," she added. (ANI)
Read More: http://13.232.95.176/