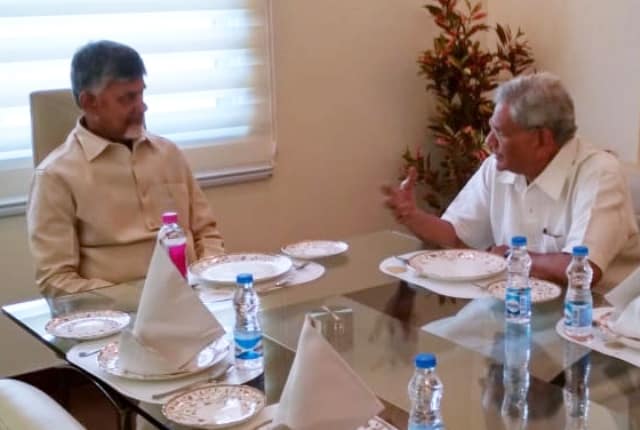 LM NEWS 24
LM NEWS 24
Naidu Meets Sonia Over Anti-BJP Front
<![CDATA[
Andhra Pradesh chief minister and TDP chief Chandrababu Naidu continued his attempts to cobble a front to keep BJP out of power in case it falls of majority in the Lok Sabha elections by meeting various leaders including Congress President Sonia Gandhi.
Naidu, who has met Sonia Gandhi during the days of the United Front government in 1996, drove to her residence for the meeting. Nothing was disclosed about what they discussed but it is understood that the two leaders went over the options before non-BJP parties in the post-poll scenario.
Earlier in the day the TDP chief also met Nationalist Congress Party chief Sharad Pawar and CPI (M) General Secretary Sitaram Yechury.
He had also met Pawar yesterday as well as Rahul Gandhi in Delhi and grand alliance leaders BSP chief Mayawati and Samajwadi Party chief Akhilesh Yadav in Lucknow.
"It is a pleasure to welcome Hon"ble Chief Minister Shri N Chandrababu Naidu Ji to Lucknow," Akhilesh Yadav tweeted after the meeting.
Naidu also met NCP chief Sharad Pawar, CPI leader Sudhakar Reddy, and Loktantrik Janata Dal leader Sharad Yadav. Last night, he had met Delhi Chief Minister Arvind Kejriwal.
Sonia Gandhi has also invited leaders of the UPA and sounded some others including Odisha and Telangana chief ministers Naveen Pattnaik and K Chandrasekhar Rao respectively as well as YSR Congress party chief Jaganmohan Reddy for the meeting on May 23, when the results will be out.
She has also convened a meeting of party leaders on May 22, for preparations for the Thursday meeting.
(ANI)