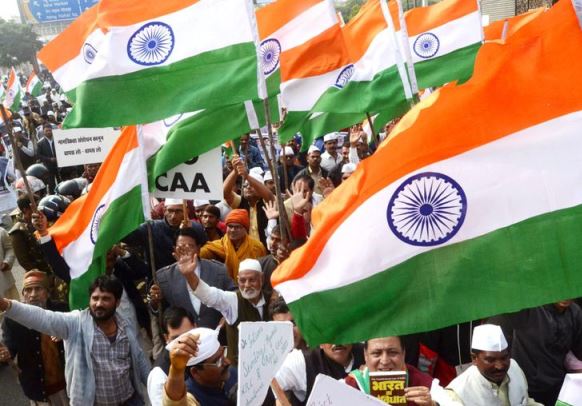 OPINION
OPINION
Nation Is Rising Up, Where Is Opposition Holed Up?
From the langar cooked by Sikh farmers from Punjab at Shaheen Bagh to children shouting azaadi slogans from balconies and car windows, the anti-CAA mass movement has struck a chord across the country. So why is the Opposition missing the nation's heartbeat?
Be it dusty and arid inner village lanes, or claustrophobic and packed road shows in small Uttar Pradesh town, an effervescent Priyanka Gandhi has always been a 'natural' among Indian people. Even Indira Gandhi seems stiff when compared to her organic relationship with people on the ground, especially ordinary women. Perhaps she comes closest to Jawaharlal Nehru in the family tree in the natural bonding with the teeming masses.
They seem to love her young, smiling and easy demeanor, as if a daughter has returned home after exile in a big town. During the CAA protests recently, at India Gate in a cold bone-chilling night, Priyanka seemed totally at ease, comfortable amidst the rising tide of anger against the ruthless atrocities on Jamia students in Delhi by the police. She seemed equally confortable taking on the bullies in uniform in Yogi Adityanath's UP, as she broke the police barricades in trying to reach out to the family of the highly respected and gentle former Inspector General of Police in UP, SR Darapuri, who was arbitrarily picked up by the cops as he protested peacefully in Lucknow.
He was picked up with outspoken spokesperson of the Congress Sadaf Jafar, also an actor in a forthcoming Mira Nair film and a social media celebrity. There was national outrage because Sadaf was manhandled, abused, kicked and allegedly told to go to Pakistan by the male cops at the police station.
To break the police barricades imposed using Section 144, Priyanka rode pillion on a scooter with a Congress worker, both without helmets, the ride on the streets of Lucknow becoming television's 'breaking news'. However, the scooter driver was later fined by an overzealous and revengeful UP police for driving without a helmet!
Indeed, even as she upped the ante against the Yogi regime, or, earlier, against the Jamia atrocities, or, with her perceptive and aggressive tweets, there always seemed to be a 'missing link' in the political conduct and body language of the Congress General Secretary in-charge of UP. It seemed abjectly transparent that she is just about holding herself back, not moving into the floods of the crowd like an effortless mass leader, not taking on the 'enemy' or the police and the government with an organic confidence which only she could carry off. Surely, she is a million times better and combative among crowds than her staunchly secular brother, who continues to remain a 'reluctant inheritor'.
Indeed, while she still stood up with Jamia and activists in UP, Rahul, yet again, simply disappeared from the turbulent scene. Did he not realize that this was a non-violent mass movement which has struck a chord all across the country, perhaps for the first time after the freedom movement and the 'total revolution' called by JP post-Emergency?
Did he fail to see the young, brutalized, beaten up and assaulted, both girls and boys, in JNU, Jamia, AMU, refusing to succumb, blood dripping from their heads and faces, their hands in plaster, taking on the brutish, nasty and cold-blooded repressive state apparatus of Narendra Modi and his number two: Union Home Minister Amit Shah, under whom the Delhi Police played along tacitly with masked ABVP armed goons in JNU? Did Rahul not see and hear the mothers, sisters and daughters of Shaheen Bagh in Delhi, in tens of thousands, holding forth for more than a month in this freezing cold, even as the movement led by most ordinary women have moved into new zones of peaceful resistance?
In Delhi alone, the Shaheen Bagh model has been successfully recreated at Khureji in East Delhi, Inderlok in Northwest Delhi, Turkman Gate in Old Delhi and Rani Garden in Northwest Delhi. Across the country the epicenter of the circle of resistance is Shaheen Bagh with its songs, graffiti, wall paintings, work of art, speeches, poetry and theatre, even as a tribute to the Kashmir Pandits who had to forcibly leave their beloved homeland.
So there we have Park Circus in Kolkata, Ghanta Ghar in Old Lucknow, Sabji Bagh in Patna, and at least 120 such Shaheen Baghs all over the country. Add to this the tens of thousands coming out routinely and everyday across the big metros and small towns, including in places like Malerkotla in Punjab, Kota in Rajasthan, Gaya in Bihar, Ranchi in Jharkhand, Nagpur in Maharashtra and Mangalore in Karnataka. This circle of resistance is moving like a whirlwind, unarmed with slogans resonating of azaadi, and riding on that immortal revolutionary song written by Faiz Ahmed Faiz, which he first wrote challenging the army general dictator in Pakistan, General Zia ul Haq, and which was so famously rendered by singer Iqbal Bano: Hum Dekhenge.
Even children are shouting azaadi slogans in their balconies, in classrooms and through car windows, and there are multiple versions of Hum Dekhenge floating in public spaces, including in Bhojpuri and Kannadiga. Even Faiz and Iqbal Bano could never have imagined that this song will become so popular in India in the winter of 2020. Surely, if this is not a national freedom movement, then what is it?
One sublime moment of great magnanimity, love and compassion which was celebrated in Shaheen Bagh and all over the social media was the arrival of Sikh farmers from Punjab. Many with long white beards, accompanied by little boys and girls, they arrived in trucks and buses with huge utensils, foodgrains and 10 quintals of milk. So that is how they started their 'Guru Nanak Langar' in solidarity.
Delicious 'kheer' cooked with milk from Punjab and wholesome meals were distributed to thousands of protesters with a simplicity and lucidity which only the big-hearted Sikhs would know. Truly, they stole the heart of the people out there, and those who saw them from a distance on social media.
So where is the Opposition in this golden moment of living history and incredible humanity when the movement is reclaiming both the Indian tricolor and the Constitution, with the Preamble of the Indian Constitution being repeated in campuses and streets? At Jama Masjid in Delhi, the Preamble was read by thousands in Urdu, which is Hindustani's original and indigenous gift to the nation.
So where is the Opposition, as history marks a paradigm shift and the 'superman double' of Modi and Amit Shah find themselves vulnerable despite their belligerent rhetoric and doublespeak?
Barring Mamata Banerjee in Bengal and Pinarayi Vijayan in Kerala, they seem to be still looking for trees amidst the wood. This was exactly what the message came from Priyanka Gandhi and the Congress, despite the politically correct and well-intentioned messages coming from the leadership. Surely, Amarinder Singh has shown his strength in Punjab with a categorical clarity, but will the party showcase him as a national leader to take on Modi? Surely, both Kamal Nath and Ashok Gehlot have led massive marches in their state capitals, but did it capture the national imagination?
Between the Congress ruled states, except Punjab, it seems all hunky dory. Indeed, they should learn a few lessons from both Pinarayi Vijayan and Mamata Banerjee. In both Bengal and Kerala, the majority are vehemently against the NRC/CAA, and yet the ruling leadership has never been complacent. So much so, Pinarayi took the Congress by surprise by asking the party to join the Left in joint opposition protests.
Indeed, Mamata has done the same in Bengal by asking the Left and Congress to unanimously join her in the assembly in rejecting CAA. If politics is about public perception and timing, both of them have been on the dot. So much so, every hoarding in Kolkata is testimony to Mamata's resolve: "They can only pass NRC and CAA in Bengal over my dead body."
Making the reading of the Preamble of the Constitution in schools in Maharashtra compulsory is a good move in the celebration of a national movement which has reclaimed the Constitution from the hands of those who do not really have great faith in it, or in its founder Dr BR Ambedkar; but the campaign demands more commitment, resolve and backing from the Opposition.
Already, Akhilesh Yadav and Mayawati have lost their credibility in the eyes of the protesters. The Congress and the Opposition must remember how Anna Hazare's movement, tacitly backed by the RSS/BJP, was like a 'putsch' which pushed UPA2 to the brink, and led to the rise of a Frankenstein Monster in India backed by the industrialists and the middle class. In the same vein, the call of the times is to translate this mass angst and anger into a creative and unceasing flow which will once again break sectarian and communal divisions, unite people, celebrate the secular synthesis and pluralist democracy of India, and restore the content and spirit of democracy.
Or else it will be too late for the Opposition. As for the women and protesters in Shaheen Bagh, on the streets and in the campuses, they are still waiting and singing: Hum Dekhenge…