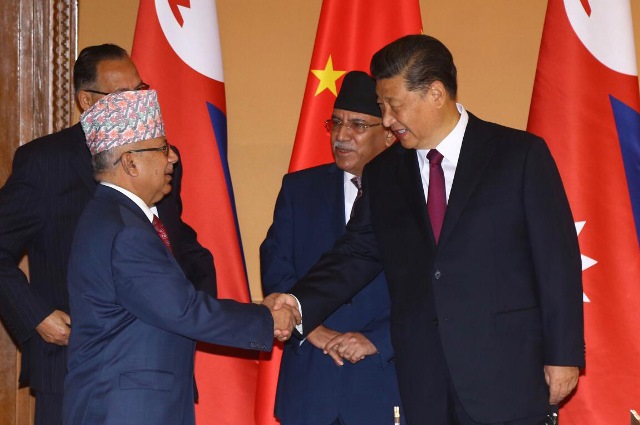 OPINION
OPINION
Nepal Joins The Chinese Checkers Game
India's obsession with Pakistan continues. After a short break in between, we are back to square one, more so after August 5, when Delhi stripped Kashmir of its special status and divided the state into two Union Territories. Expectedly Pakistan went to town on Kashmir. It is an excellent stick with which to beat India and expose Delhi's "perfidy.''
So all bilateral visits are now eyed through the Pakistan/ Kashmir prism. And President Xi Jinping's visit to Chennai for the second informal summit with Prime Minister Modi was no exception. Some questioned why Xi was invited since Beijing had expectedly sided with Pakistan on Kashmir. Was it necessary for Modi to go out of his way to entertain the leader of a country who has been sleeping with the enemy since independence?
The spectacular cultural show with the Shore temple in the background and the walk through of three monuments in Mahabalipuram was completely unnecessary as China would continue to bat for Pakistan. While China and Pakistan had always been close strategic allies, now an economic dimension has come into play, making the alliance far stronger. Pakistan's Gwadar port in Balochistan is at the heart of Xi Jinping's Belt and Road Initiative. Xi had already committed USD 60 billion for the massive infrastructure project s. So ties have gotten even closer.
Now there is talk of China having a military detachment to guard its infrastructure projects around Gwadar. A Chinese force in Balochistan will be an added worry for India. India has refused to be part of the Chinese Belt and Road Initiative on the grounds that some of the projects planned would pass through PoK, which India claims is part of its territory. So it is a question of sovereignty.
India's decision to continue engagement with China is a correct one. It is important for leaders to keep exchanging views especially in today's volatile world. The foreign ministry is well aware that China will not abandon Pakistan. But there is a world outside the all-consuming India-Pakistan narrative, and it is this that New Delhi hopes to tap.
Officials say they know that China will back Pakistan but that does not mean India has to stop contacts with China. Diplomacy does not work like that. The effort is to keep it just at that level and not let it develop further than that. The establishment knows that despite talk of an Asian century where India and China are working together, the two are natural rivals in Asia.
Though China is working towards replacing US as the world's only super power of 2050, it is also making sure that in Asia it is the sole regional boss. India may have ambitions but its economy and defence needs much work to be done before it can even think of challenging China. In such a case, the only alternative is to work with other nations who also wish to contain China. India is doing just that and China recognizes the signals. Delhi need not declare it from the roof top.
The strategic shift in US-India ties, which began with the civil nuclear agreement of 2005 between Manmohan Singh and George W Bush was aimed precisely at that. That process was carried on by Singh and Barak Obama and later with Narendra Modi. The Trump-Modi equation also has much to do with Washington's desire to use a major country in Asia like India, to contain China's rising military and economic might in Asia. Renaming the Pacific Command as Indo-Pacific is a signal to China. India's defence agreements with the US is also progressing with the signing of two important military pacts. The Malabar exercises between India-US and Japan is also viewed with suspicion by China.
To top it all, the elevation of the US-Australia-India-Japan quadrilateral ("quad'' for short) security dialogue to a political level with foreign ministers of the four nations meeting on the sidelines of the UNGA in September was decidedly seen in Beijing as a move against China. But that has not stopped Beijing from accepting India's invite. This is the way the world works.
China has been closely watching the growing warmth between India and the US with some concern, but can do little to stop it. In the same way many in China believe that the quad is an instrument to contain China in the Indo-Pacific, and this arc of democratic nations can one day become a defence alliance. China is naturally wary of these moves. "Respecting each other's sensitivities'' a phrase that has come up both in Wuhan and Chennai would mean India's tango with US and its allies for China, while for India it would be Beijing's embrace of Pakistan. It works both ways.
So if China's strategic interests call for closer co operation with Pakistan against India, it will do so. India too has sent out signals with its growing closeness with the US, Japan and Australia. This does not mean that India and China will not go ahead and work together in areas which benefit both nations.
Ironically, despite the massive media hype about Pakistan, and naturally Kashmir, casting a shadow on the Wuhan spirit, Kashmir did not come up in the conversation between Modi and Xi, according to foreign secretary Vijay Gokhale. He spoke to reporters at the end of the informal summit. But added that Xi briefed Modi on Imran Khan's recent visit to Beijing. Khan must have spoken about the situation in Kashmir, but the MEA insists that the K word did not come up.
Whatever was said will possibly remain with the PM and his MEA team. The two leaders concentrated on bilateral ties and ways to enhance relations between Asia's two largest nations. Trade deficit between India and China has long been a concern for Indian leaders. Since the days of former Prime Minister Manmohan Singh Delhi has been asking China to open its markets for Indian pharma and other products. Despite repeated promises including in Wuhan, nothing much has changed in the ground.
This time, however, Modi and Xi are trying to work out a new mechanism to solve the problem. Finance minister Nirmala Sitharaman and her Chinese counterpart will meet later in the year to see what can be done. The Indian side appear satisfied with the outcome of the summit. A third informal summit is expected to take place in China. The PM himself said the "Chennai Connect" would take forward the Wuhan Spirit. While critics thrash China for its Pakistan connect, what should be of greater concern is its move in Nepal.
President Xi flew to Kathmandu from Chennai and received a tumultuous welcome. The entire cabinet, led by Prime Minister KP Sharma Oli were there to receive him. China is planning to build a railway track from Tibet to Nepal. While Nepal has always played the China card against India, Oli is now looking for strategic autonomy in its foreign policy.
Simply put, he wants to wean Nepal away from over dependence on India and make overture to China. Beijing has grasped this with both hands and is moving swiftly to contain Indian influence in Nepal. While Pakistan is already in China's sphere of influence, Delhi has to ensure that Beijing is contained in Nepal, a country with an open border with India.