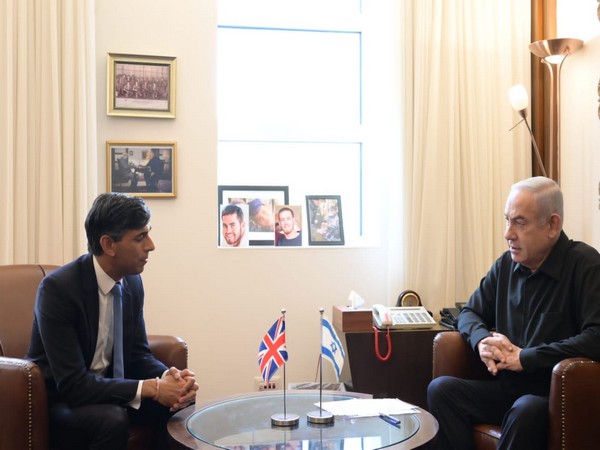 LM NEWS 24
LM NEWS 24
Netanyahu Holds Private Meeting With Sunak
Israeli Prime Minister Benjamin Netanyahu on Thursday held a private meeting with British Prime Minister Rishi Sunak at his office in Jerusalem.
"Prime Minister Benjamin Netanyahu is currently holding a private meeting with British Prime Minister @RishiSunak at the Prime Minister's Office in Jerusalem. The leaders will also hold an expanded meeting, at the conclusion of which they will issue statements to the media," as per the Israeli Prime Minister's official handle on 'X'.
Sunak on Thursday also met Israeli President Isaac Herzog.
Herzog said that during such difficult days, we see clearly who are Israel's true friends.
"Thank you Prime Minister of the United Kingdom Rishi Sunak for coming to Israel and for your support and firm stand by the Israeli people. It is time to express a clear moral voice – this is a battle for the values of all humanity. The world needs to understand that if we do not prevent Hamas and other terrorist organizations from carrying out murderous and criminal attacks – they will not stop with Israel," he wrote on 'X'.
Meanwhile, Sunak said: "I've just met President @Isaac_Herzog and conveyed my gratitude for the support provided to British nationals caught up in the terror attacks. Together we agreed on the importance of getting urgent humanitarian support to ordinary Palestinians in Gaza who are also suffering."
The British Prime Minister arrived in Israel on Thursday amid the ongoing Israel-Hamas war.
Upon his arrival, he said: "I am in Israel, a nation in grief. I grieve with you and stand with you against the evil that is terrorism. Today, and always."
The British PM met families that had their loved ones taken away from them as a result of the war.
"To have a child taken from you is a parent's worst nightmare. This morning I heard from families going through this unbearable agony. Working with our partners, we're determined to secure the release of the hostages taken by Hamas terrorists," he wrote on 'X'.
Ahead of his departure to Israel, the British PM said: "Every civilian death is a tragedy. And too many lives have been lost following Hamas's horrific act of terror."
"The attack on Al Ahli Hospital should be a watershed moment for leaders in the region and across the world to come together to avoid further dangerous escalation of conflict," added the statement.
The Israel Defense Forces confirmed on Wednesday that a failed Palestinian Islamic Jihad rocket launch caused the explosion outside the hospital in Gaza.
"According to our intelligence, Hamas checked the reports, understood it was an Islamic Jihad rocket that had misfired–and decided to launch a global media campaign to hide what really happened," explained IDF Spokesman Rear Admiral Daniel Hagari on Wednesday.
"They went as far as inflating the number of casualties. They understood, with absolute certainty, that it was a rocket misfired by Islamic Jihad that damaged the hospital," he added.
Sunak's visit to Israel comes a day after US President Joe Biden paid a solidarity visit to the Jewish state.
On Tuesday, German Chancellor Olaf Scholz visited Israel, and French President Emmanuel Macron will also reportedly travel to the Jewish state.
Meanwhile, Israel's Ministry of Health has reported that 309 people wounded in terrorist attacks since the start of the war with Hamas are hospitalized as of October 19, at 8:00 am. Of the people hospitalized, 80 are in serious condition, 159 are in moderate condition and 70 are lightly wounded.
The ministry reported that since the Hamas attack of October 7, 4,629 wounded have been evacuated to hospitals, of whom 12 were mortally wounded, 279 were in serious condition, 764 in moderate condition and 3,188 were lightly wounded.
As many as 239 people suffered from anxiety and 145 were admitted to hospitals for medical evaluation.
Meanwhile, as a "ground offensive" of the besieged Gaza Strip loomed, hundreds of Israeli tanks were deployed near the border in south Israel on Thursday, waiting for the all-clear from the country's political establishment and the military top brass.
Israeli tanks and troops mounted on armoured vehicles were deployed in the region, seeming to suggest that a ground assault on Hamas in their backyard, Gaza, could begin any time soon.
Meanwhile, the Israel Defence Forces (IDF) said four rockets of nine launched from Lebanese territory were intercepted, adding that several anti-tank missiles were fired from Lebanon towards Israeli forces.
The IDF added that in response to the attacks, Israeli forces targeted the site in Lebanon from where rockets were fired into Israel and also struck at Hezbollah terrorist infrastructure using tank fire.
The Israeli forces also claimed to have thwarted and dismantled a terrorist cell using a UAV (unmanned aerial vehicle) of the IDF. (ANI)
Read More: https://lokmarg.com/