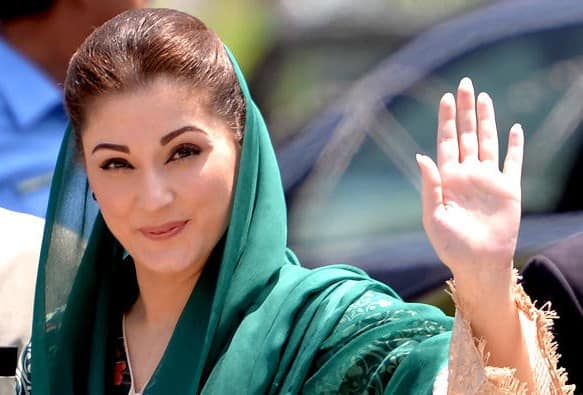 OPINION
OPINION
New Star On Pakistan's Political Horizon
<![CDATA[
South Asia is the hub of women politicos born in the crucible of resistance to tyranny and injustice. Maryam Nawaz is the newest entry to the club
"This path is very difficult but as Maryam Nawaz what is important to me is that I am standing on the right side of history."
Bold statement this from someone convicted for graft, rightly or otherwise, moving in and out of courts (120 appearances in six months) and rallying people when free in support of her imprisoned and ailing father Nawaz Sharif, the thrice-deposed Pakistan's premier.
It also seems meant for an uncertain future since Prime Minister Imran Khan retains firm backing of the military-civil establishment. And he has just met US President Donald Trump, accompanied by the Army Chief, when Trump needs the two as much as they need him to quit Afghanistan.   
But leading a rally in Faisalabad last Sunday, she declared that the government that had "gone all-out to detain opposition leaders, arrest political workers and block rallies and suppress voices is taking its last breath."
The establishment, Maryam alleges, got her father deposed in collusion with the judiciary and then 'selected' Imran through "electoral engineering."  
Only another election, or a movement on the streets, could challenge Imran. Neither is in sight.  
Yet, Maryam has been able to shake Khan and his alleged mentors. On July 6, she made public video clips showing the judge who convicted Nawaz in one of the many graft cases 'admitting' that he (judge) was 'blackmailed' and had acted "under pressure" when there was no case against Nawaz.
The judge denied the confession, counter-charging that he was "threatened and offered bribe". But he did not deny meeting the man, allegedly close to the Sharifs, whom he should not have while dealing with Nawaz as an accused.
The government is forced to remove the judge and probe him. Maryam now demands why her father is imprisoned when the judge and the judgment stand discredited. She has scored a brownie, pushing the government and the Supreme Court on the back-foot.
Besides Khan's references to "Maryam bibi" at his Washington rally, this is a triumphant pause for her amid serious adversities. It marks the advent of a pretty mother of three, 46, who could have been a housewife or a socialite – except that she has a famous family name.
'Sharif' is her political identity. Her critics in the government address her officially as Maryam Safdar, wife of retired Captain Mohammed Safdar Awan. 
Adversity has produced many leaders, but South Asia is the hub of women politicos born in the crucible of resistance to tyranny and injustice. With few exceptions, they come from privileged classes, but that doesn't always reduce their woes, one of them being born in patriarchal society.
Indira Gandhi and Benazir Bhutto were assassinated. Sheikh Hasina was abroad when Sheikh Mujibur Rahman and entire family were gunned down. Her principal rival Begum Khalda Zia's husband, Ziaur Rahman, was also killed, like those of Sri Lanka's Sirimavo Bandarnaike and Chandrika Kumaratunga. We can add Sonia Gandhi to the list.
Like those listed above, Maryam belongs to a family oligarchy, as oligarchies go in South Asia, where traditionally, at least one child joins parent's profession.
She has surged past her brothers and cousins. This is unlike in the Muslim world. But this is Pakistan's second exception.
She is often compared with Benazir. Belonging to a rival party, Maryam once said: "I have a lot of respect for the lady, but … the only thing which is common between us is gender." She would rather carry her father's legacy in her own distinct way.
In 2016, when Nawaz was the premier, a Chinese minister wrote: "We will be happy if you include your talented daughter Ms Maryam Nawaz in the visiting delegation."
Given Pakistan's burgeoning ties with China (the China-Pakistan Economic Corridor was taking off), this triggered speculation. She was compared with Benazir's accompanying father Z A Bhutto to Shimla in 1972 to sign an accord with India.  
Benazir had uneasy relations with her brothers, both of whom died mysteriously. Maryam's two brothers are not in politics. But she is mindful of her first cousin Hamza and always refers to him as "bhai" (brother). Family ties matter as Shahbaaz, the chacha, (uncle) heads the Pakistan Muslim League (Nawaz). Indeed, adversities have so far failed to split the family.
But it's not hunky-dory – in politics it cannot be. In a recent interview with VOA Urdu Service, Maryam talked of Pakistanis' "misogynistic mindset". She has had to make 'sacrifices' to have her way in politics. "I had to struggle within PML-N to be accepted and make my place."
"The criticism is more scathing [as such women] are judged more harshly. If a woman has formed ideals, principles, ideologies, convictions, values and wants to carve a niche for herself, it will always be viewed with a little suspicion. Such women are sometimes viewed as "negatively ambitious".


Being a Sharif has not been easy. Controversies have dogged Maryam even as a student. Her admission to a medical college was questioned and so were her MA and Ph.D. degrees. It is not clear if the doctorate is earned or honorary.
Maryam joined politics by her father's side in 2012 to rival Imran who was attracting the youth. It made sense since almost half of Pakistan's 20 million is in 18-35 age. The slogan then was "Waqt Ki Awaz – Maryam Nawaz."
It's not going to be easy. While an older Imran did and still attracts the young, she must also contend with a younger Bilawal Bhutto Zardari. Other political families are also projecting their young. 
Like many women who married young (at 19), Maryam is now relatively free, to do full-time politics. Her children have grown up and Safdar has crafted a political career for himself.
Over the years, she has shed her tentative presence and halting talk with fiery speeches. The fire has enhanced since Nawaz resigned. She campaigned tirelessly for her ailing mother who won the election but later died.  
She is passionate about getting justice for father – and for herself since she too is convicted and on bail. Her new attire is kameez with Nawaz's photo.
She vehemently denies that Nawaz plans to strike a deal with Imran, like he did with military dictator Pervez Musharraf. The entire family was exiled to Saudi Arabia. Maryam had agitated and was detained before being exiled.
Does she fear assassination like Benazir was? For now, Maryam's concern is her father. "Will not allow him to become Morsi of Pakistan", she said in June, referring to Egypt's ex-premier Mohammed Morsi. Deposed by the military, he died during court trial.        
Critical of the army like her father she, however, balances her observations. She told VOA that she was "ready to take a bullet" for her father, but as a Pakistani, her purpose was "not to fight against the country's institutions."
Only time can tell if Maryam is "on the right side of the history."
The writer can be reached at mahendraved07@gmail.com