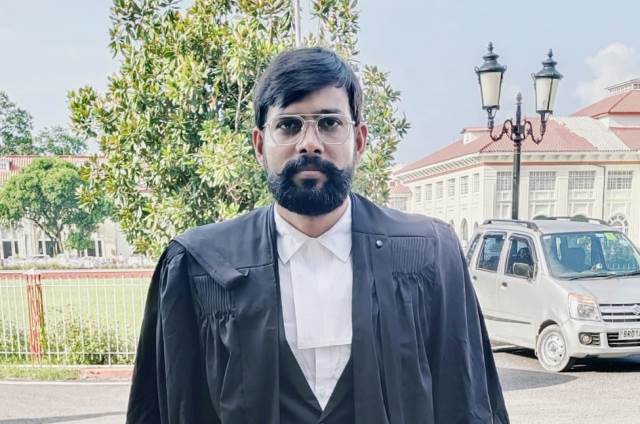 LOK ISSUES
LOK ISSUES
Nitish Has Played His Last Card; JD(U) Will Soon Collapse
Abhishek Anand, an advocate in Patna High Court, reveals that there was a rush for bank lockers in Bihar on the day Nitish reunited with Lalu Yadav's RJD
To the political observers in Delhi, what happened in Bihar's power corridors – when Nitish deserted the BJP-led NDA and united with Lalu Yadav's RJD – was shocking and unexpected. But these armchair observers have no knowledge of Bihar's ground situation.
Patna's legal fraternity, which also includes members of political legal cells, always knew the divorce between the BJP and Nitish Kumar was a surety. It was only a matter of WHEN, not IF. The BJP wanted to get rid of JD(U) before 2024 General Elections; only that Nitish Kumar pulled the rug before the BJP could do it.
However, Nitish has little political capital left after the recent switchover. He is holding on to the CM's chair only to save his party. Once he is no longer the CM, his party will disintegrate. Now, the onus to sustain his government lies solely on RJD. BJP knows this as much as Nitish.
I will also tell you an interesting development on the day JD(U) and RJD reunited. My wife works in a bank. On the day of JDU-RJD coalition, there was a rush at her branch for bank lockers. People wanted to lock their belongings securely. You can draw the conclusion about the reputation of the new coalition now.
There is always a section of voters which is not completely loyal to one party or ideology. This section swings depending on the popular sentiment. The recent political development has not being taken kindly by this swinging voter.
My joint family has elders supporting for Upendra Kushwaha while the younger lot is inclined towards the BJP. However, as soon as Kushwaha left the alliance in the last assembly elections, he wrote his own obituary. All the caste-voters which previously supported the RLSP decided to vote in favour of the larger partner BJP. Kushwaha is now with JD(U) but his vote-base by and large has gone to BJP. The same is going to happen now with the JDU voters in 2024. This is my belief.
BJP also has the backing of the media, often referred to as 'godi media'. Tejashwi Yadav or Nitish Kumar lack such backing. The BJP is shrewdly waiting for the new alliance to make one bad move and then put it to a media trial. That is why there was an internal diktat to RJD workers on the day of joining the government that the cadre should celebrate in moderate way, avoid any kind of hooliganism.
The speculation of a larger opposition unity with Nitish at the centre is a bogus premise. Congress is never going to do this. Let us first wait and see if this government lasts its full term. I feel the BJP will perform better in 2024 by going solo because a large part of JD(U) voters will shift to the saffron outfit. Nitish has played his last card, to save his chair and public image only.
As told to Abhishek Srivstava