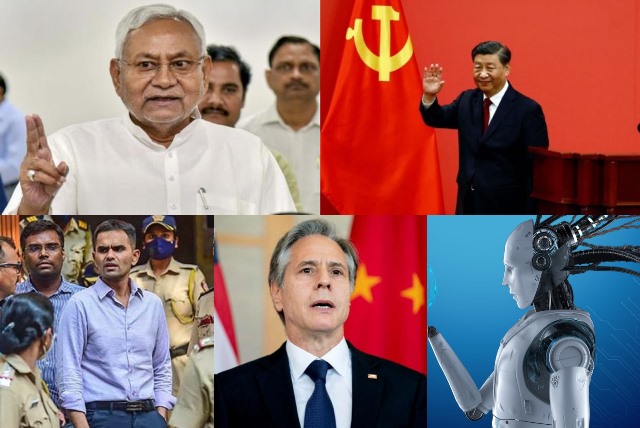 THEBUZZ
THEBUZZ
Nitish Kumar's 'One Against One' Strategy is Quite Silly
Nitish Kumar's "one against one" strategy is quite silly
No offence intended but the proposal, attributed in the media to the Bihar chief minister Nitish Kumar, to have a single united opposition candidate to contest against the Bharatiya Janata Party in around 500 Lok Sabha constituencies, is a bit silly. According to media reports, Kumar, a wily and opportunistic politician who has frequently switched sides in order to achieve his political ambitions, has proposed a "one against one" strategy to defeat the BJP in the parliamentary elections scheduled for next year.
According to the Kumar formula (if we want to call it that), opposition parties should bury their differences and together field a single strong candidate in each constituency to defeat the BJP. In other words, what Kumar is suggesting is the formation of a new coalition. Only, he is doing it in a different way. He wants all parties opposed to the BJP to come together and have a convenor and a chairperson with the assumption that the convenor will be projected as the prime ministerial candidate. No prizes for guessing whose name Kumar, who will turn 73 before the elections, will likely suggest as the convenor.
Here's why his proposal is a bit silly. First, it requires a buy in from the Congress party and several other oppositions parties—both at the national level as well as at the regional levels—with many of them agreeing to play second, third, or even fourth fiddle in Kumar's grand plan. Second, in many constituencies, veteran politicians from opposition parties would have to agree not to contest and step back in favour of another party's candidate who is considered to be stronger. Try making that work when you have politicians who consider their constituencies as personal fiefs. Also, try getting a senior Congress leader and former candidate to canvass and campaign for someone from, say, the Janata Dal (United), the Rashtriya Janata Dal, the Trinamool Congress, or someone else, and vice versa.
Third, and most important, is the fact that for the majority of Indians (we are not talking about politicians or the lemmings in media) the single vote that they have the power to exercise represents a lot. The poorer the voter the more important that single vote is to him or her. The media often deploy the rather inelegant word "anti-incumbency" to describe the phenomenon where a ruling party is unseated by the electorate when it votes and elects a party that is opposed to it. In reality, it is a voter who is disappointed with the ruling regime and wants and hopes it would get better governance from another party or alliance. The majority of voters vote in the hope "for" something not "against" something.
Kumar's "one against one" strategy is probably the veteran politician's attempt to get a shy at the top office in Delhi. That's understandable for an ambitious politician in his twilight years. It, however, also reeks of desperation and a detachment from reality. If India needs an alternative to the BJP, it will have to be a robust one: not a rag-tag ensemble conjured up to fuel one man's ambition.
How to measure a nation's true power
The measure of a nation's true power is a combination of several things. It includes a country's economic strength (measured by GDP and more relevantly, per capita GDP), its military might, its productivity, and its population. There could be several other factors as well, including softer ones related to a nation's influence on culture, lifestyle, and so on.
In a recent feature on China, the Economist delved into the concept of measuring a nation's power by looking at how China measures what is known as Comprehensive National Power (CNP).
While China has attempted to measure its own CNP in various ways, worldwide there are scores of different ways of doing it. According to the Economist, there were 69 different versions of measuring a country's powerfulness. And, of course, the Economist added its own measure. In its version, there are "three essential ingredients of national power: economic heft, productive efficiency and military might". Its "hard-power index" takes into account GDP per person as a measure of efficiency; defence expenditure as a measure of might; and non-military GDP as a measure of economic heft. To arrive at the index these are multiplied together.
How do countries fare according to the Economist's hard-power index. The top eight countries on the basis of their 2021 hard-power index were in this order: US, China, Russia, India, Germany, Japan, Britain, and France.
While the Economist's feature was on China, it is interesting to note that India ranked number 4 on its list of top eight hard-power countries in 2021.
One more episode in India's endless corruption saga
Instances of the Indian police and other authorities trying to extort money from the affluent are not uncommon. In fact, we still marvel when a person in authority turns out to be doing his duty honestly, something that is expected to be normal practice. In October 2021, a few young people, including the Bollywood superstar Shah Rukh Khan's son, Aryan Khan, then 22, were arrested on charges of consumption and possession of drugs while aboard a cruise ship bound for Goa from Mumbai.
To be sure, last year, Khan was cleared of the charges. However, there is now a new twist to the tale. One of the officers of the Narcotics Control Bureau (NCB) on Khan's case, Sameer Wankhede, has now been charged by India's apex investigating agency, the Central Bureau of Investigation (CBI) of trying to extort Rs 25 crore from the actor Shah Rukh Khan to in exchange for "diluting" the case against his son. It has also been found that Wankhede has accumulated disproportionate assets, including several flats in Mumbai, and has spent on many personal trips abroad that are not commensurate with his income. In other words, Wankhede has been accused of several instances of corruption. Sad but not surprising.
US report is scathing on religious freedom in India
The US State Department's Religious Freedom Report, 2022, has called out several countries including India, China, Russia, and Iran for targeting adherents of certain religious communities. India has been ranked eighth among 162 countries of the highest risk of mass killing.
India's Constitution declares the nation to be secular. In fact, although 80% of 1.4 billion Indians, according to the 2011 census, are Hindus, 14% is Muslim and 2% is Christian. The report has called out India on several grounds including the fact that religious conversions are banned in some states; attacks against minority communities have been spreading; and instances of cow vigilantism, which often results in killings and lynching, have been increasing.
India's official reaction to the report has been predictable. The ministry of external affairs has said that "such reports continue to be based on misinformation and flawed understanding". The fact is that since 2014 when the current BJP-led regime came to power, Hindu nationalism has been on the rise. And while the government would like to sweep allegations such as those made by the Religious Freedom report under the carpet, minority communities have never been more insecure in India than they are now.
Can AI get as clever as humans? Or cleverer?
Even as the debate about the threats and risks that Artificial Intelligence (AI) may pose to humanity, a new debate about Artificial General Intelligence (AGI) has already begun. AGI is a theoretical form of AI where a machine would have an intelligence equal to humans; it would have a self-aware consciousness that has the ability to solve problems, learn, and plan for the future. AGI is different from traditional weak AI, which is restricted to specific tasks or areas.
In theory, therefore, AGI could rival humans and use its abilities to act independently and autonomously, and, in the hands of the wrong sort of people, it could wreak havoc. The good news is that we could be still far away from the emergence of AGI. Some experts believe that we could be several decades away from the emergence of AGI; others believe it could take centuries to evolve.
What if those experts are wrong? After all, few expected AI to reach the levels it has so quickly. What if the road to AGI is traversed at an exponential field? Ponder that.
Read More: lokmarg.com