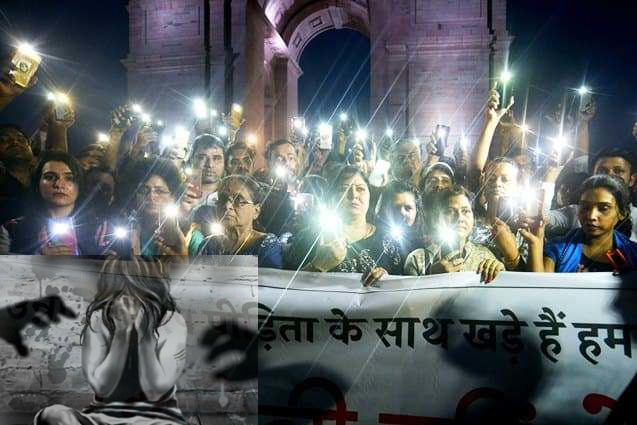 OPINION
OPINION
No Antidote For Toxic Masculinity!
Some things just refuse to change, even in the acche din of 'New India'! They come back like a memory frozen in cold blood in this biting cold wave, and life goes on just as before in a bitterly ritualistic scenario where the stunning lack of empathy strikes the deepest core of humanity like the icy north wind cutting into the flesh, as if with a sharp knife.
A young, working woman, going home with a friend on a scooty, after a New Year eve get-together, is dragged for hours, trapped in the underbelly of the car, on the desolate midnight streets of West Delhi, by men loaded with machismo, money, and, perhaps, unlimited alcohol. One of them reportedly has connections with the ruling party at the Centre.
Even while multiple versions come forth, sometimes in brazen contradictions, for instance regarding the identity of the driver, with or without a licence, and that if the music was too loud inside the car, etc, it is widely believed that the drivers knew what they were doing. However, what is striking is the manner the entire episode was enacted for such a long time, pointing to the inherent barbarism enclosed in the deepest recesses of a society.
Why did the killers keep driving, apparently taking the same route again and again, reportedly trying to jerk the woman away from the underbelly of the car, instead of helping her, if, it was, truly, an accident? What drives human beings, inebriated or otherwise, to enact such a prolonged public spectacle of cold-blooded murder and in such a terribly grotesque manner, unimaginable even in the most inhuman, perversely secret, viciously sadistic fantasies? What is the kind of upbringing they have had that compelled these men to instinctively behave in such a manner? What kind of schools and colleges did they go to, what were their family and social values, what kind of friendships did they cultivate, how did they relate to other women, their friends, classmates, sisters, strangers?
The cops are so predictable in Delhi that their conduct too follows a pattern, and it, seemingly, remains unchanged. Since 2014, under the muscular dispensation in Delhi, they seem to have become more predictable. Be it their tacit silence when ABVP goons brutally attacked JNU students and at least one teacher with rods etc, including the woman president of the JNU Students' Union, her head smashed, blood all over her face! Or the manner the Delhi Police went berserk in Jamia Millia Islamia, attacking students for their peaceful dissent, so much so, entering the library and beating the hell out of shocked students immersed in reading. Remember that viral moment of male cops, trying to beat up girl students in Jamia, for absolutely no rhyme or reason, and the students defying them with a totally unafraid and brave act of non-violent defiance – a true act of Satyagraha?
The partisan conduct of the Delhi Police during the violence which rocked Northeast Delhi in the midst of the peaceful and massive anti-CAA protests across the country has been pointed out by critics. Remember that Muslim boy being forced to sing the national anthem? Remember the cops throwing stones along with the Hindutva mobs? Remember the homes and shops of one community being ravaged, so openly and brazenly?
Remember a police officer, standing in abject silence, as a small-time ex-AAP-turned BJP leader, spewed venom as a public spectacle? Or, when, a BJP politician, later rewarded with a Union minister's post, made a public declaration, brazenly instigating violence, during the non-violent protests by the mothers and sisters of Shaheen Bagh, against the communal and anti-constitutional CAA: 'Goli maaro… ko!" Did anything happen to these politicians or the goons who attacked the JNU students?
ALSO READ: 'Police Action In Jamia Exposes Beti Bachao…'
If anything, this case uncannily reminds of the BMW case in which the son of a powerful family with big connections was involved. Did he stop to help the injured, some of them cops manning a barricade? Did he call a helpline, the police or an ambulance – or try to pick up the injured and rush them to a hospital? Instead, he and his friends went back to a safe home, got the servants to wash the car, removed all the traces of human flesh and blood on it, and life was happily lived ever after. Indeed, his and his friends' life continue to be a happy-ever-after saga.
While many fear that the killers in the car which dragged the woman this New Year eve might eventually escape punishment, amidst the haze of hazy evidence, the big questions remain. In this disturbing bitter realism of a Hobbesian, brutish and nasty realm, no one is safe, especially women, with scores of men getting drunk inside their cars, in what is popularly called 'Carobar'. Not only can they drive rash and turn the car into a killer machine, but, together, in a macho and mindless gang, many of them have the potential to celebrate a kind of savagery unimaginable in any civilized society.
More than that is the stunning lack of empathy. The eye-witness kept calling the cops – so what happened? He saw the car again and again, kept calling, and even chased the car – so what happened?
Remember how Nirbhaya, totally brutalized, and her friend, assaulted and smashed, were lying on the ground on a street as scores of cars passed by and no one even stopped by to help? At least that tragedy created a huge storm in Delhi and elsewhere with that bus stop in Munirka in South Delhi, where JNU students protested with candles again and again, becoming a tragic milestone of a tragic memory. However, has the reality of that brutal night changed for the better in the capital of India? It does not seem so.
However, there are stories of hope and inspiration. If not in Delhi, then from far-away America. And there are lessons for all of us.
Amidst the fierce snowstorms in sub-human temperatures stalking America recently, the 'Independent' of London reported about Sha'Kyra Aughtry, an Afro-American mother of three, who is rightfully being hailed as a 'true angel'. If she and her boyfriend had not moved out of the cozy safety of their home into the deadly blizzard on a dark dawn, risking her life, the life of a developmentally disabled man who was lost in Buffalo at Christmas could never be saved.
The newspaper reported: "She saw Joe White, 64, caught in a snow bank and being buffeted by strong winds and heavy snowfall. She cut off White's socks as they had become frozen to his legs, and used a hairdryer to thaw his frozen pants. The couple fed him and tried to treat his hands for frostbite, which had begun to turn gangrenous, and piled blankets on him to try to keep him warm. Aughtry contacted White's sister, his only living relative, and staff at the North Park Theater cinema house where he has worked as the custodian since 1980…With Buffalo's streets paralyzed under 50 inches of snow and emergency vehicles unable to reach the house for more than 24 hours, Aughtry took to Facebook on Christmas Day to plead for help in getting White to the hospital…"
Soon, after seeing her Facebook posts, neighbors joined in and cleared the snow. She took White to a hospital. His life was saved.
As a tribute to her, her boyfriend, and the community which responded collectively in this moment of crisis in trying to save the life of an unknown man who lost his way in the snowstorm, the North Park Theatre announced that they would hold a film show in honor of Sha' Kyra and all others. No wonder, in the media and amidst her community, she is being hailed as an 'angel'. An inspirational role model, who showed exemplary empathy and selfless courage, in saving the life of a fellow human being.
Read more: https://lokmarg.com/