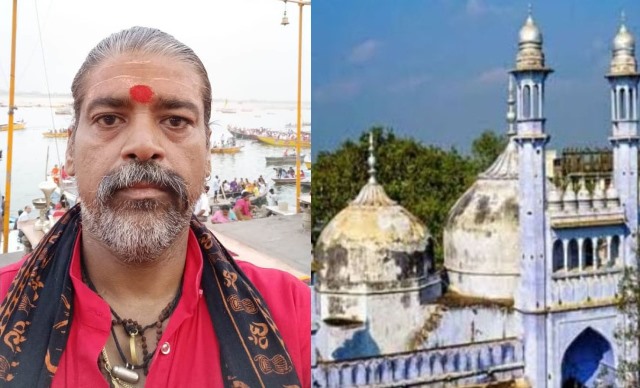 LOK ISSUES
LOK ISSUES
'No Communal Discord in Kashi, But Truth Must Come Out'
Dinesh Dubey, a mahant in Varanasi, says pushing the truth in the Gyanvapi mosque case under the carpet may have adverse impact in the long run
I have been serving Ma Ganga since childhood on the Ghats of Varanasi and also the devotees who come to pray at the temples of this sacred Hindu city. Kashi residents are spiritual and charitable. And you cannot find even the slightest discrimination or ill-will among Hindus and Muslims here.
As far as the Gyanvapi mosque issue is there, even a young child here knows that it is a 350 year old structure built after razing down parts of the Vishweshwar temple devoted to Lord Shiva. But this has not spoiled the togetherness of its people. It was only recently that a survey by archaeologists was conducted in the mosque and we hear that some Hindu relics and a Shivling have been discovered there.
The matter is subjudice, so it is not upon me to tell you what to do. But the common sense says that if an object of value is found somewhere, it must be returned to its rightful owner. Therefore, if Hindu relics are found in a mosque, these should be given to Hindus. Where is the role of Court-Kachehari in this?
Many Hindu holy structures were brought down in our chequered history. Now, if there is archaeological evidence that a structure belongs to Hindus, there is no harm in reclaiming it. This happened in Ayodhya, although at the intervention of Supreme Court.
Hindus and Muslims of Varanasi are tolerant and peace-loving people. However, of late a misconception is being spread that something unpleasant is going to happen in Varanasi. The media also has a major role in spoiling the harmony. Special episodes are being run on TV channels that have created an atmosphere of fear.
If you try to hide the truth, it will naturally give grist to the rumour mill. That is why I feel allow the truth about religious relics found in the mosque be brought into public domain. Brushing the truth under the carpet will only create distrust among the Kashi residents.
About 600 meters of the Gyanvapi mosque site, which has other temples also, has been cordoned off. This barricading has affected the footfalls of visitors in Varanasi. Devotees from south India usually throng Kashi in summer months every year. However, the numbers have gone down visibly. People are asking among each other anxiously when things will be 'normal'.
We, locals, do not want any kind of dispute. We have been living in harmony for centuries and pray to Lord Siva. Let truth prevail and let everyone live a peaceful life and witness the development of Bharatvarsha!
As told to Rajat Rai