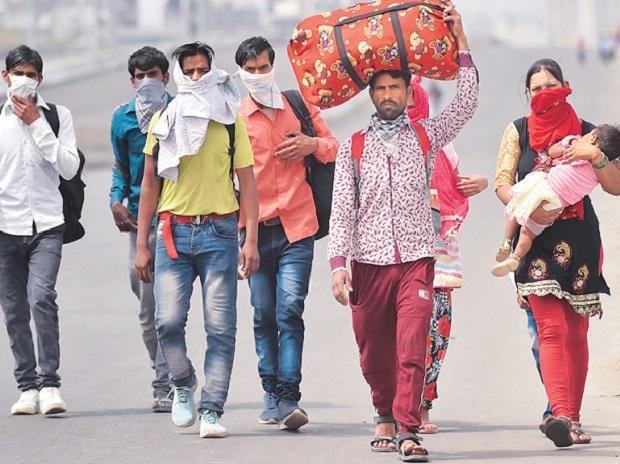 OPINION
OPINION
No Country For Migrant Workers
Whether nearly a thousand migrant workers perished on the road or people denied of income are driven to take their lives, New Delhi sadly remains in a state of denial. The country was left in a shock when during the monsoon session of parliament the minister of state for labour and employment Santosh Gangwar flatly denied government responsibility to compensate the families of migrant workers who died while making brave attempts to walk back home during the Covid-19 induced comprehensive lockdown that began on March 25 and lasted till May end. The official brazenness is on the pretext that the government has no data on such deaths.
The government, which has a large network to collect and process data on almost everything under the sun, has painted itself in a corner on the subject since a volunteer organisation Stranded Workers Action Network (SWAN) says in a report that it had found at least 972 confirmed cases of migrant workers dying on the road because of accidents or starvation till July 4 during various phases of lockdown. There were such deaths even beyond. A part of SWAN report says; "Sixteen migrant workers were run over by a cargo train while they were asleep on the railway track on their walk back home, 47 died of exhaustion on their 1,000 km trek because they had no food and water, 96 workers died in their journey aboard Shramik trains. These are just some categories of at least 972 documented non-Covid deaths during the lockdown."
Who are the people behind SWAN and how did they conduct inquiries to lend credence to the migrant worker death report? They are a band of researchers who assiduously collected data from multiple sources and at the same time considered the data collected by other institutions. A SWAN spokesperson says: "The onus is on the government to verify our figures and then on that basis give compensation. The government may differ on the nature of deaths but it is unfair to brush aside our findings. How compensation could be denied when deaths at regular intervals were reported by the print and electronic media." Privately, some government officials admit that SWAN mortality figures are at the best conservative. No doubt New Delhi's impudence on the subject will continue to haunt national conscience for a long time.
The examples cited in SWAN report all made regular headlines in newspapers and were also major stories in all TV channels leading the states to force the centre to start Shramik trains. How could all this not be enough for the government to collect data and then provide relief to victims' families? Failed by their own government when they needed support for survival, the country was witness to demonstration of human kindness from individuals and local groups. Sonu Sood is certainly not in the same bracket like the Khan Trio or Akshay Kumar in terms of wealth. But the way he opened his purse to help stranded workers to get back home safely has set a high benchmark for Bollywood and beyond.
There were quite a few occasions when starting from Prime Minister Narendra Modi to some of his cabinet colleagues expressed sympathy for the uncommon privation of migrant workers. Hasn't Modi talked about the need to provide low cost accommodation to people who travel from one state to another for work on daily wage basis? Isn't the nation aware of the cabinet decision that migrant workers being largely responsible for construction of houses under the Pradhan MantrI Awas Yojana, they should be given access to the 'affordable rental housing complexes' to relieve their distress? How could a government that wants to appear caring deny compensation to families of dead migrant workers whose cause of death in the first place was because of the sudden declaration of lockdown on March 24 to take effect from the next day?
Nobody gave a thought as to how the workers who would get stranded without income by the suddenness of the act would make it to their homes hundreds of miles away safely. Lockdown decision must have been preceded by many rounds of discussions at different levels in the government, including the prime minister's office. Sadly, it didn't occur to the powers that be that withdrawal of train and long distance bus services would leave thousands of laid off migrant daily wage earners stranded. It was no big challenge for the government to arrange the safe passage of this community which plays an important role in the economy by arranging special trains and bus services for their journey back home. A major human disaster then could have been avoided.
How many people in India undertake inter-state travel (principally from rural India to cities) for making a living to fall in the category of migrant workers? The 2017 Economic Survey that has a chapter on 'India on the move and churning: New evidence' found inter-state migration at 60 million by using a novel cohort-based migration metric and railway data.
If the migrant workers within the country were denied a caring hand of the government, a large number of Indians who went to work in the Gulf countries fell victims to wage theft by employers there. Many Indians working as masons, electricians and drivers were not only peremptorily dismissed by their employers following the outbreak of Covid-19 pandemic but they were denied most of their legal dues not to speak of any compensation on humanitarian ground. Our diplomatic missions in West Asia have been found wanting in taking up their cases with the host governments to the dismay of migrant workers. Once we are back to normal economic activity, New Delhi will do well to consider the suggestion of Shashi Tharoor, MP from Kerala, that an escrow fund be set up which will require of the employer to deposit wages for six months on visa approval of workers. Such a fund will prove useful for workers in future crisis situations.
Time for New Delhi to sit up and use its diplomatic levers to ensure the wellbeing of over 8 million Indians working in West Asia, the majority of them being in the United Arab Emirates and Saudi Arabia. This community is responsible for remitting over $50 billion back to India every year. The World Bank now makes the ominous forecast of at least a 23 per cent fall in such remittances this year. It cannot be otherwise. The International Labour Organisation said in a report in May that an estimated 6 million jobs will be lost in the Arab region and the principal victims of jobs shrinkage will be migrant workers who are mostly from India, Bangladesh and Pakistan.
India is not only a major supplier of labour to the Gulf, but over the years a large number of Indian professionals from doctors to engineers and from bankers to IT specialists have done well for themselves in that region. No wonder India happens to be the world's top recipient of money transfers by expatriates in different parts of the world. Remittances to India in 2019 amounted to $83 billion exceeding foreign direct investment by $32 billion. As oil revenues have shrunk and other businesses are doing badly in Saudi Arabia and elsewhere in West Asia, managements across the board are targeting foreigners first when they go for job cuts.
Kerala, which always has topped the list of Indian states in terms of locals going to the Gulf to seek fortune, is now seeing the largest number of returnees. The southern state always has the largest share of remittances to India. The challenge for the Left Front government in Kerala with already high unemployment rate will be to ensure meaningful rehabilitation of the people returning from the Gulf with little chances of their finding overseas employment anytime soon.