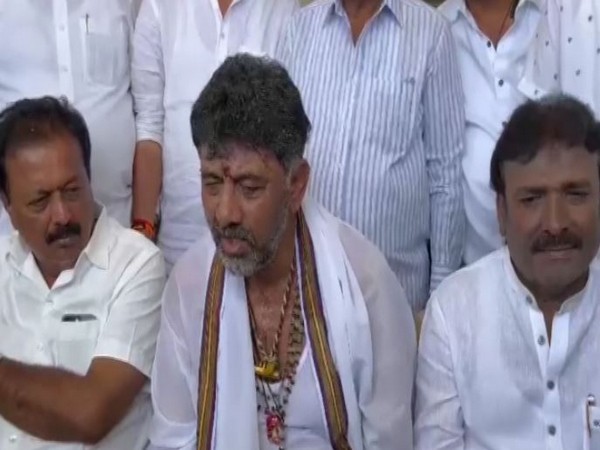 LM NEWS 24
LM NEWS 24
No Differences With Siddaramaiah: Shivakumar
Amid speculations over the chief ministerial face in Karnataka after Congress' emphatic victory in the Assembly polls, state party president DK Shivakumar on Sunday said that he has no differences with Siddaramaiah, who is being seen as a front-runner for the position of the top post.
"Some people said that I have differences with Siddaramaiah. There are no differences between us," said DK Shivkumar while addressing a press conference in Tumkur on Sunday.
The Karnataka Congress chief's remarks came hours after posters were put up by the respective supporters of both leaders referring to them as the "next CM" of Karnataka.
"Many times I have sacrificed for the party. I sacrificed and helped and stood with Siddaramaiah. Wasn't I patient when I was not made a minister in the beginning? I have given cooperation to Siddaramaiah," he said.
Congress, which registered an emphatic victory defeating BJP in Karnataka on Saturday, now faces the challenge of deciding the chief minister amid the speculations of Siddaramaiah being the front-runner followed by state party president DK Shivakumar.
Aiming to decide on the matter, Karnataka Congress leaders including the party president and newly elected MLAs of the party will hold a Congress Legislature Party meeting today in Bengaluru.
According to sources, the leaders will pass a resolution authorising the party's high command to decide on the CM face and the Deputy CM face.
"Siddaramaiah is the first front-runner for the CM Post, so the Congress high command is in favour of making him the chief minister," sources said.
They further said that the party's leadership has offered him the post of the Deputy CM, acknowledging his hard work.
"Shivakumar has also been offered an important ministry," sources said.
After emerging victorious in the Karnataka polls which the party described as a "stepping stone to the Lok Sabha polls", Congress wants to project Siddaramaiah who belongs to OBC Kurba Samaj as the Chief Minister's post, sources said.
DK Shivakumar defeated JDS candidate B Nagaraju in the Kanakapura constituency by 1,22,392 votes while Siddaramaiah won the Varuna assembly seat defeating Bharatiya Janata Party's (BJP) V Somanna.
According to the Election Commission of India, Congress won 135 seats pushing the Bharatiya Janata Party (BJP) out of power in the only southern state it ruled and boosting its own prospects for the electoral battles ahead. BJP managed to win 66 seats.
Janata Dal-Secular (JDS) bagged 19 seats. Independents have won two seats while Kalyana Rajya Pragathi Paksha and Sarvodaya Karnataka Paksha won one seat each. (ANI)
Read More: lokmarg.com