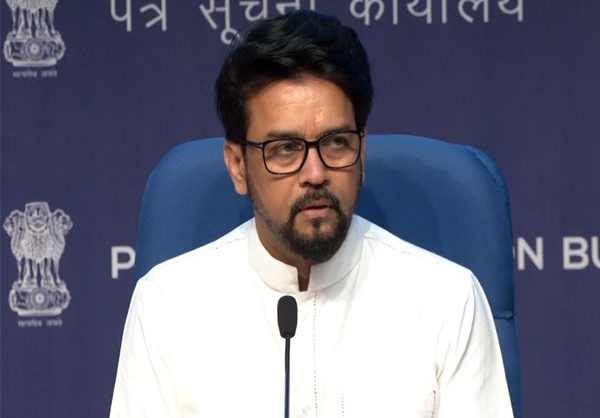 LM NEWS 24
LM NEWS 24
No Time For Politics: Anurag On Sukhu's Remarks
Union Minister Anurag Thakur while referring to the damage caused by heavy rains and landslides in Himachal Pradesh on Thursday said that the parties especially Congress should stop doing politics and focus on providing relief in this hour of crisis.
He said that he will visit Himachal on August 20-21 and meet the affected people there.
The Minister said that many people have lost their lives and there has been widespread damage to infrastructure in Himachal Pradesh (due to rainfall and landslides).
"It is unfortunate that some parties, especially Congress, are doing politics on this. I appeal to them to stop politics and work together in this hour of crisis. The central government is providing all possible assistance. I will visit Himachal Pradesh on August 20-21 and meet the affected people," he said.
Responding to Himachal Chief Minister Sukhvinder Singh Sukhu's statement on Bihar architects, he said that there is no reason to drag the architects of Bihar into this and humiliate them. "Let's come together and help each other like the Center helps the state. In the time of calamity let's walk together and not comment," he said.
Anurag Thakur said that a team of NDRF personnel has been sent to the affected region, Air Force personnel have also been deployed and all kinds of relief work is being done.
He further emphasized that the ministers should refrain from making statements and involve more in relief work in the state.
"Do relief work? I am also going to visit different districts of Himachal Pradesh. At that time, I will also meet those who have suffered losses and meet the officers and work on how maximum relief work can be given", he said.
Earlier today, Himachal Pradesh Chief Minister Sukhvinder Singh Sukhu clarified on his "Bihari architects" remark and said people from Bihar are "just like our brothers" and damage to buildings in the state in the wake of heavy rains was the "fault of our structural engineering".
Talking to ANI, the Chief Minister said people from Bihar were also stuck in the state due to heavy rains and he got them evacuated through helicopters.
Earlier, in media reports, Chief Minister Sukhu was quoted as saying that "migrant architects (masons) whom I call 'Bihari architects' come here and construct floor on floor."
"I did not say anything as such. The people of Bihar were also stuck here. I got them evacuated by helicopters. Around 200 people from Bihar are still stuck here. They are like our brothers. It is the fault of our structural engineering, they are just labourers," the Chief Minister said.
He said rescue work is being carried out on war footing and will further pick up pace as the weather improves. The Chief Minister said around 550 road blockades have been cleared. CM Sukhu said fully restoring the damaged infrastructure in the state will take time.
Over 70 people have died in the state due to heavy rains which led to landslides and damage to houses. (ANI)
Read More: http://13.232.95.176/