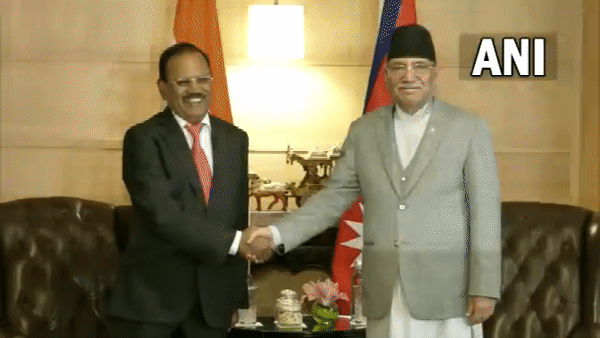 LM NEWS 24
LM NEWS 24
NSA Doval Calls On Nepal PM 'Prachanda' In Delhi
Nepal Prime Minister Pushpa Kamal Dahal, who is on his first overseas visit since assuming office met National Security Advisor (NSA) Ajit Doval on Wednesday.
As Nepal Prime Minister Dahal is set to meet his Indian counterpart PM Modi on Thursday (tomorrow), the engagement between the two Prime Ministers will be an opportunity to discuss the entire gamut of the multifaceted relationship between India and Nepal.
During the visit, both sides will build on the successes achieved by India and Nepal in the bilateral partnership during previous high-level visits [Prime Minister Deuba to New Delhi (April 2022) and Prime Minister Modi to Lumbini (May 2022).]
During his visit, Nepal Prime Minister Pushpa Kamal Dahal aka 'Prachanda' will call on President Droupadi Murmu and Vice-President Jagdeep Dhankhar.
Kickstarting his four days India visit, Nepal PM arrived in New Delhi on Wednesday. Upon arrival, he received a warm welcome from Union Minister Meenakashi Lekhi.
"PM @cmprachanda of Nepal arrives in New Delhi on his first overseas visit after assumption of office. Warmly welcomed by MoS @M_Lekhi at the airport. The visit will impart renewed momentum to the close and unique India-Nepal relationship," the official spokesperson of MEA, Arindam Bagchi tweeted.
In addition to the official engagements, he will also visit Ujjain and Indore as part of his visit.
Prachanda, who assumed office in December last year, is in India from May 31-June 3 at the invitation of his Indian counterpart, Prime Minister Narendra Modi.
Prachanda will begin his schedule on Thursday (tomorrow) by laying a wreath at the memorial of Mahatma Gandhi at 10.30 am.
A Ministry of External Affairs release said earlier that the visit continues the tradition of regular high-level exchanges between the two countries in furtherance of India's 'Neighbourhood First' policy.
Previously, he visited India twice in 2008 and 2016 as Prime Minister of Nepal.
The bilateral relations between India and Nepal have significantly strengthened in the last few years in all areas of cooperation. (ANI)
Read More: lokmarg.com