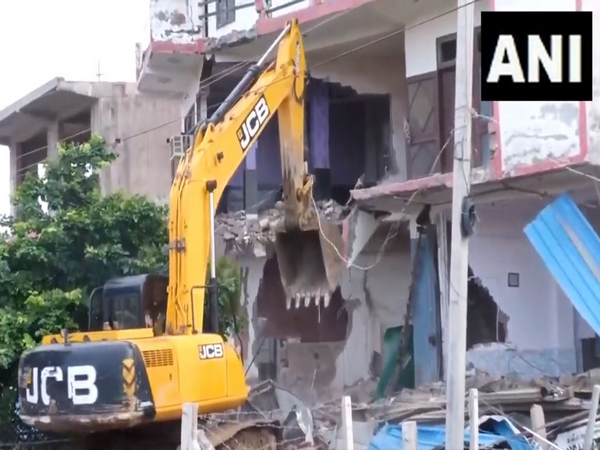 LM NEWS 24
LM NEWS 24
Nuh: Illegal Building From Where Hooligans Pelted Stones Demolished
Continuing their drive against illegal constructions in Haryana's Nuh, district administration authorities on Sunday demolished a resturant-cum-hotel which was used by hooligans to pelt stones during the recent violence there.
A team of police personnel was also deployed in the area during demolition action.
District town planner Vinesh Kumar said that the commercial building of the "Sahara Family Restaurant" was constructed illegally. He said that it was the same building from where hooligans pelted stones on a religious procession.
"The building was totally unauthorised and it was served notices by the Government and department. The hotel-cum-restaurant is completely unauthorised. Hooligans had pelted stones on the yatra from here. So, this action is being taken," Kumar said.
Earlier on Saturday morning, the Nuh district administration razed down over 45 "illegal" shops in the Nalhar road area.
Violence had broken out between two groups on July 31 in Haryana's Nuh district, on Monday in Nuh that claimed the lives of six people including two Home Guards.
Meanwhile, the internet suspension in Nuh has been extended till Tuesday.
Earlier on Friday, Haryana police said that as many as 141 people have been arrested and 55 FIRs registered in connection with the violence and rioting at Haryana's Nuh district on Monday.
The toll in the violence that broke out between two groups on Monday stood at 6, including 2 police homeguards, while another 88 were injured, police informed further.
"In connection with the violence that took place during a religious procession, 55 FIRs have been registered so far and 141 people have been arrested. Another 88 people were injured in the clashes. The toll in the violence stands at 6," a police officer said on Friday.
Gurugram Police earlier said that it has filed 27 FIRs and arrested 38 accused persons, so far, in connection with the violence in Gurugram and adjoining districts, following the clashes in Nuh.
"We have filed 27 FIRs and arrested 38 persons in connection with the recent violence in Gurugram. We have also taken 60 persons under preventive detention," Varun Kumar Dhahiya, Assistant Police Commissioner (Gurugram), told ANI on Friday.
Haryana Home Minister Anil Vij on Wednesday, while alleging a bigger conspiracy behind the violence, said the culprits will not be spared.
"The culprits will not be spared. Whoever masterminded the violence will also pay. The rioters will be made to pay for the damage to public property," Vij added.
The Home Minister informed further, "I would urge one and all to maintain peace and harmony. State police personnel and central paramilitary forces are deployed in adequate numbers to ensure peace. The situation is under control."
"I would also request people to refrain from posting any offensive or inflammatory content on social media. We have formed an inquiry committee, which is keeping an eye on each and every activity on social media. The matter is being investigated thoroughly," Vij added. (ANI)
Read More: http://13.232.95.176/