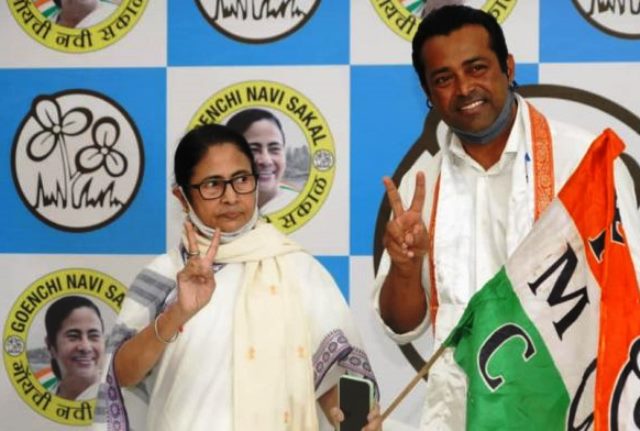 OPINION
OPINION
Nuts & Bolts of Mamata's Not-So-Nutty Plan For Goa
When the assembly elections in the tiny Indian state of Goa (population: 1.60 million) are held in February 2022, a prominent contestant for a slice of the 40 seats in the state will be Ms. Mamata Banerjee's All India Trinamool Congress (AITMC). The "All India" part of her party's name could seem a bit of a misnomer because, at least in terms of the number of seats that the party has won in states other than West Bengal in recent years. It is predominantly a regional political party from West Bengal where Ms. Banerjee has served two consecutive terms as chief minister and is currently serving her third.
But could that change? Ms. Banerjee's ambition of spreading her political domain to regions other than Bengal is not new. In the past, her party has contested assembly elections in other states: in 2001, in Assam her party won a seat; in Manipur, in 2012, she won seven; in the same year, in Uttar Pradesh, she won one seat, and in Tripura, in 2016, she managed to get six Congress legislators to defect to her party. But her party's faring has been patchy. In Manipur, where she had seven, she lost six seats in the 2017 elections and has just one now. In Punjab, in 2017, she fielded 20 candidates but none of them won.
Tripura, Manipur, and parts of Assam (particularly in the south where Bengali speaking population is considerably large) are actually low-hanging fruit for Ms. Banerjee. Tripura and Manipur are small and not too distant from her home base and with the right kind of alliances, she could make inroads in those states. But these moves have at best been relatively small ones and not part of a bigger plan to spread the AITMC's wings.
Till now. Enter Abhishek Banerjee, her 34-year-old nephew and MP, who was appointed as the party's national general secretary this summer. Banerjee's rise within the party that his aunt leads has been phenomenal. He has also been in the eye of several unseemly controversies, including having ongoing charges against him in cases of money laundering and disproportionate assets. But it is Abhishek who is driving Mamata's party's national strategy to spread its presence outside West Bengal.
That strategy, as it begins to unfold, is about AITMC venturing out of its comfort zone in West Bengal and its smaller neighbouring states and taking a shy at fresh challenges. And the tactics that make up that strategy seem to be varied. Recently, Abhishek convinced Mamata to get on board Sushmita Dev, the daughter of the late Congress leader Santosh Mohan Dev, who was a veteran politician from Assam and Tripura and Union minister for many years. It was a sort of a coup that could give the AITMC a bigger foothold in, at least, a part of southern Assam.
The reason behind the national strategy is simple. With a broader footprint across India, the AITMC could shed its Bengal-centricity but it could also give Mamata Banerjee the credibility and a raison d'etre for pitching herself as a challenger and alternative to Prime Minister Narendra Modi, a notion that has often been raised, particularly after her party's victory for the third time in West Bengal.
ALSO READ: Mamata In A New Challenger Avatar
The tactic of going to Goa to fight the 2022 elections has an interesting background. Let's begin with political strategist Prashant Kishor. No other electoral strategist in India is as famous as Kishor has been. He has worked for parties of every stripe: from national parties such as the BJP and the Congress; and for regional parties such as Yuvajana Sramika Rythu Congress Party in Andhra Pradesh, the DMK in Tamil Nadu, AAP in Delhi, and now the AITMC. Kishor is not only AITMC's strategic consultant but, it is learnt, that he has a five-year contract with the party, an arrangement of that kind that has not been common in India.
What is more, Kishor is the main brain behind the Goa foray by Mamata. If Abhishek is the driver, Kishor is the navigator. Kishor did a detailed survey of the electoral situation and mood in Goa's 40 assembly constituencies and came back with the findings that the voters of Goa (where the BJP leads the government although it won 13 seats to Congress's 17 in 2017) are not happy with either of the two central parties. Although the BJP upstaged the Congress in the 2017 elections because it was faster in forging alliances than the latter and proved a majority in the assembly, thereby forming the government, it is not invincible as it had been before. The death of Manohar Parrikar (who was BJP's chief minister for three terms before he died in 2017) has dealt a blow to BJP's clout in Goa. The party's current chief minister Pramod Sawant has neither the charisma nor the political clout that Parrikar, who was also defence minister in Delhi in the first BJP government, enjoyed.
As for the Congress, in Goa, as in many other states, it is rudderless and lacks vision. In the 2017 elections it had the largest number of seats but it dithered about finding partners to make up the majority and ended up handing over the government formation to the BJP.
The AITMC intends to leverage this situation by adopting quick tactics. Thirty percent of the population of Goa is made up of Christians (mainly Roman Catholics) and the AITMC has adroitly picked up a leading politician, Luizinho Faleiro, a former Congress leader and ex-chief minister of the state. Faleiro joined the AITMC in September this year. It's a political win for Mamata Banerjee because Faleiro, besides having political clout in his own state, has been an alliance strategist for the Congress and is credited with forging alliances for his old party in many north-eat Indian states to help the party form governments.
Besides moves such as that, the AITMC has inducted the former tennis champion, Leander Paes, who is now settled in Goa; the socialite Nafisa Ali has also joined the party; and both personalities would likely be visible during the party's public campaigning in Goa. But Goa also has a sizeable Hindu population (estimated 66%), a base on which the BJP built its support and for AITMC to succeed, it would need to target those voters as well.
To do that, Mamata and her party have been reaching out to smaller parties with a focused following in the state. One of the targets for an alliance is the Goa Forward Party, which has three of the 40 assembly seats and quit its alliance with the ruling BJP, accusing the latter of giving away Goa's mining resources to the private sector.
Whatever be the outcome of Mamata and her nephew's electoral strategy in Goa, it has already caused both national parties to be concerned–the Congress more than the BJP. Directionless with a leadership that does not seem to translate into votes, the Congress is particularly concerned that the AITMC is weaning away some of its own leaders at a time when that commodity, political leadership, is a scarcity in the Congress. But one thing is clear. Thanks to Mamata's moves, the fight for Goa will be watched intently.