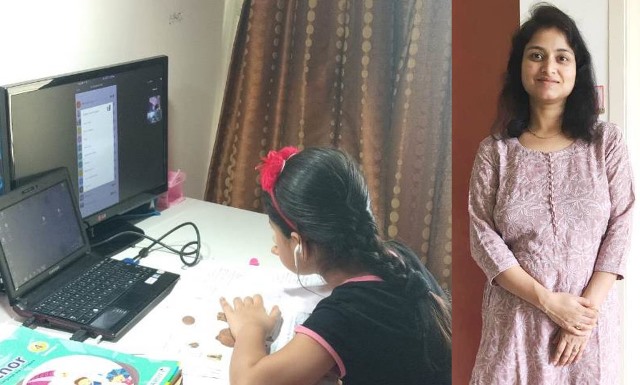 LOK ISSUES
LOK ISSUES
'Online Classes Completely Drain The Parents'
Roma Aggarwal, 37, says online schooling is tiresome for parents who have to juggle among domestic chores, office work and children's assignments. She prays for the pandemic to end and schools to reopen
Online classes aren't really my cup of tea. I love the idea of children being formally educated inside the school premises with real-time interactions between teachers and students as well as among themselves. Education is not only about the stuff we are taught, it is also about the social skills we learn, how we understand non-verbal cues from other people and how we learn to carve our own space in the sea of people. But it is what it is!
The pandemic hasn't relented for so many months now and I wonder when my two daughters will be able to go back to school. My younger daughter, aged three, was supposed to start school formally this year, but then things changed drastically. My elder daughter is in Class IV and she misses her school a lot.
I have had to change and update gadgets continuously to enhance the quality of the online interaction. As an urban family, we have access to smartphones, laptop etc. which we share on priority basis, and still online classes aren't an easy navigation. So, I wonder about those families who may have to share gadgets, like one phone between two siblings.
It is difficult for the young children to make such huge changes in lifestyle. My elder one generally oscillates between her iPad and her laptop for her studies, but there are days when she complains of sore eyes and mild headaches because of the intense focus she has to keep on the electronic mediums. So I have also now started connecting the laptop (net book) to the TV. And since my younger one accesses her classes on my phone, it means I neither get the TV, nor the phone to unwind after a hard day's work.
Whatever free time I get is spent in helping my elder daughter with her assignments. I am a housewife but there is so much online involvement with my elder daughter that I feel like I have joined a fully functioning office. We as parents have to help our kids with conducting their lab experiments, then with their homework across subjects and multiple assignments. Plus there are also their various online tests.
Then there are video and photo uploads to be done. My elder daughter starts her classes around 8.20 am and one class goes on for 40 minutes. And I have to be alert along with her. My younger one's classes start much later and she has also been complaining about her eyes watering during the classes. Since ages we have told kids to use the screen less or sit far away from the screen so that it doesn't impact their eyes. But now the screens have become unavoidable. Continuous and long use of ear phones might also hamper the children's sensitive ears, so I don't allow them to use earphones for online classes.
My house is right now divided into water-tight zones. One room has been taken up by my husband, where he dedicatedly does his work as an IT Professional. Another room has been assigned to my daughter in which she can attend her classes undisturbed by any outside sound or noise. My younger daughter and I have taken over the living room. She gets easily restless during the classes and I have to then help her soothe.
I sincerely hope the schools open soon and we go back to the pre-pandemic world. Till now there are no updates as to when schools would open in Chennai. Since there is not much physical activity during online classes, the kids don't expend much energy and they eat fewer times saying they don't feel hungry and the portions have also been getting smaller. In this pandemic they can't even go out for physical activities, which is not good for their health.