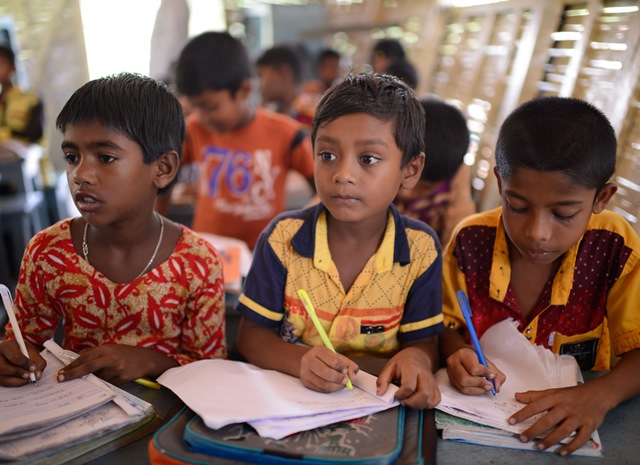 OPINION
OPINION
Online Learning Remains A Distant Dream For Poor
At Khatra subdivision of West Bengal's Bankura district, which is globally famous for terracotta horse and temples, dreams of children coming out of centuries of illiteracy are dying young, thanks to Covid-19. The pandemic related closure of all educational institutions across the state since the third week of March has led to migration to online classes from regular classroom teaching. But this is possible only with uninterrupted internet service and teachers and students are armed with computers and smart phones.
Outside Khatra town in the villages and hamlets mainly inhabited by tribals such as santhals, munda and bhumij (sardar), the people are so poor and still virtually untouched by civilisation that they are not at all curious about what is happening beyond their environs. Only now at government initiative and because of sustained NGO work that the tribal children are getting enrolled in primary schools. Free midday meals are a major incentive for tribal parents to send their children to schools.
A gram panchayat official at Raghunathpur village says: "Creating a school infrastructure, finding teachers and persuading families to send their offspring to schools are all a major challenge. As we were having gradual success in filling the classes with students and also arresting dropouts at early levels, came the Covid-19 triggered school closure negating much of the progress of our endeavours. Go round the villages you will see the young boys and girls are wondering around if not helping their parents in farm work or in potteries or in household chores instead of being in schools."
Why only the tribal children, schools in interiors of Bengal are not equipped in any way to conduct online classes. Most teachers in remote places have scant or no knowledge of computer operation. Neither are the majority of parents have the means to buy computers or smart phones for their children. The net result is students at all levels in faraway places are missing out on lessons unlike their peers in Kolkata and other urban centres benefiting from online classes.
"Year after year, we have been seeing defying economic woes and without the help of private coaching, students from rural Bengal will invariably find a good number of places in school leaving exam merit list and also successfully clear tests for admissions to prestigious colleges and institutes for study of engineering and medicine" says former Calcutta University and Presidency professor Biswanath Das. "Unfortunately, in the now changed situation economically disadvantaged students, particularly in rural centres will find the task of making the grade so much more challenging. This is digital divide at its worst."
While hardships for poor students are mounting, stars are shining bright for online learning start-ups such as Byju's now valued at $10.5bn. The edtech company, which has engaged the services of Shah Rukh Khan for promotion of online lessons through TV and print ad, got funding of $200m first from the US based investment fund Tiger Global and then $100m from the storied Silicon Valley investor Mary Meeker's fund, Bond.
The edtech universe in India is getting quite crowded. According to Datalabs by Inc42, there are approximately 4,450 edtech start-ups in the country, with capital inflows principally happening into test preparation and online certification segments. Like Byju's, Unacademy and Vedantu are progressively gaining in valuation as students in growing numbers are registering themselves with edtech in view of shutdown of schools and colleges across the country. This reporter has checked with several students in Calcutta taking tuition from edtech institutions and they are quite happy with the formats, teaching quality and timing convenience. Not only the students, growing numbers of quality teachers are signing up with the likes of Byju's and Unacademy seeing in them guaranteed long-term rewarding tenure. Parents are happy that even when life returns to normal, the children will not have to run from one private tutor's house to the next for lessons leaving them exhausted. But all this comes at a cost beyond the affordability of underprivileged families.
George Bernard Shaw said: "People are always blaming their circumstances for what they are. I don't believe in circumstances." Shaw's call to create circumstances if the desired circumstances are not there will have no appeal for thousands of poor aspiring students in rural Bengal or for that matter in other Indian villages with the family income being so low. The Indian rural scene would have been different had the powers that be listened to the sage advice of Amartya Sen, Pranab Bardhan, Jean Dreze and Abhijit Banerjee to solidly invest in education and health care.
The extra challenge is now to extend good quality internet connectivity to what is Bharat and equipping schools and colleges in non-urban centres with computers and other related accessories. But meaningful conduct of classes will happen when all students will have smart phones for use. Local governments will be required to distribute the phones among students who also must have free access to uninterrupted internet service.
From West Bengal to Maharashtra and from Orissa to Tamil Nadu, schools and colleges are to remain closed till October end. Then the concerned state governments will take decisions about reopening of educational institutions based on the behaviour of the killer virus Covid-19. Children of well to do families have managed to compensate for absence of physical classes by virtual classes. Some prestigious schools for seniors have now introduced "offline doubt-clearing sessions," which students can attend with parental consent. Teachers are also encouraged to come to schools once in a week to hold online classes from there. But for the underprivileged the academic life has come to a standstill and they are condemned to lose one whole year.
Like on many occasions in the past, the present continuing crisis has shown some individuals in every state taking the path of compassion and understanding to come to the help of students in distress. Teachers in some schools in Calcutta have raised funds from friends and relations and topping that up with their own money to buy smart phones for students.
Newspapers will publish reports from time to time of good Samaritans helping students in distress in mohallas and slums in more than one way. The country is just past the season when examinations are held for admissions to engineering, medical and law colleges. As local trains are still to resume operation and bus services between villages and towns are missing, many deserving students had to give the tests a miss. What a curse for being poor!