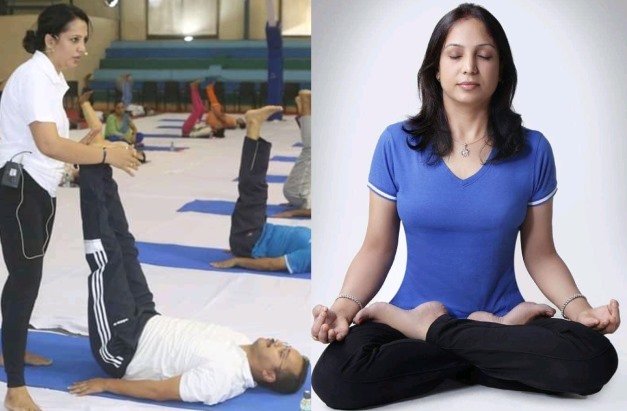 LOK ISSUES
LOK ISSUES
'Online Yoga Helped People Keep Calm Amid Lockdown'
Poonam Singh, a Yoga instructor from New Delhi, had to suspend her classes after the virus outbreak. However, with help from her son, she launched online sessions to beat the lockdown blues
I have been teaching Yoga since 2006, and I have taught Yoga across groups, from pregnant women at hospitals, the elderly, even children. As co-founder of Yog Manthan, I wish to take Yoga to the masses across forums.
Then in March, due to the Coronavirus pandemic and the ensuing lockdowns, I had to suspend my classes. However, it also made most entrepreneurs adapt and improvise their operations. My 23-year-old son suggested that I should get going with online classes. With his help, I set up an online yoga class platform; within a week after Holi my sessions were back on track.
I must disclose that many women approached me that lockdown was getting to their nerves and they needed Yoga classes to see through the stay-indoors period. There are news reports that domestic discords are on the rise; people are on a short fuse. So I consider yoga classes as my contribution to the fight against Coronavirus.
I teach two online batches during weekdays hold meditation and chanting sessions on weekends. For the classes, I use Google Duo which allows 12 people at a time while on weekends I use Zoom which can accommodate larger groups.
One added benefit of online classes is that earlier people who couldn't drive and come to my classes early morning to take classes can now do it from the comforts of their home. However, it is difficult to teach people the exact correct poses online if they are going wrong posture wise. It is said: Sadhe to Yog, nahi to jeevan bhar ka rog (If one is able to do it well, Yoga is super-beneficial, but wrong postures can negate these benefits).
In the pre-corona world I could simply walk over to the student and ask them to maybe straighten their backs a little more or to lift their chin up correctly or breathe correctly. But I take really good care and watch my students carefully and teach them the current postures. I wish we can go back to real-life classes because in Yoga the guru-shishya parampara is very important, one needs to have complete faith in the guru's teachings.
You would be surprised to know that my own two kids haven't learnt Yoga from me. And I don't believe in forcing them. Force karna Yog nahi hai (You can't force someone to practise Yoga). Learn Yoga only if you are truly inspired to learn it, for it requires consistency and self-discipline.
And I would also like to mention here when personal hygiene is being given paramount importance in these pandemic situation, that Yoga has something known as Shat karma (six actions) that focus on hygiene before any asanas are done. These process cleanse our respiratory and internal systems. As the International Yoga day approaches on June 21, I would urge people to take a deep breath and think about reaping the benefits that Yoga provides, be it offline or online. Even after the whole thing subsides and we can get back to teaching Yoga normally to large groups of people, I don't think I will stop taking online classes. It has its own merits.