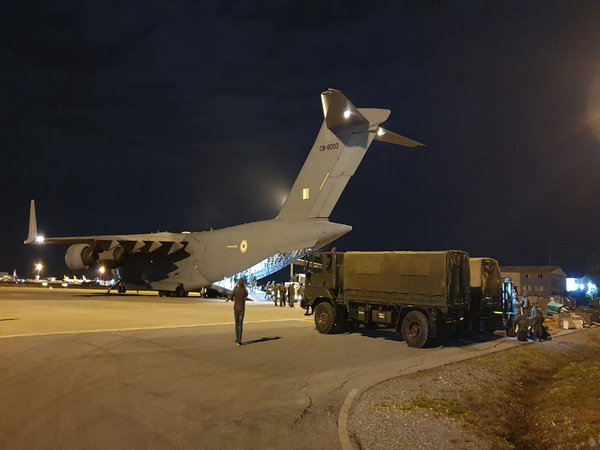 LM NEWS 24
LM NEWS 24
Operation Dost: Sixth Flight Reaches Turkey With Relief Assistance
The sixth plane from India carrying rescue personnel, essentials, and medical equipment for earthquake relief efforts have reached Turkey, External Affairs Minister S Jaishankar said on Thursday.
The sixth flight carries more rescue teams, dog squads, and essential medicines for the quake- hit country.
Taking to Twitter, Jaishankar wrote, "The sixth #OperationDost flight reaches Turkiye. More search and rescue teams, dog squads, essential search & access equipment, medicines and medical equipment ready for deployment in the relief efforts."
On his official Twitter handle, the EAM posted pictures of a field hospital in Turkey where medical experts are preparing to treat emergencies.
Following the deadly earthquakes on February 6 the death toll in Turkey and adjoining Syria have surpassed 15,000 lives in both countries.
"This field hospital in Hatay, Turkiye will treat those affected by the earthquake. Our team of medical & critical care specialists and equipment are preparing to treat emergencies," Jaishankar wrote on Twitter.
Earlier on Wednesday, the Official Spokesperson of the Ministry of External Affairs, Arindam Bagchi said that the field hospital under 'OperationDost' has been set up at Iskenderun, Hatay province in Turkiye by the Indian Army.
India is providing assistance to Turkey through the ongoing crisis after earthquakes jolted the country on February 6.
Turkey's Ambassador to India Firat Sunel has described 'Operation Dost' as a "very important operation" and demonstrated the friendship between the two nations.
Firat Sunel made the remarks at the Hindon Airbase in Ghaziabad from where Indian Air Force's C17 Globemaster aircraft with the NDRF team, medical equipment, relief equipment, took off for Turkey, as part of the ongoing 'Operation Dost.' He said, "Operation Dost is a symbolic operation. It already proves that we are friends. We have to deepen our relations."
Speaking to ANI, Firat Sunel said, "Operation Dost is a very important operation. And this is the operation of friendship because DOST is the word in Hindi and Turkish which means friends. And this operation shows our friendship between India and Turkey and friends always help each other.
"Union Minister of State for External Affairs V Muraleedharan, who was also present at the Hindon Airbase, has said that India stands ready to extend support to the people of
earthquake
-hit Turkey.
Speaking to ANI, Muraleedharan said that there are four teams working on the ground in Turkey, including two rescue teams, dog squads and two medical teams. He said that India has already opened a field hospital in Turkey.
The earthquake of magnitude 7.7 on the Richter scale ripped through Turkey and Syria on February 6, followed by a series of aftershocks that caused huge devastation, loss of lives and damage to infrastructure in the two countries. (ANI)
Read More: http://13.232.95.176/