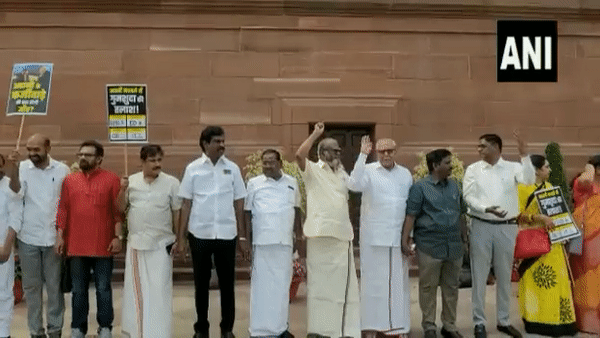 LM NEWS 24
LM NEWS 24
Oppn MPs Form Human Chain Outside Parliament To Protest Against Adani Issue
Opposition MPs protested outside Parliament by forming a human chain and demanded a Joint Parliamentary Committee probe into the Adani issue on Thursday.
Meanwhile, Congress workers also held a protest in the national capital over the Adani row and demand Joint Parliamentary Committee probe into it.
Earlier today Trinamool Congress MPs entered the Well of the Rajya Sabha with a black cloth tied around their mouths as they registered a unique protest which led to the adjournment in both Houses.
A similar protest was seen in Lok Sabha as well.
Opposition MPs have been protesting against the Government, demanding a JPC probe into the allegations against the Adani Group.
The party's MPs in both Houses wore black cloth around their faces and entered the Well even before the Presiding officers arrived.
They kept pointing towards the Treasury benches and shouted "BJP Ministers and MPs are not allowing the opposition to speak. Not allowing the opposition to express themselves."
The MPs said that the protest will be repeated at 2 pm.
Parliament was adjourned till 2 PM today. Congress and other opposition parties insisted on their demand for a Joint Parliamentary Committee probe into the Adani-Hindenburg row and the BJP members seeking an apology from Rahul Gandhi over his remarks made in London.
Earlier this morning leaders from like-minded opposition parties met in the chamber of Leader of Parliament in Rajya Sabha Mallikarjun Kharge inside the Parliament building.
Leaders of the DMK, NCP, SP, RJD, BRS, CPM,CPI, SS, JDU, JMM, MDMK, AAP, VCK and IUML attended the meeting this morning.
On the ruckus caused by the opposition MPs in Parliament, Kharge told mediapersons, "It's their conspiracy to not let the Parliament run and ignore our demand for a Joint Parliamentary Committee probe in the Adani issue.
"They don't want to discuss issues of unemployment and inflation. Earlier on numerous occasions, Modi Ji spoke against India abroad. There is no question of apologizing," he added. (ANI)
Read More Article: http://13.232.95.176/