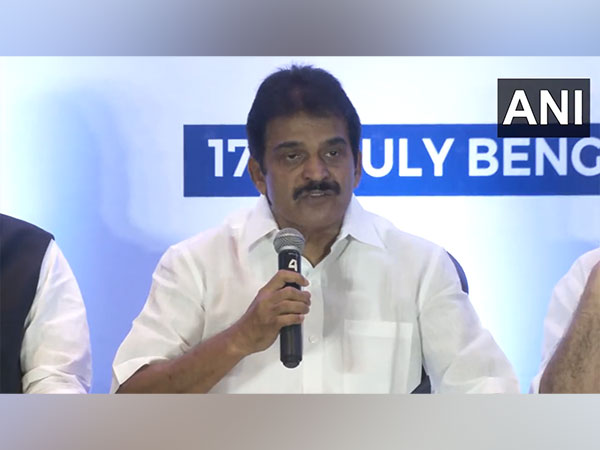 LM NEWS 24
LM NEWS 24
Opposition Unity Meet Begins In Bengaluru
Congress general secretary KC Venugopal on Monday hit out at the ruling BJP-led government at the Centre accusing it of misusing probe agencies for its political ends and said that the meeting of opposition parties in Bengaluru "will be a game-changer" for India's politics.
Addressing a press conference here as opposition parties gather in Bengaluru for the meeting, Venugopal alleged that the BJP wants to "silence the voice of opposition" and said disqualification of party leader Rahul Gandhi from Lok Sabha and developments in Maharashtra are examples.
Congress leaders Jairam Ramesh and Karnataka Deputy Chief Minister DK Shivakumar also addressed the press conference.
Venugopal said the opposition parties had a successful meeting in Patna on June 23.
"Tomorrow 26 political parties will participate in the Bengaluru meeting. We will decide the future course of action during the meeting which will be a game changer for the Indian political scenario. We will also chalk out the Parliament strategy. Now they (BJP) are also meetings, this is the real success of the opposition unity," he said.
Venugopal said the opposition parties are united by a common purpose – to protect democracy in this country, to ensure the Constitutional rights and the independence of our institutions.
"These all are under attack by the present regime of the BJP Govt. They want to silence the Opposition's voice. They are misusing agencies to suppress the voice of the Opposition. The disqualification of Rahul Gandhi from the Parliament is one of the biggest examples of that. The incident happening in Maharashtra is also an example…"
Earlier speaking to reporters, Shiv Sena (UBT) leader Sanjay Raut said that opposition leaders will hold discussion on many issues including EVM machines during the second joint opposition meeting in Bengaluru.
"Agenda of today's meeting is to be one. Discussion will be held on many issues including EVM machines, Lok Sabha seat sharing, what will be the name of the front," he said.
The opposition parties are seeking to put up a united front to take on the BJP in the 2024 Lok Sabha polls. The two-day meeting will conclude on Tuesday after a formal meeting of opposition leaders. (ANI)
Read More: http://13.232.95.176/