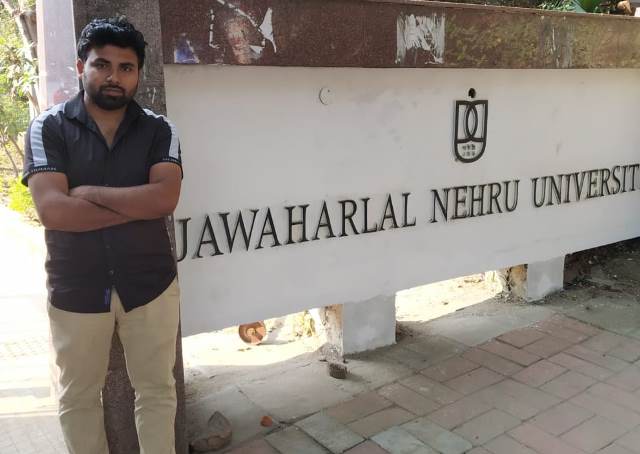 LOK ISSUES
LOK ISSUES
'Our Dreams Of Quality High Education Are Under Threat'
Raj Kumar, a JNU student who hails from Siwan in BIhar, speaks about why he is protesting the recent fee hike announced by the university administration.
I come from Siwan district in Bihar, and am currently pursuing my graduation in German from the School of Language Studies in JNU. I was part of the protest march taken out by the students on November 18 against the fee hike which made news headlines. I will tell you why I went out on street in protest.
My father earns about ₹8,000-₹9, 000 per month from a small shop he owns in Siwan to take care of a family of six, including my education expenses. I am the first graduate in my whole extended family and JNU is my only hope of fulfilling my dreams of quality higher education. Now even that dream is being snatched away!
A section of the media has shown that the hostel fee has been increased from ₹10 to ₹300 "only". So why are students bothered about a mere ₹300 if they want quality education? These mediapersons probably don't know about other hikes. Our one-time mess security deposit (though it is refundable) has been increased from ₹5,500 to ₹12,000. Our service fees or maintenance fees has been increased to ₹1,700 per month. Plus the water and electricity bill will cost us ₹300-₹500 per month. The mess service charge has been increased from ₹2,500 to ₹3,000. In fact we have received a circular saying that contract-based employees will be hired now for the mess, instead of government employees, and therefore the charges might go up further.
Such price increases might not bother rich people or Metropolitan-bred but for people who comes from economically weak backgrounds, each rupee matters.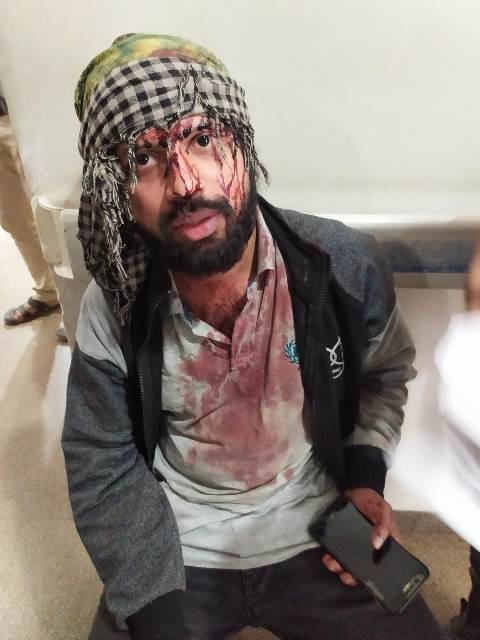 And the VC wants us to go back to our studies because exams are near, but how can we concentrate on our studies if our fees worry us. How can we prepare for our exams when we don't even know if we will be able to complete our semesters after the fees hike? Not everybody's parents can bear such increase in costs.
That is why I stepped out to protest. On November 18, there was pure mayhem on the streets. Article 144 was imposed outside JNU campus to stop students from protesting. Article 144 on students, isn't that too much? We are talking about students from the age of 18- 28.
Students were treated like criminals. The police was doing lathicharge on us without any mercy. We tried to find an alternative route after Article 144 was imposed around the campus, but the police was there at every few hundred metres and given orders to beat up or round up the students. One of my friends, who is a counsellor at the School of Social Studies, has been badly hurt and another visually challenged friend was hit on his chest with a boot and sustained many other injuries.
Just imagine how helpless he must have felt. He has been admitted to the AIIMS Trauma Centre. There were about a 1,000 of us running on the roads. Many of the girl students with us started crying because they were really scared for their and their friends' safety.
Who will take up the cause for us if we don't take up the cause ourselves? Sometimes we the students of JNU feel as if all this is part of a planned move to snuff the life out of the brilliant academic discourse available on JNU campus. No matter what course you are doing, I feel no other college or university opens up your mind like JNU does. There is interaction among all sections of society as well as with students and teachers from foreign countries as well. If I am doing my course in German, I am not only learning the language; our teacher takes us through its literature, its rise to fascism as well as its current contribution to world culture.
I don't know what the future holds for us, but I definitely know that as long as I can, I will keep protesting against the fees hike. Even though there have been reports of the MHRD (Ministry of Human Resource Development) setting up a high-power committee to look into the matter urgently, so far the students haven't been approached and the VC definitely doesn't seem to understand the students' view of things.