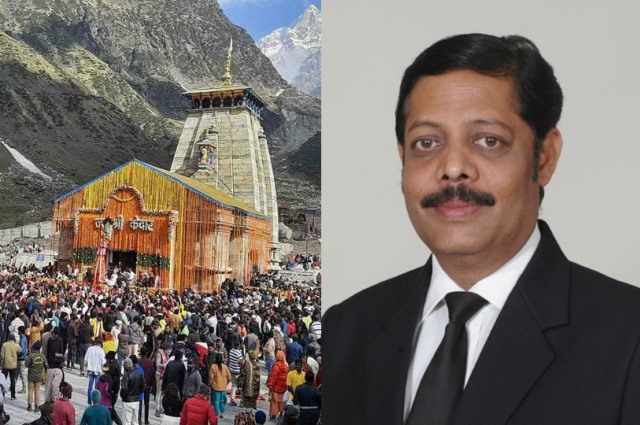 LOK ISSUES
LOK ISSUES
'Overcrowded Hill Shrines Can Cause Severe Ecological Damage'
Sanjay Govil, a management professional and an avid traveller, says the government must regulate visitors at our ancient shrines to save a fragile hill ecology
Religious centres in our country have significant cultural, historical and spiritual importance for us. However, in recent years, these pilgrimage centres have transformed into tourist destinations, attracting a huge influx of visitors without proper checks in place. I'm sure that this brings in economic benefits to the local communities and the country at large, but it also poses serious risks to the environment and the sanctity of these sacred sites.
The transformation of religious centres into tourist hotspots has happened because of the increasing ease and affordability of travel, allowing more people to embark on spiritual journeys and visit religious landmarks. Social media and travel websites have also played a significant role in promoting these destinations.
This newfound economic prosperity no doubt helps in supporting the maintenance of the sites and investing in local infrastructure but at the same time the rapid growth of tourism without appropriate regulations has led to consequences that far outweigh the benefits.
Environmental impact of unchecked tourism is a concern. Religious centres situated in delicate ecosystems put immense pressure on the local flora and fauna. Increased construction of hotels, restaurants, and other tourism-related facilities leads to deforestation, habitat destruction, and disruption of the natural balance. Additionally, littering, waste generation, and excessive water usage by pilgrims result into polluting the environment.
Moreover, the serenity and spiritual aura of religious centres is compromised when overrun by large crowds. The peaceful atmosphere that attracts devotees and pilgrims in the first place is disrupted by noise, commercialization, and a lack of respect for the sacredness of the place.
ALSO READ: 'Joshimath Paid The Price For Our Environmental Sins'
It's important to preserve the authenticity and historical significance of these religious centres. With excessive tourism, there is a risk of diluting the cultural heritage and traditions associated with these places. Commercialization and modernization is not for these sacred sites.
I feel it is essential to implement sustainable tourism practices and strike a balance between economic development and environmental preservation. Local governments, religious authorities, and community leaders should collaborate to devise responsible tourism policies that regulate the number of visitors, control construction activities, and enforce waste management measures.
The issue requires a comprehensive and holistic approach. Potential solutions may include
1) Implementing visitor quotas, ticketing systems, and timed entry slots can help control the number of visitors at any given time, reducing the strain on infrastructure and environment.
2)Infrastructure developmentcan help handle the increased footfall, including waste management facilities, water conservation projects, and public transportation options.
3) Education and awareness vis-à-vis the ecological and cultural sensitivity of these places and encouraging responsible tourism practices especially avoiding single-use plastics, are important.
4) Preservation of sacred sitesis neededto ensure that commercial activities do not compromise the core values and spiritual essence of these places.
4) Local communitiesshould be involved in the decision-making process and the benefits of tourism so that they know that they have a stake in preserving their environment and culture.
5) The government needs to promote offbeat religious placesto diversify tourism by promoting lesser-known religious centres, distributing the tourist influx more evenly and reducing the burden on popular sites. This will also allow for a more sustainable distribution of economic benefits.
6)Ecotourism initiativescan be taken topromote sustainable practices and foster a deeper understanding of the natural environment.
Responsible and sustainable tourism practices are essential to strike a balance between economic development and cultural preservation, ensuring that future generations can continue to experience the spiritual and historical significance of these religious centres.
As told to Deepa Gupta