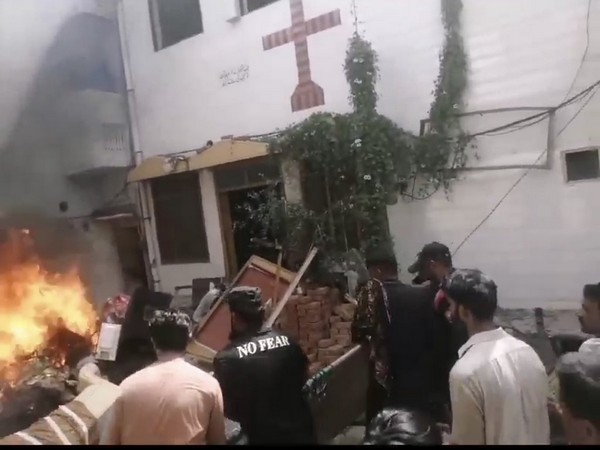 LM NEWS 24
LM NEWS 24
Pak: Religious Leaders Seek Judicial Probe Into Jaranwala Violence
Pakistan's Punjab former Minister for Human Rights and Minority Affairs Ijaz Alam Augustine along with various religious leaders presented facts of the Jalanwala tragedy and exposed the elements who made a deal with the oppressed victims, The News International reported on Sunday.
The former minister and leaders were speaking in a press conference where they demanded the setting up of a judicial commission headed by a High Court judge for a transparent investigation into the Jaranwala tragedy.
The leaders called for severe punishment of the perpetrators of the incident and those who made hate speeches and an apology to the state.
Ijaz Alam Augustine while addressing the press conference condemned the heinous incident and said that the Christian community is very sad all over the world. We have a question from the Punjab government when the miscreants first acted at 5 in the morning, why did the police and the administration reach the crime scene after sixteen hours?
"Why were the riots not stopped and why were the police absent? Churches were burnt in the presence of the police. We demand that the administration concerned be brought to justice. Why was a Christian Assistant Commissioner 'suspended'?" Ijaz Alam emphasised that had the criminals involved in the incidents of Shanti Nagar, Joseph Colony and Gojra been punished, the Jaranwala tragedy might not have happened today."
Chairman of Tolerance Movement Samson Salamat said, "My question is, why the chief minister has not yet gone to Jaranwala? He is meeting representatives of religious minorities in his office. The Christian community protested together with their Muslim brothers against the desecration of the Holy Quran in Sweden and Norway and sent a message to the world that we are all Pakistanis."
Chairman Pakistan Minorities Alliance Tahir Naveed Chaudhry and Akmal Bhatti Advocate in their address seek the protection of the Christian community. They also embraced the establishment of an internal action committee and demanded legislation in the next parliament.
Shahid Rehmat, Chief Executive of Youth Development Foundation said, "We all have to ensure prevention of such incidents in the future." He insisted on taking emergency measures to rebuild the homes of the Christian community. He said, "We all have to promote interfaith harmony among ourselves so that the path of those who spread hatred can be blocked".
From the press conference, Pastor John AD, Bishop Sylvester Tahir Bhatti, Bishop Dominic Javed and Bishop Tauqeer Nasir also made short speeches and emphasized ensuring the safety of the Christian community and announced that the journey of peaceful protest will continue till the Christian community gets justice and protection. (ANI)
Read More: http://13.232.95.176/