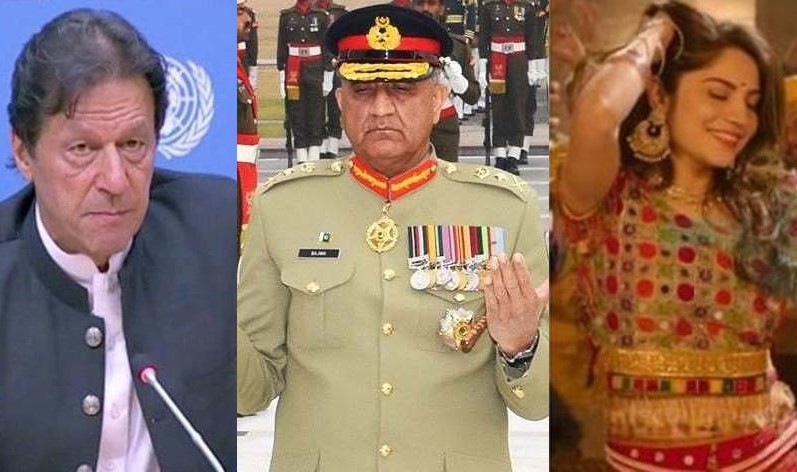 OPINION
OPINION
Pakistan's Contradictions: Kashmir, Kartarpur, Kaaf Kangna
Kashmir is about Pakistan's angry campaign at home and abroad to India's reorganizing Jammu and Kashmir's territory within its control, ending the entity that is the basis of dispute. It's a long story, unlikely to conclude anytime soon.
Kartarpur is where Sikhism's founder, Guru Nanak Devji spent his last 18 years. His 550th birth anniversary provided a happy aside to the perennially hostile India-Pakistan relationship. Despite mistrust and numerous obstacles, the neighours laid a corridor for the faithful to pay obeisance at the iconic gurdwara.
Pakistan grabbed a great opportunity at peace diplomacy against an India increasingly ready to respond tit-for-tat. Prime Minister Narendra Modi, too, called it the Berlin Wall Moment. Except for hardliners on both sides, this is universally appreciated.
But then comes along Pakistani film Kaaf Kangna, depicting how Pakistan currently perceives India and Indians, to give them "moonh-tod jwab".
The film's trailer, released amidst Kartarpur preparations, has an 'item' number showing drunken Sikh characters dancing with an assortment of sadhus, some sporting Gandhi caps, religious motifs – and daggers and liquor bottles. To leave none in doubt, the song begins with 'India'. It's poor show, in poor taste.
Actress Neelum Muneer told Dawn newspaper (October 24, 2019) that she did the 'raunchy' item number "probably my first and last", only "because it is an ISPR project."
ISPR, the Pakistan Army's Inter-Services Public Relations, defended the trailer, available on YouTube, and the film, declaring it was okay to depict the dancers "since they are Indians."
Pakistani critic Haiya Bokhari writes that "bank-rolled by ISPR, KK is Pakistan's answer to Bollywood's jingoistic movies, a plethora of which we have been subjected to over the years." (Pakistan has banned them all).
She pans this Indian-girl-meets-Pakistani-boy film as "a celebration of stereotypes… that can only be described as inspired by Ekta Kapoor's over the top soaps on Star Plus."
Inevitably, the Indian angle creeps in. Pakistani theatres run on Bollywood films and audiences avidly watch them in relatively peaceful times.
That being so, one hopes, someday, for Pakistani response to Bollywood's My Name is Khan, Bajrangi Bhaijaan or Veer Zara. The first opposes global Islamphobia, the other two, high on human values, carry friendship messages to Pakistani people.
Contradictions or not, all three issues listed above are a relief, away from Pakistan's political shenanigans. On them the military-civil leaderships certainly seem "on the same page."
Indeed, they compel re-working of the old 'AAA' theory — that Pakistan is governed by Allah, America and Army – not necessarily in that order. For, neither 'Allah' nor America defines the power structure of Pakistan. That power lies entirely with its Army — an Army that has a nation — to tweak another old theory.
Pakistan's contemporary history repeats itself. Situations differ, politicians come and go, but the Army is constant.
On December 10, 2000, then military ruler Pervez Musharraf issued a pardon to Nawaz Sharif who he had deposed and allowed him to travel to Saudi Arabia. Earlier, too, in 1993, Nawaz had to resign following differences with then Army Chief.
Last Tuesday, almost 19 years after the Saudi exile, a seriously sick Nawaz travelled out of prison to Britain for urgent medical treatment. The government blocked it for several days despite alarming diagnosis, insisting that he furnish indemnity equal to Rupees 7.5 billion he is accused of having embezzled.
The let-go occurred amidst much criticism. Perhaps, the 'miltablishment' as celebrated journalist Najam Sethi calls it, did not want Nawaz's blood on its hands.
To be fair technically, Nawaz's third exit is not through a military coup, but by a court order under a civilian dispensation.
The Army, of course, was not and is not directly involved. But even a child knows it is there. In 2017, Nawaz had to resign after the Supreme Court, without even trying to prove the many corruption charges against him, simply found his 'intents' bad and jailed him.
The Army thus engineered Nawaz's ouster by remote control and then through electoral engineering brought Imran Khan to power.
Another repeat of history is underway in the form of dharna. Imran, who had staged Pakistan's longest siege, is facing one, organized exactly the way he had done against Nawaz in 2014.
Imran's had lasted 126 days amidst unseemly sights of thousands of men living, eating and even defecating in that VIP zone.
On the last day's afternoon, a mysterious phone call came. Khan's emissaries rushed to the Army's General Headquarters. Ostensibly, they were asked to lift the siege. It was all over by that evening.
The National Assembly debated it. On a cue from the Army, lawmakers criticized Khan without naming him and let Nawaz off with a warning.
Post-Nawaz-2 exit had come another dharna by Maulana Khadim Husain Rizvi of Tehrik-e-Labbaik, a hardline Islamic group. Six people were killed in the same VIP zone. When the government 'requested' the Army for troops to counter Rizvi, the latter insisted that the government "hold talks" with the protestors. A minister lost his job.
The current dharna, on since October 27, is staged by Maulana Fazl-ur-Rahman, chief of a Jamiat-Ulama-e-Islami (JuI) faction. Again, the VIP zone witnesses water supply by civic authorities to meet the protesters' biological requirements. Water floods the drain-less roads. And Pakistan boasts of being the cradle of Indus Valley Civilization that had drainage system!
Always in the military's good books, Maulana Fazl doesn't blame the Army, but insists, like Khan did about the 2013 polls, that the 2018 election was 'stolen'.
Definitely a show of strength, however, dharna is a no-go. Fazl has had to change tack after Nawaz's Pakistan Muslim League (Nawaz) and Bhutto/Zardari's Pakistan Peoples' Party (PPP) withdrew after marking a token presence. This was after the ISPR chief, Major General Asif Ghafoor, formally warned the Opposition. The Army supports the Khan Government, but with an implied warning to improve performance.
Actually, the League was awaiting relief for Nawaz. And PPP, going by speculation in and outside Pakistan, thinks it is Bilawal Bhutto's turn to earn the Army's favour.
Like Nawaz, Asif Zardari, a former President, is also in jail for graft charges. It's medieval times' politics.
This is the usual merry-go-round that the Army plays. Make no mistake – each political character mentioned here has been played up or banished, depending upon circumstances and the military's preferences.
Nawaz was groomed by Zia ul Haq. He lost when Benazir, too, made peace with the Army after Zia, who had deposed and then got her father Zulfiqar Bhutto hanged, died in a mysterious air accident. Musharraf tried to make peace with Benazir. But opposed to a woman ruling a Muslim nation, Saudis sent back Nawaz to contest 2008 election.
Benazir was assassinated in December 2007, allegedly by a militant group, but also allegedly at Musharraf's behest. She named Brig Ijaz Shah, in writing, to Musharraf and alerted British media about the impending attack on her. It happened. The officer charged, Brig Ijaz Shah, is today Pakistan's Interior Minister.
How the Army, its chief, General Qamar Bajwa having secured a three-year extension moves, will decide Pakistan's fate.
The writer can be reached at mahendraved07@gmail.com