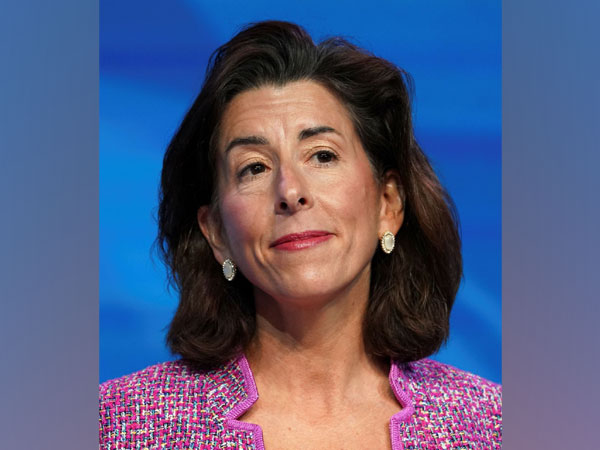 LM NEWS 24
LM NEWS 24
Partnership With India Most Consequential: US Commerce Secretary Raimondo
Calling India and US partnership most consequential, US Secretary of Commerce Gina Raimondo expressed her optimism on India and US relationship.
Raimondo, who is on a visit to India, will participate in the US-India Commercial Dialogue and CEO Forum that will be held on March 10 to discuss cooperation in various sectors that could unlock new trade and investment opportunities between the two countries.
"We've been optimistic for US-India relations. Our partnership with India is one of our most consequential relationships and I think one of our most promising bilateral relationships, as we look forward. The reason for that, I think is we share a common set of values along with a commitment to promoting free open based order to both the security and prosperity and we also share opportunity to expand our economic relationship", said the Secretary in a telephonic press briefing.
"Reaffirming our role as trusted partners to each other. Creating jobs, in both of our countries, establishing more secured supply chains. We're excited to be doing that to pave the way for greater trade and investments between our two economies", she added.
Calling the Boeing and Air India deal as historic that was signed few weeks ago, Gina Raimondo said that it reflects the strength of our economic relationship.
"This is a moment of significant opportunity for both of our countries, and we have some looks to the future. I am very encouraged by the progress that we are making, Minister Goyal and I will convene meeting tomorrow on Friday of the US- India Commercial Dialogue and the US-India CEO forum. I'm thrilled to say that 10 US CEOs of leading US companies travelled with me for the forum", she said in the briefing.
"I heard unanimous enthusiasm just a few weeks ago, Boeing and Air India announced an order for 220 aircraft, which is a historic deal that reflects the strength of our economic relationship", she added.
Further talking about her meeting with External Affairs Minister Jaishankar, the Secretary mentioned that they agreed to launch an India – US strategic trade dialogue led by the Foreign Secretary from the Ministry of External Affairs of India and Under Secretary, Bureau of Industry and Security in US Department of commerce.
"I am very pleased to say that I had a meeting with the Minister of External Affairs Dr Jaishankar and we launched a new initiative called the India US strategic trade dialogue and that will be led in the US by the commerce department. So this is exciting where we're going to deepen our engagement with India to specifically around the area of aligning our export controls and sharing information with one another", said the Secretary.
The Secretary who visited Delhi on Wednesday also took part in the Holi celebration hosted by Rajnath Singh.
"I am here in New Delhi and it is really an honour to be here and I want to thank all of the minister to have so graciously hosting me while I stand here. Special, thanks to Mr. Goyal my counterpart, and also a special thanks to Minister Singh who invited me to his home yesterday with his family, to celebrate Holi with him which was a fantastic experience", said Raimondo. (ANI)
Read More:http://13.232.95.176/