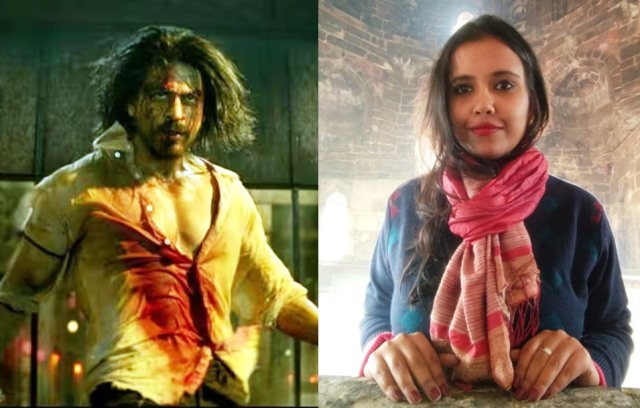 LOK ISSUES
LOK ISSUES
'Pathaan Brings Back Old World Fans Revelry To Movie Theatres'
Rituparna Sengupta, who teaches and writes on literature & popular culture, says the movie is a cracking response to the vitriolic trolling SRK has faced lately
I went to watch Pathaan after coming across media reports and social-media videos of over-the-top audience reactions to the film. As a cinema buff and a student of popular culture, I was curious about the movie, especially since the last time a Bollywood film elicited such a charged reaction within the theatre was last year, with The Kashmir Files, though it belongs to a different genre. I was also intrigued by the discourse around Pathaan, dubbed as the triumphant return of not only 'King Khan' but also of the single-screen-theatre-like film-viewing experience, with the audience clapping, rooting and whistling in pure joy.
I went for a morning show and found that, indeed, there was this current of jubilance in the audience. Many were taking photos and videos of the film's scenes, not for pirating it, but just to record memories of watching it on the big screen. The atmosphere was electric.
People came to watch Pathaan for varied reasons—ranging from SRK fandom, to showing solidarity against the vitriolic propaganda against the actor and his family, to the timing of the film's release (Republic Day). But what interests me is the film's symbolic value, at multiple levels.
The espionage thriller is a masculine, testosterone-driven drama with loud and flashy stunts, exotic locations, femme fatales, etc. For a romantic hero like SRK—massively popular among female fans—to play such a protagonist, is a gamble. However, instead of 'hardening' Shah Rukh Khan to meet the demands of the genre, the film allows SRK to bend the genre to suit his strengths–something that pays off well.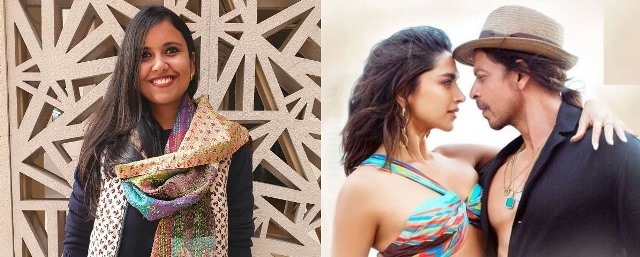 For instance, instead of the brash arrogance of the spy hero, here we have a charming character who wears himself lightly and is comfortable not being in the centre of the frame always. We see trademark SRK at work here–husky whispers, eyes-teasing and passionate by-turns, unafraid to Be vulnerable, joking and pretending to be more inept than he is. The way the Pathaan romances with Rubai (Deepika Padukone) is in his characteristic too-near-but-no-further titillating fashion. There is an old world charm about Pathaan's 'chivalry'.
ALSO READ: Cancel Culture is Coronavirus of Bollywood
Then there is the suffusion of references to earlier Bollywood films in Pathaan, especially to SRK's oeuvre, which offer a nostalgic treat to many like me who grew up attached to these films. Watching SRK crooning 'Tu hai meri Karen' to a Russian woman, sent the audience tittering in delight, and, similarly, the exclamation 'Bhaag Pathaan, bhaag!' brought to mind a similar scene from the cult favourite, Karan Arjun.
I think the highlight for many who watched the film were the sequences that brought together Shah Rukh and Salman (in a surprise cameo) who have been seen as forming the ruling Khan triad (along with Aamir) in Bollywood of the post-liberalisation decades. To see these competing actors come together as allies, but also in such good humour, was fun.
The film's political standpoint is conservative, but in a cultural climate where jingoism is incentivised and Bollywood is succumbing to it, the film takes pains to clarify its preference for a popular, secular patriotism. When a rogue Indian agent (played by John Abraham) taunts Pathaan about his unrequited love for 'Bharat Mata', Pathaan responds with 'Jai Hind' and JFK's iconic quote about not asking what the nation can do for you but what you can do for it. On the face value, it's a cliché, but seen as the response of a hounded star who has responded to Islamophobic vitriol with dignified silence, it becomes eloquent.
The film builds up Pathaan's character as a people's hero—someone whose identity is not defined by parentage or religion, but by the affection and trust of the people who welcome him, give him his name, and a mission to fulfill–being the molten gold that holds together the broken pieces of a wounded nation. And it is the symbolic charge of this 'Pathaan promise' of a people's beloved star, which has made the film the phenomenon it is.
(The narrator is Visiting Faculty of English at Ashoka University, Sonepat, Haryana)
As told to Amit Sengupta