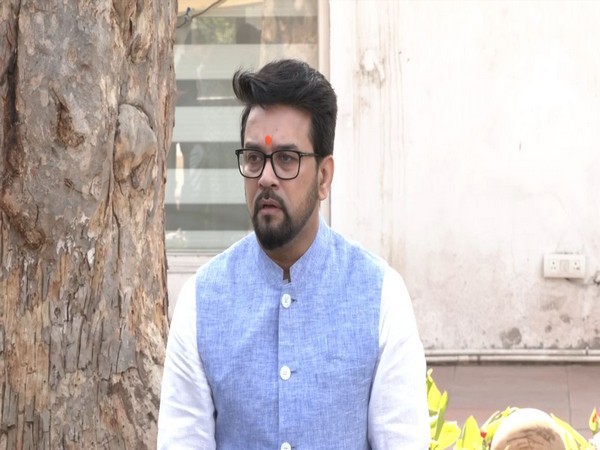 LM NEWS 24
LM NEWS 24
Pegasus In His Mind: Anurag On Rahul's Fresh Snooping Charge At Centre
Lashing out at Congress leader Rahul Gandhi over his claim of being snooped on through Israeli spyware Pegasus, Union Minister Anurag Thakur on Friday said it is his habit to raise unfounded allegations and 'defame' India on foreign shores.
The Union minister's statement comes in the wake of Rahul Gandhi claiming, in a lecture at Cambridge University, that his phone was being spied on through Pegasus, and that he was warned by Intelligence officers to be "careful" about what he says on the calls.
"I had Pegasus on my phone. A large number of politicians had Pegasus on their phones. I have been called by Intelligence officers who told me, 'Please be careful about what you are saying on the phone because we are sort of recording the stuff'. So this is the constant pressure that we feel. Cases on the Opposition. I have got a number of criminal liable cases for things that should under no circumstances be criminal liable cases. That's what we are trying to defend," the Congress leader said in his address.
Hitting back at Rahul, Thakur asked why he did not submit his phone for examination before the Supreme Court-appointed committee, which was set up to look into the snooping allegations against the government.
"What was his compulsion that he could not submit his mobile phone (before the committee) to have it checked for Pegasus spyware? He is already on bail in a (National Herald) corruption case. What was there in his phone that he needed to hide? Why did he and other leaders (who Rahul claims were allegedly spied on) not submit their phones? It has become his habit to defame India on foreign shores," Thakur said.
While not naming billionaire investor George Soros, who was recently in the news over his statement against Prime Minister Narendra Modi at a security conference in Munich, Thakur said, "It could be Rahul Gandhi's hatred towards the Prime Minister (that makes him raise such allegations). But it also raises larger questions on the Congress' agenda to defame the country repeatedly from a foreign land, sometimes from a foreign friend. Has Congress lost its faith in our constitutional institutions? Will Congress continue to raise questions about India's democracy? Rahul Gandhi left no stone unturned in defaming India on foreign land," the Union minister added.
Thakur said the Congress MP has Pegasus in his mind and nowhere else.
"As the election results (in Meghalaya, Tripura and Nagaland) showed yesterday, the Congress has been wiped out again. Hence, this is just Rahul Gandhi ranting against our government in frustration. He knew how his party was going to fare in the elections. Pegasus is in his mind, nowhere else. World leaders are commending India's growth and how the country's image and position has been elevated on the global platform under the leadership of Prime Minister Narendra Modi. If not someone else, Rahul Gandhi could have listened to the Italian Prime Minister Giorgia Meloni (at the G20 Foreign Ministers' meeting on Thursday). Maybe, Rahul Gandhi could not accept this (Meloni's praise for PM Modi), and neither could he accept the mandate of the people," the Union Sports minister said.
On Rahul allegations of rising attacks on minorities in India, Thakur said the Congress resorted to 'Divide and Rule' when in power, and while the country, under PM Modi, has shed its colonial baggage and mindset, the grand old party doesn't seem to have done the same.
"The Congress has divided people on the basis of caste, religion and community which was born out of a mindset of 'Divide and Rule'. However, the country has now shed this colonial mindset," he said.
Meanwhile, dismissing the allegations raised by the Congress MP against the government on Friday, Union Telecom minister Ashwni Vaishnaw told ANI, "What can I say on his remarks? His needle seems to have got stuck somewhere. He needs to move on from this."
Earlier, in his lecture, Rahul Gandhi had shared a picture of himself in the presentation slide in which he is seen being held by police personnel, claiming that the Opposition leaders were "locked up" for "just standing" in front of the Parliament House to raise some issues, while also alleging that such incidents have happened "relatively violently".
"In the Constitution, India is described as a Union of States, and that Union requires negotiation and conversation. It is that negotiation that is under attack and threat. You can see the picture that was taken in front of our Parliament House. The Opposition leaders, including myself, were just standing there, talking about certain issues, when we were detained and put in jail. That's happened 3 or 4 times. It has happened relatively violently. You have also heard of the attacks on minorities and the press. This does give you a sense of what's going on (in India)," Rahul claimed.
In August last year, the Supreme Court-appointed committee to look into snooping allegations against the government concluded that the spyware was not found in the 29 mobile phones examined by it, but malware was found in five mobile phones.
Reading the report of the committee, the bench had said, "We are concerned about the technical committee report… 29 phones were given and in five phones some malware was found but the technical committee says it cannot be said to be Pegasus." (ANI)
Read More:http://13.232.95.176/