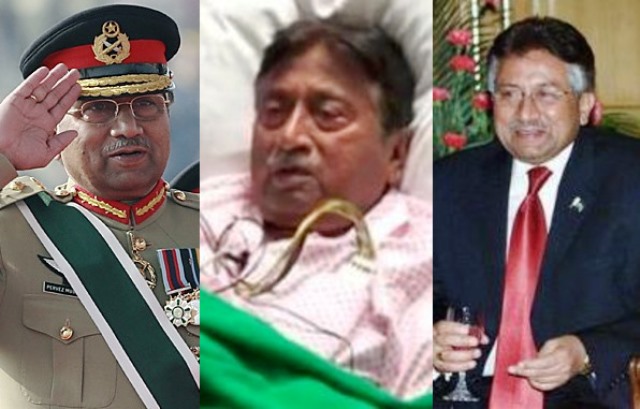 OPINION
OPINION
Pervez Musharraf – A Warhorse and a Peacenik
Lord Tennyson's line, "Home they brought her warrior dead" needs tweaking to suite the likely home-coming of Pakistan's former ruler Pervez Musharraf. How about: "home they brought their warrior ill?"
Self-exiled in Dubai, the once-powerful army chief-turned-CEO-turned President has ceased to matter as an individual in Pakistan. But he is an exalted member of the institution that actually rules the country. Sentiment is one of forgive-and-forget, now that he is terminally ill and may want to pass his last days at home.
Only some hot heads want him tried for treason. As former premier Yousaf Raza Gillani said, the decision on Musharraf's return will be taken 'somewhere else'. No need to elaborate: such pointers are part of Pakistan's political lore.
If ousted from power, unless jailed, exile on health ground is an intermittent theme in Pakistan. Musharraf has won unsolicited support from former premier Nawaz Sharif whom he had ousted and exiled to Saudi Arabia. Nawaz, now self-exiled in London, has asked that Musharraf's return be facilitated by the government which his brother, Shehbaz Sharif, heads.
Actually, the brothers, like everyone, well understand the army's mood. The army wants back its erstwhile chief. In that context, Musharraf remains relevant in Pakistan.
For, the country's all-powerful force is under unprecedented strain, facing criticism from the very people that it pitch-forked to power through political and electoral engineering. If Nawaz was on warpath in 1993, 1999 and from London in the winter of 2021, the summer of 2022 witnesses Imran Khan's scorching campaign.
The army says it is 'neutral'. But Khan uses 'neutrals' as a plural pejorative, to keep on his firing line the men in uniform that are supposedly divided over him. He is defying conventional political wisdom that requires him to keep his tongue in check.
Media reports indicate a tussle between the chief, General Qamar Javed Bajwa and Lt Gen. Hameed Faiz, the corps commander whom he forced out of the powerful Inter-Services Intelligence (ISI). Worst is the speculation that the influential middle brass backs Imran and want to give him another chance.
It's a moot point if Musharraf would have allowed such a situation. He launched the Kargil war on India, keeping some of the top brass, also his prime minister, in the dark. He lost, but he was still able to convince them all to rally to oust Nawaz.
For that matter, even Zia ul Haq, who removed Zulfiqar Bhutto was able to keep on the leash his generals through 12 years as the army chief, including a decade as the country's President. Who knows, Zia would have held the two posts indefinitely, had he not been killed in a mysterious air crash. Bajwa has managed two extensions as the Chief. But caught in the political melee, he has been forced to announce that he is not ready for a third tenure.
Times have changed. If direct army rule was relatively easier, although eventually bad for Pakistan, the one with politicians providing a democratic façade is proving to be increasingly problematic, and worse.
The army cannot just walk away – assuming it ever wants to. See the special powers just conferred on the ISI to vet all key civilian appointments. It was always there, informally. A formal government notification, makes it obvious, and embarrassing. A mix of appeasement and passing-the-buck, it is open to civilian criticism.
All this does not happen in India that is the other side of the South Asian coin. But interest has never lagged. Indians viewed Pakistan's first army takeover by Ayub Khan with alarm. The civil servants threw a protective ring to insulate the political leadership from the military, and keep the latter away and down-graded. This ethos got cemented thanks to the conflicts in 1965 and 1971.
The Indian public interest in Pakistani generals grew from the 1980s onwards when the latter sought to reach out. Zia's cricket diplomacy caused ripples. He managed to soften perceptions about himself by hosting many an Indian, among them, scribes.
This was despite the fact that Zia, keen to avenge the 1971 debacle, set the Indian Punjab on fire with militancy. His period saw hijacks of Indian aircraft, their release along with the passengers. This left Indians relieved, but seething and red-faced in the eyes of the world.
There was certain envy as Pakistan under Zia reaped the fruits – both money and military – for aiding the West-backed 'jihad' against the Russians in Afghanistan.
A Punjabi, Zia was from Jalandhar. But Musharraf, with his Purani Dilli roots, was special. He talked in-your-face to Indians. He surprised them, and the world, by joining George Bush Jr's "war on terror" in Afghanistan.
If his dealing with Americans was time-serving and full of cunning, that with India was upfront and hostile. Indian aircraft being hijacked to Lahore and then Kandahar had the Musharraf stamp.
No Pakistani leader attempted battling India as did Musharraf. Four months after Nawaz hugged Vajpayee (whom he did not salute) in Lahore, Musharraf staged Kargil. Although he lost, he toppled Nawaz thereafter.
Though Pakistan initially claimed mujahideen were responsible for occupying the Kargil heights, Musharraf subsequently acknowledged in his autobiography In the Line of Fire that regular troops were part of the operation. He also admitted to Pakistan's use and 'export' of militants as "state assets".
His dealing with India was full of contradictions that remain difficult to fathom fully, objectively. From being the architect of the Kargil War, he was the architect of the closest ever deal India and Pakistan came to making on Jammu and Kashmir.
The December 13, 2001 terror attack on Indian Parliament complex took place under his watch. Just three weeks later, on January 6, 2002, with armed forces positioned eyeball-to-eyeball, he shook hands with a flummoxed Vajpayee, at the eleventh SAARC summit in Kathmandu.
To be sure, he was in charge when preparations for the 2008 Mumbai terror attacks were made. India-Pakistan ties were never really the same again. He was politically downhill by then, and his peace initiative with India had unravelled.
Yet, his legacy must include the bold conciliatory moves, especially when he talked to Manmohan Singh, thinking and making "out of the box" proposals.
The proposed agreement was based on a four point formula that included no redrawing of borders, that the people of Jammu and Kashmir on either side of the LoC would be allowed to move freely from one side to the other, an end to hostility and violence and terrorism and military forces on both sides being kept to the minimum, while ensuring self-governance on both sides of the LoC and consultative mechanisms to look at socio-economic issues.
Several local and international factors helped facilitate the secret talks. There was hopeful speculation that Musharraf and Manmohan Singh could share the Peace Nobel.
That brief period was, and remains, the only time India and Pakistan were at relative peace, when infiltration along LoC almost ceased and Bollywood films filled up Pakistan's cinema theatres and help resurrect its fledgling film industry.
After terror attack at Pulwama, Musharraf said on February 23, 2019: "If we attack with one nuke, India may finish us with 20". Was it, then, a late realisation of the futility of permanent enmity with India? We will never know.
The writer can be reached at mahendraved07@gmail.com