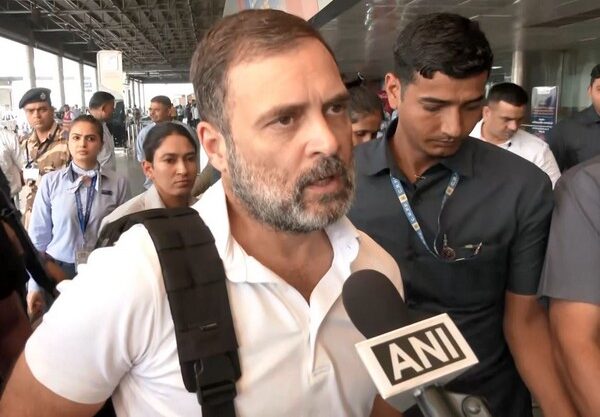 LM NEWS 24
LM NEWS 24
PM, BJP Are Nexus Of Corruption: Rahul
Launching an attack on Prime Minister Narendra Modi-led government over allegations concerning the Adani group, Congress leader Rahul Gandhi on Friday accused the PM and BJP of being a nexus of corruption and demanded a probe into the Adani matter.
"The nexus between the PM and one businessman is for every person to see. I mentioned in my press conference yesterday that the G20 is coming and India's credibility, our nation's credibility that the Prime Minister make his position clear and begin an enquiry on what is happened with regards to Mr Adani," Rahul added.
He further accused the Prime Minister and the BJP are a nexus of corruption and that is the first thing that the INDIA alliance is going to demonstrate and prove.
"The Prime Minister and the BJP are a nexus of corruption and that is the first thing that the INDIA alliance is going to demonstrate and prove. The idea behind Prime Minister Narendra Modi's government is to extract money from the poor people of this country and transfer it to a limited few. So, we are going to propose a clear path to development," he added.
Earlier on Thursday, Rahul Gandhi accused the Prime Minister of "being quiet" and said the least that should be done is a Joint Parliamentary Committee probe.
Addressing a press conference here, Gandhi accused the Prime Minister of "protecting one person" and asked "why he is not forcing an investigation".
Gandhi referred to the G20 Summit being hosted by India and the reports on the Adani group in two British papers and said the allegations impact perception about India.
The Congress leader said the issue affects India's reputation, especially because of G20 Summit and alleged that PM Modi's "reputation is on line".
"…It is very important that the Prime Minister of India Mr Narendra Modi clears his name and categorically explains what is going on. At the very least, A JPC should be allowed and a thorough investigation should take place. I don't understand why the PM is not forcing an investigation? Why is he quiet and people who are responsible are put behind bars? This is raising very serious questions on the PM just before G20 leaders come here…It is important that this issue is made clear before they (G20 leaders) arrive," Gandhi said.
Gandhi, who is in Mumbai to take part in the meeting of opposition leaders, said the current flavour is G20 and it is about India's position in the world.
"What is very important for a country like India is that there is a level playing field and transparency in our economic environment and businesses that operate here. Today morning, two global financial newspapers have raised a very important question. These are not any random newspapers. These newspapers affect investment in India and the perception of India in the rest of the world…," he said.
"Just before the leaders of G20 are coming here, they are going to be asking what is this special company that is owned by a gentleman close to the PM and why is it in an economy like India this gentleman is being given a free ride?" he asked.
Alleging round-tripping in some funds concerning the Adani group, he asked whose money was involved. He also raised questions about the probe held in the past.
"There was an investigation, evidence was given to SEBI and SEBI gave a clean chit to Gautam Adani…So, it is clear that there is something very wrong here," Rahul Gandhi said.
"What is amazing to me is that the gentleman who has done the investigation is today an employee of Mr Adani. What does that tell you about the nature of the investigation that the gentleman did? It is pretty clear that no investigation took place and the only reason no investigation took place is because the PM didn't want an investigation to take place. Mr Adani cannot stop an investigation, the PM can…This is an issue that affects India's reputation, especially because now there is the G20 taking place and India's and PM's reputation is on the line…,"he added.
Months after Hindenburg Research put out a report on Adani Group which allegedly claimed accounting fraud, stock price manipulation and improper use of tax havens, the Organised Crime and Corruption Reporting Project (OCCRP) earlier today alleged that two men who it claimed "secretly invested" in the conglomerate turn out to have "close ties to its majority owners", the Adani family.
The Adani Group has categorically rejected the allegations levelled by the OCCRP, terming the allegations as "recycled".
"We categorically reject these recycled allegations. These news reports appear to be yet another concerted bid by Soros-funded interests supported by a section of the foreign media to revive the meritless Hindenburg report. In fact, this was anticipated, as was reported by the media last week," the Indian conglomerate said in a statement.
These attempts are aimed at generating profits by driving down our stock prices and these short sellers are under investigation by various authorities, the statement added.
OCCRP – as per the information on its website – is "an investigative reporting platform formed by 24 non-profit investigative centres", spread across Europe, Africa, Asia and Latin America.
Adani Group had also denied allegations in the wake of the Hindenburg report, stating that the report by the New York-based entity was "nothing but a lie". (ANI)
Read More: http://13.232.95.176/