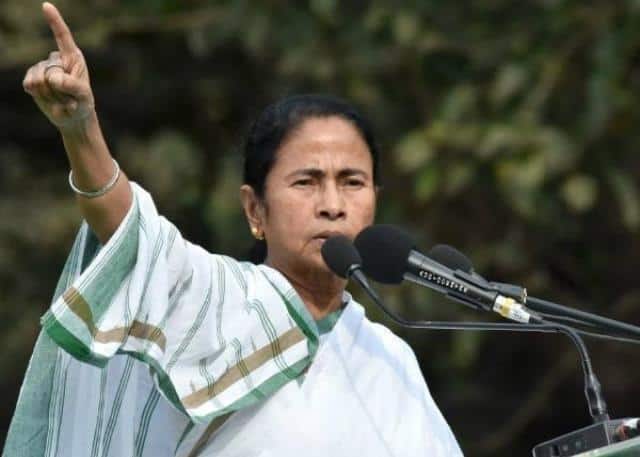 FOCUS
FOCUS
Can Didi Rise Above Bengal To Aim At PM?
<![CDATA[
While Mamata Banerjee has an impressive political CV that makes various opposition parties back her as the next prime minister, she tends to look at most issues through the prism of state politics
Whenever questions are asked about the Prime Ministerial candidate of the opposition parties which have come together to dethrone the Modi government in the ongoing Lok Sabha elections, West Bengal chief minister and Trinamool Congress chief Mamata Banerjee is mentioned as a prime contender for the top post along with Congress president Rahul Gandhi and Bahujan Samaj Party supremo Mayawati.
Undoubtedly, 64-year-old Mamata Banerjee has an impressive CV. She has won seven Lok Sabha elections, has served as a Central minister and is now into her second term as chief minister of West Bengal. She began her electoral career with an impressive debut in the 1984 Lok Sabha election when she defeated CPM stalwart Somnath Chatterjee in the Left bastion Jadhavpur.
This spectacular victory marked the beginning of Mamata Banerjee's long, political struggle. A firebrand politician and a dogged street fighter, she persisted with her battle over the years, leading a series of mass protests against the Leftists. Her persistence eventually paid off when she succeeded in dislodging the 34-year-old well-entrenched Left Front government in 2011. In fact, MamataBanerjee was so determined and focused on taking on the Communists that she even walked out of the Congress in 1998 and launched her own party – the Trinamool Congress – when she realized that the grand old party was not serious about overthrowing the Left Front government.
Though the responsibility of heading a state government requires that Mamata Banerjee shed her image as a street fighter, the Trinamool chief's fighting days are far from over. She has returned to her old avatar as the Bengal tigress but this time, she is not battling the Leftists but a resurgent Bharatiya Janata Party which is making an aggressive bid to expand its footprint in West Bengal.
Her open confrontation with the Modi government came to a head earlier this February when she sat on a dharna in Kolkata along with her ministers and party cadres to protest the Centre's move to send a team of officials from the Central Bureau of Investigation to probe the West Bengal police chief Rajeev Kumar in connection with an ongoing inquiry into a chit fund scam.
The BJP's concerted effort to storm Mamata Banerjee's citadel in West Bengal has also forced her to reach out to other opposition parties with the express purpose of putting up a united fight against the saffron party. In trademark Mamata-style, the Trinamool chief got together a galaxy of opposition leaders on a common platform at a mega rally in Kolkata earlier in January. She also worked with other opposition leaders on a campaign against Modi's decision to demonetize high-value currency notes in 2016. At the same time, Mamata Banerjee made friendly overtures to the Congress and expressed a willingness to work with arch-rival, the Communist Party of India (Marxist), in her mission to defeat the BJP.
This has naturally fuelled speculation that Mamata Banerjee wants to play a larger role at the national level. At present, the Trinamool chief is focused on winning a maximum of 42 Parliamentary seats in the ongoing general election so that she is in a position to drive a hard bargain after the poll results, in case the opposition parties outnumber the BJP-led National Democratic Alliance. Her ambition to emerge as the face of the opposition front flows from her understanding that Congress president Rahul Gandhi will not be accepted as the anti-BJP coalition's Prime Ministerial candidate. Given the feedback from the field, the regional parties believe they will have sufficient numbers to force the Congress to support them in forming a government so as to keep the BJP out.
Consequently, Mamata Banerjee's election campaign has acquired a national flavor. While Trinamool Congress party's hoardings and posters in West Bengal point out that this election is about forming a government of the people in Delhi, the word is out on the street if the voters play it right, a Bengali could have a could have a shot at becoming the country's Prime Minister.
Mamata Banerjee, it is pointed out, is politically canny, has a firm grip on her party, has the necessary administrative experience both at the Centre and in the state and above all, she is personally incorruptible. As chief minister, the Trinamool Congress chief has been a hands-on administrator, keeping the bureaucracy on a tight leash and held per officers accountable for the implementation of government programmes. She has relied heavily on populist and welfare schemes to remain on top of her game and has proved to be more "Left than the Leftists" as far as policies go. Like her political rivals, she has ruthlessly used the government machinery to decimate her opponents and expand the Trinamool Congress, obliterating the line between the state and the party.
Mamata Banerjee can push her case for the Prime Minister's job on the basis of her numerical strength, experience and seniority but she is also known to be mercurial and unpredictable which could prove problematic if is she is given the responsibility of running the country. It is not clear how she will deal with coalition partners who come with their own set of demands and agendas.
The Trinamool Congress chief as Prime Minister can be expected to go ahead with pro-poor programmes like rural employment guarantee scheme and right to food but her commitment to economic reforms are not clear. On one hand, she has been wooing the private sector invest in West Bengal but, on another hand, it was her relentless campaign which forced the Tatas to abandon their plans to set up the Nano car manufacturing unit in the state. Though it is accepted in Delhi that economic reforms are now irreversible, it must be remembered that Mamata Banerjee had pulled out of the Congress-led United Progressive Alliance government in protest against the Centre's policy to allow foreign direct investment in the retail sector.
But above all, Mamata Banerjee, like all regional parties, tends to look at issues through the prism of their state politics. Since their presence is confined to a state, regional leaders tend to lack a national perspective. Mamata Banerjee is no exception when it comes to giving precedence to regional concerns over national interest. The West Bengal chief minister had embarrassed former Prime Minister Manmohan Singh when she refused to accompany him to Bangladesh and derailed the signing of a landmark treaty on the sharing of Teesta river waters by the two countries on the ground that West Bengal's interests had not been adequately protected. It may be unfair to pronounce judgment on Mamata Banerjee's conduct as Narendra Modi's successor but the possibility of a regional leader at the helm brings back memories of Janata Dal (S) leader H.D.Deve Gowda's short tenure as Prime Minister in 1996 when he was derisively described as the "PM of Karnataka."