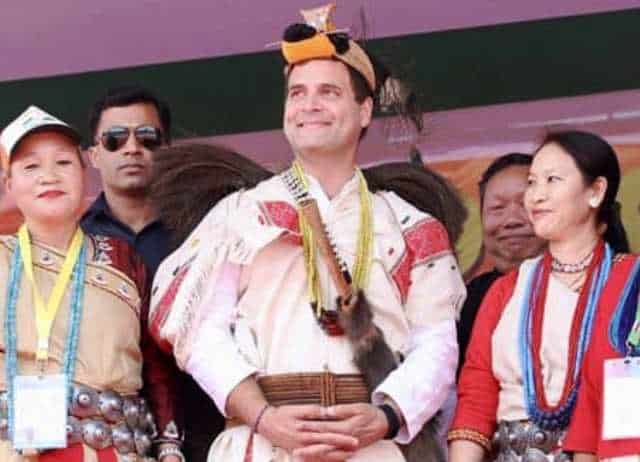 FOCUS
FOCUS
Can Rahul Pull It Off As Prime Minister
<![CDATA[
As the battle for the most powerful and prestigious chair in the country rages on, many voters have put their penny on Rahul Gandhi as the next Prime Minister of India. Does the Gandhi scion has the mettle to handle the power and responsibility that comes with the post? In a new series of articles, LokMarg will examine the various contenders for the Prime Minister's job, starting with the arch-challenger, Rahul Gandhi.
Well before Rahul Gandhi took over as the Congress president, a large section of his own party members were not sure that he had the capacity to lead them. After all, the Nehru-Gandhi scion had acquired a reputation of being a non-serious politician who was yet to get a firm grip on the party's organization. In addition, he had an uneasy relationship with other opposition parties and was unable to connect with the public on account of his poor oratorical skills.
The fact that Rahul Gandhi had been unsuccessful in delivering electoral victories for the party was another negative. These doubts about his leadership qualities were further fuelled by the Bharatiya Janata Party's relentless and highly successful campaign, dubbing Rahul Gandhi as "Pappu".
However, there has been a dramatic change in Rahul Gandhi over the past eighteen months. His oratory has improved considerably though he is not in the same class as Prime Minister Narendra Modi. The Congress president is gradually coming across as a mature politician, who is fighting shy of taking on the Modi government and is more focused on handling the party organization. Rahul Gandhi further redeemed himself with a credible performance in last year's Gujarat assembly polls, which was followed by victories in Rajasthan, Madhya Pradesh and Chhattisgarh.
More than a year after he took control of the party, the Congress president has finally shed the "pappu" image while his critics within the party have been effectively silenced.
But does this mean that Rahul Gandhi is now ready to shoulder the responsibility of leading the nation as its Prime Minister just in case the post-poll numbers favour the Congress. No, the Congress president has still some distance to cover before he is accepted by the public at large as a credible alternative to Modi. For starters, he is sorely handicapped by his lack of administrative experience. Rahul Gandhi had an opportunity to fill this gap in his resume when he was offered a Cabinet berth in the Manmohan Singh government but he decided instead to focus on party affairs. Besides his lack of experience, Rahul Gandhi does not instill confidence in the voter that he can handle matters of state without fumbling or making a faux pas.
Congress leaders, of course, are quick to point out that his father Rajiv Gandhi also came with no previous experience in running a government when he took over as Prime Minister in 1984 in the wake of Indira Gandhi's assassination. However, Rajiv Gandhi had the advantage of a massive majority in the Lok Sabha which enabled him to take decisive steps in both domestic and foreign affairs. Despite widespread skepticism, he pushed ahead with advances in information technology and telecommunications sectors. Rajiv Gandhi was also emboldened to take risky decisions like signing the Longowal accord in insurgency-hit Punjab, was responsible for a paradigm shift in Sino-India relations and sought to build bridges with Sri Lanka though he ended up paying a heavy price for it.
Unlike his father, Rahul Gandhi is not expected to have the luxury of numbers in case he does get a shot at ascending the Prime Minister's kursi. The Congress footprint has shrunk considerably over the past three decades and the party has gradually come to terms with the fact that it needs the support of coalition partners to come to power at the Centre as it cannot do on its own. There are lurking doubts that Rahul Gandhi has the temperament or the gravitas to deal with temperamental and demanding allies even if there is a remote possibility that the other opposition parties will concede the Prime Minister's post to him. Undoubtedly, he will have to rely on Sonia Gandhi and other senior leaders like Ahmed Patel and Ghulam Nabi Azad to keep the allies in good humour.
Whatever other disadvantages he may have, the Congress president will have a large inhouse talent pool at his disposal to assist him in running the government. Besides, Rahul Gandhi comes with a long and rich legacy which is both a source of strength and weakness. On one hand, the party's past experience provides a ready template for governance but on the other hand, it will also make it difficult for the young Gandhi to chart an independent path. Here, he will be hemmed in not just by his coalition partners but also by his party members. Remember the stiff resistance PV Narasimha Rao faced from Congress insiders when he deviated from the party's set economic policy and drafted Manmohan Singh to liberalize the economy.
Nevertheless, the Congress brand name, though considerably diluted, will give Rahul Gandhi an edge over the other Prime Ministerial contenders in the opposition camp. The Nehru-Gandhi scion may be lacking in experience but he can always fall back on seasoned leaders like former Prime Minister Manmohan Singh, P. Chidambaram, Anand Sharma and A.K. Antony to navigate him through possible minefields in the areas of economic and foreign affairs.
Like his mother, Rahul Gandhi has made it abundantly clear that he will build on the party's pro-poor image with a special emphasis on addressing agrarian distress and the implementation of an income guarantee scheme for the needy as detailed in the party's election manifesto. But it is equally certain that there will be no going back on economic reforms ushered in by Manmohan Singh.
Rajiv Gandhi's friend Sam Pitroda is currently playing a key role in Rahul Gandhi's dispensation and will continue to do so if the Congress president makes the cut as the country's Prime Minister. Pitroda has been instrumental in planning and organizing Rahul Gandhi's tours in the United States, Britain and the Middle East where he has interacted with both the Indian diaspora and global leaders, policy makers, think tanks and academics.
The intention is to position Rahul Gandhi as an international leader, to correct the perception that he is a dilettante, improve his image abroad and provide an opportunity to the outside world to get acquainted with his views on a vast array of subjects. As in the case of economic affairs, Rahul Gandhi is unlikely to deviate from the Congress position in the area of international affairs which will continue to focus on strengthening ties with both Russia and the United States and improving relations with the neighboring countries. An assurance to this effect has been conveyed during Rahul Gandhi's trips abroad and his periodic meetings with visiting world leaders.