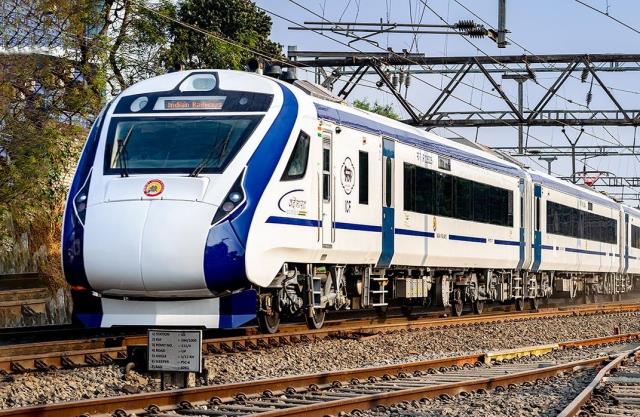 LM NEWS 24
LM NEWS 24
PM To Flag Off 2 Vande Trains From Bengal As 'Durga Pujo Gift'
Prime Minister Narendra Modi is slated to inaugurate a total of nine Vande Bharat express trains through video conferencing on September 24, of which two will be specifically for West Bengal– one, connecting Patna to Howrah and the other, connecting Ranchi to Howrah. Chief Public Relations Officer (CPRO) of the Eastern Railway, Kaushik Mitra has described this move as a "Durga Pujo gift" to Bengal.
"There are already three Vande Bharat trains in West Bengal- Howrah-New Jalpaiguri Junction, Puri-Howrah and New Jalpaiguri Junction-Guwahati. Railway Minister Ashwini Vaishnaw has allotted another two Vande Bharats for West Bengal- Patna-Howrah and Ranch Howrah. People of West Bengal will be thrilled and take this as a Durgapuja gift from Narendra Modi," the Eastern Railway CPRO said speaking to ANI on Friday.
The Vande Bharat Express trains will cover Bengal from the Chittaranjan area to Howrah, the CPRO said adding that both the trains will be inaugurated on the 24th and will reach Howrah station at around 10 pm. 
On the new-age facilities that will be provided on board the Vande Bharat trains, Mitra said, "The inclination of the chairs has been increased from 17 degrees to 19 degrees. The cushion seating has been improved. We have also changed the colours of the seats from blue to reddish. We have improved the basins and lighting facilities in the washrooms. We have also introduced wheelchair facilities for the specially-abled passengers from the compartment."
Speaking on passenger feedback about the Vande Bharat trains, the Eastern Railway CPRO said, "Based on the experiences and feedback we have received from passengers, Vande Bharats are more user-friendly, more sophisticated and more comfortable."
Mitra further said that the Vande Bharat trains will now be the fastest train travelling on this route and will even be faster than the present Rajdhani Express. While the Rajdhani Express takes 7 hours 45 minutes to reach Howrah from Patna, the Vande Bharat express will take only 6 and a half hours.
"Earlier from Patna to Howrah, the fastest train travelling on this route was Rajdhani Express which used to take 7 hours 45 minutes. With this Vande Bharat Express, it will take only 6 and a half hours," the CPRO said.
The CPRO said that Asansol being an economic hub in West Bengal, the Vande Bharats will help passengers travelling from these regions to Howrah and to Patna in a short span.
"Asansol is an economic hub. Many steel plants are there, many cement factories are growing up there. People from Patna or Asansol can come to Kolkata or reach Patna in a short span," he said.
Mitra said that several railway stations have been developed as Amrit Bharat stations with modern facilities. "Many stations have been identified as Amrit Bharat stations. A huge amount has been spent on stations like Asansol, Andal and Bardhaman," he said. (ANI)
Read More: https://lokmarg.com/