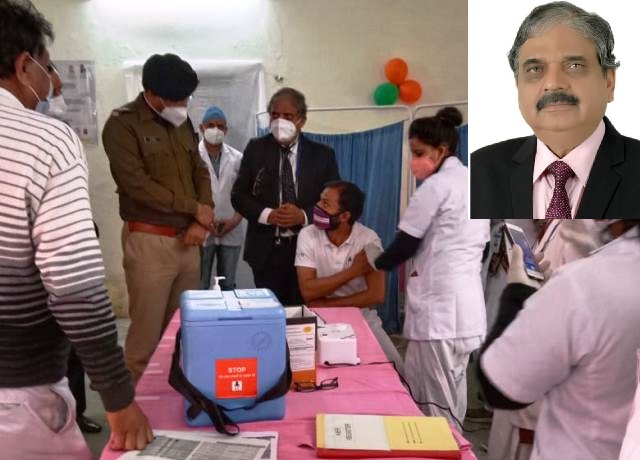 LOK ISSUES
LOK ISSUES
'Police Band Gave A Guard Of Honour To 1st Vaccinated Lot'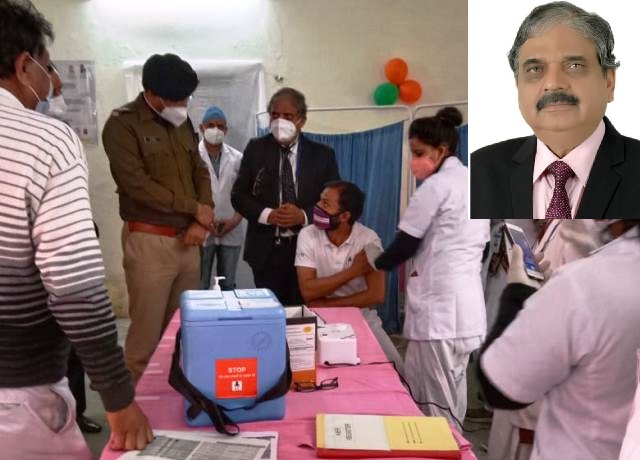 Dr Arun Gaur, medical superintendent of Mahatma Gandhi Hospital in Bhilwara, one of the first Covid hotspots in India, recounts the vaccination launch and the battle against the pandemic
For the vaccination on the launch day, January 16 that is, I personally invited the frontline staff enrolled for the serum shot. We had enrolled 900 persons from our hospital which not only included doctors but also nursing staff, lab technicians, computer operators, sweepers, guards and the canteen staff – in equal numbers. We included all these persons in the first list as this team has been working tirelessly since the pandemic outbreak in March, 2020.
I am proud to say that we successfully vaccinated 100 persons on the first day. There had been some apprehensions, even among frontline workers, regarding the vaccine and its after-effects. So, each person was kept under observation for half an hour after being vaccinated. I am glad that none of them showed any side effects.
So, after the process was over, we organised a guard of honour by the police band for the first batch. We also issued an appreciation certificate to all of them. The district administration also supported us in managing this. The district collector and SP had joined us and felicitated the workers.
Today, as I look back at our battle against pandemic, I take pride in our efforts. When Bhilwara became a Covid-19 hotspot, the challenges were unique and unknown. No one knew about the novel virus, how it spread, how a sample was to be collected, or how to treat the patient. But the challenges also motivated us to fight back. Fortunately, not a single case was referred to any outside facility. On the contrary, we saw patients coming in from other districts, even states, to Bhilwara for treatment in the past six months. I see this as an achievement.
We were greatly supported by our families, the administration, the state government and health workers. We formed a critical care team, made all decisions in a group, took suggestions from every faculty member be it a physician or a pediatrician and involved them. We were the first to start some of the investigations that were required in the treatment. We even managed a C-section of a Covid-19 patient who delivered twins. There were anxious moments about the new-born health but the infection was not transmitted.
The credit also goes to the state leadership. Our chief minister Ashok Gehlot was directly in contact with us after the district was declared a hotspot. He provided all necessary support that we required, including RT-PCR testing machines, 40 ventilators, other resources, and a help desk. The support from the media was also unprecedented.
I believe every achievement brings an extra responsibility on your shoulders. I still have to protect my team and patients because the expectation is high. Even before the second dose we get, we have to follow the prescribed preventive measures for another six months very strictly. We understand that 30 percent population has already been infected by the virus and when 30-40 percent population get vaccinated, the overall immunity will be more than 60 percent. Only then there could be some relief for all of us. Till that time, our fight against the pandemic is not over.
As Told To Mamta Sharma